The CoinGeek Conference comes to Asia for the second time, October 1-2, 2019 at the Le Meridien in Seoul, South Korea. Professionals from leading blockchain and cryptocurrency start-ups, global enterprises, crypto mining, investors, and other brands are coming to learn about exciting developments for Bitcoin SV, as well as the benefits of massive on-chain scaling for miners, application developers, and enterprises. We welcome everyone interested in learning about Bitcoin SV and the Satoshi Vision, even if you also support other cryptocurrency or blockchain projects.
To kick off this two-day event, developers and miners will be the first to discover the power of BSV scaling and how Bitcoin SV positively impacts their industry. On October 2, experts in the industry will showcase how the BSV blockchain can drastically improve the way they do business. You'll also witness presentations from the three finalists of Bitcoin Association's Virtual Hackathon. Get treated to another intimate conversation with nChain Chief Scientist and creator of Bitcoin Dr. Craig S. Wright, and finally have fun at another legendary CoinGeek after-party!
Join us at CoinGeek Seoul and discover why Bitcoin SV is fast becoming the world's new money and global enterprise blockchain.
LOCATION
Le Meridien Hotel - Seoul, South Korea

Program of the Agenda conference
Day 1 – Oct 1, 2019 - Bitcoin's Technical Power
 

Session

Speakers

8:00-9:00 am

REGISTRATION

9:05-9:25 a.m.

Bitcoin SV:  It's Time to Build

Jimmy Nguyen

Founding President, Bitcoin Association

Chair, Strategic Advisory Board, nChain

9:25-9:50 am

Bitcoin SV Node:  The Road to Genesis

Steve Shadders

Chief Technology Officer, nChain

Technical Director, Bitcoin SV Node project

9:50-10:15 a.m.

Teranode:  The Transition Plan for Terabyte Size Blocks and Enterprise-Class BSV Software

Daniel Connolly

Lead Developer, Bitcoin SV Node project

10:15-10:35 a.m.

Nakasendo SDK:   A Live Demo of Threshold Signature Capability

John Murphy

Senior Software Engineer, nChain

10:35-10:55 a.m.

Keyring:  An Overview of the Javascript Library for BSV and its Use with Tokenized Tokens

Josh Robinson

Chief Architect, BitBoss

10:55-11:15 a.m.

sCrypt: A High Level Smart Contract Language for BSV

Xiaohui Liu

Co-founder & Chief Scientist, Content Box

11:15-11:30 am

MORNING BREAK

11:30 am-12:30pm

BSV Hackathon:  Finalists Presentations

BitQ&A

Codugh

Hive

12:30-1:30pm

LUNCH

1:30-2:10 pm

The Future of Data Services in Mining

Panelists

Lise Li

China Manager, Bitcoin Association

Former COO, Rawpool

Lin Zheming

Founder & CEO, Mempool

Liam Missin

Senior Software Manager, nChain

Co-Founder, WhatsOnChain

Owen Vaughan

Director of Research, nChain

Wei Zhang

Senior Researcher, nChain

Moderator:

Steve Shadders

Chief Technology Officer, nChain

Technical Director, Bitcoin SV Node project

2:10-2:30 pm

Unchaining the Future:  A Cutting-Edge Block Explorer for Bitcoin

Liam Missin

Senior Software Manager, nChain

Co-Founder, WhatsOnChain

2:30-2:50 pm

Networks on BSV:  How to Connect and Enable a Social Network with a Value Network

Lin Zheming

Founder & CEO, Mempool

2:50-3:05 pm

Low Bandwidth Simplified Payment Verification & Digital Certificates on Bitcoin SV

Dr. Alex Mackay

Researcher, nChain

3:05-3:20 pm

AFTERNOON BREAK

3:20-3:40 pm

HD Wallets & Keychain Management for Users of BSV

Brendan Lee

Co-Founder & Head of Technology, Faiā Corp

Training & Development Manager, Bitcoin Association

3:40-4:00pm

Peer-to-peer transactions & Why They Matter for Bitcoin

Ryan X. Charles

Founder & CEO, MoneyButton

4:00-4:20 pm

UptimeSV:  Distributed Network Intelligence, Powered by Bitcoin SV

Dean Little

Co-Founder & Lead Developer, UptimeSV

4:20-4:40 pm

OKEx Pool: Strategies for the Upcoming Bull Market

Alina Yao

Head of OKEx Pool

4:40-5:10 pm

Payments & Privacy:  New Inventions for Bitcoin SV

Dr. Craig S. Wright

Chief Scientist – nChain

5:10 pm

BSV Hackathon Awards Presentation & Closing Remarks

5:30 pm

COCKTAIL RECEPTION
Day 2 – Oct 2, 2019 - Business Future on Bitcoin
 

Session

Speakers

8:00-9:00 a.m.

REGISTRATION

9:10-9:30 am

Bitcoin SV:  The Blockchain to Build New Business Models

Jimmy Nguyen

Founding President, Bitcoin Association

Chair, Strategic Advisor Board, nChain Group

9:30-9:50 a.m.

Blockchain for the Media & Entertainment Sector   

Alexander Shulgin

Founder & CEO, Gruppa Kompaniy Familia

Composer, Inventor, and Visionary

9:50-10:10 a.m.

Music Content:  Building the Future on Bitcoin SV

Jay Lee

CEO, ONEStore

10:10 -10:30 a.m.

Kronoverse:  Building the Future of E-Sports on Bitcoin SV

David Case

Chief Architect, Kronoverse

10:30-10:50 a.m.

Gaming:  Building the Future on Bitcoin SV

Matt Dickson

Co-Founder & CEO, BitBoss

10:50 -11:05 am

Morning Break

11:05-11:25 am

The Future of Property Tech & Earthquake Detection on Bitcoin SV

Hayato Kameta

Founder & CEO, Zweispace

11:25-12:30 pm

Bitcoin SV & China:  An Explosion of Project Development

Wang Fuqiang

Founder, BitMesh

Ivy Dang

Chief Marketing Officer, Cityonchain

He Qiming

Co-Founder, RateSV

Lise Li

China Manager, Bitcoin Association

12:30-1:30 pm

Lunch

1:30-2:15 pm

Investment in the Bitcoin SV Ecosystem

Panelists

Ping Chen

Founding Partner, Ausvic Capital

Sam Chi

President, Landmark Asia Holdings

Joony Koo

Partner, Block Crafters

Jan Smit

General Partner & Founder, Two Hop Ventures

Tony Tong

Co-Chairman, Hong Kong Blockchain Association & Blockchain Angel Investor

Moderator:

Jimmy Nguyen

2:15-2:35 pm

The Future of International Remittance on Bitcoin SV

Lorien Gamaroff

Co-Founder & CEO, Centbee

2:35-2:55 pm

The Gold Token on Bitcoin SV

Jimmy Nguyen on behalf of

Eli Afram

CTO, Layer2

2:55-3:15 pm

Identity Management:  Building the Future on Bitcoin SV

Alex Fauvel

Founder & General Partner, Two Hop Ventures

Director, Pixel Wallet

3:15 – 3:35

WeatherSV:  New Business Models with Climate Data

Paul Chiari

Founder, WeatherSV

3:35-3:50 pm

Afternoon Break

3:50-4:35 pm

Enterprise Insights: What Businesses Want to Build Blockchain Applications

Panelists

Jerry David Chan

Regional Manager, Japan and South Korea

Bitcoin Association

Chris de Josselin

CEO, StrataNet Group

Joshua Henslee

Microsoft Dynamics 365 ERP Consultant

Stephan Nilsson

Co-Founder & CEO, UNISOT

Moderator

Jimmy Nguyen

4:35-5:00 pm

Satoshi Vision:  How Bitcoin Can Change the World

Dr. Craig S. Wright

Chief Scientist, nChain

5:00 -5:45 pm

The Satoshi Chronicles:  Part 2

Fireside chat with

Dr. Craig S. Wright

Chief Scientist, nChain

5:45 pm

Closing Remarks

Jimmy Nguyen

6:00 pm

COCKTAIL RECEPTION
9:00 pm

COINGEEK AFTER-PARTY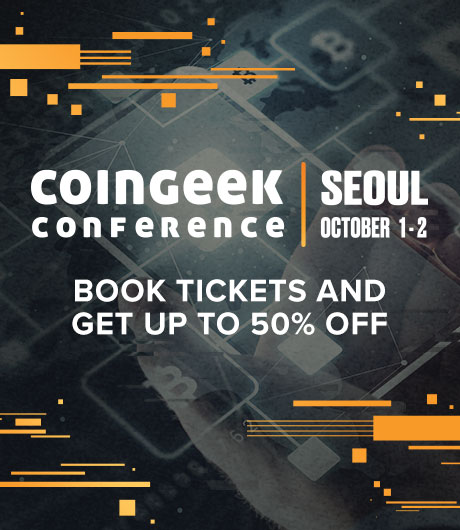 CoinGeek Conference Seoul
US$ 399.00
Join us for another epic CoinGeek conference on October 1-2 in Seoul, South Korea. CoinGeek Seoul will showcase high-caliber speeches and panel discussions on Bitcoin SV.
We're offering you amazing discounts because you need to witness how Bitcoin SV is creating a paradigm shift for financial systems, app development, and major enterprises.
Book your tickets with Bitcoin SV and get 20% off. US$ 319.20 US$ 399
Book 5 or more tickets with Bitcoin SV or fiat and get 50% off. US$ 199.50 for each ticket US$ 399
We'll see you there.

The CoinGeek Asia Conference will be in October, subscribe to our newsletter for future updates about exact dates and location!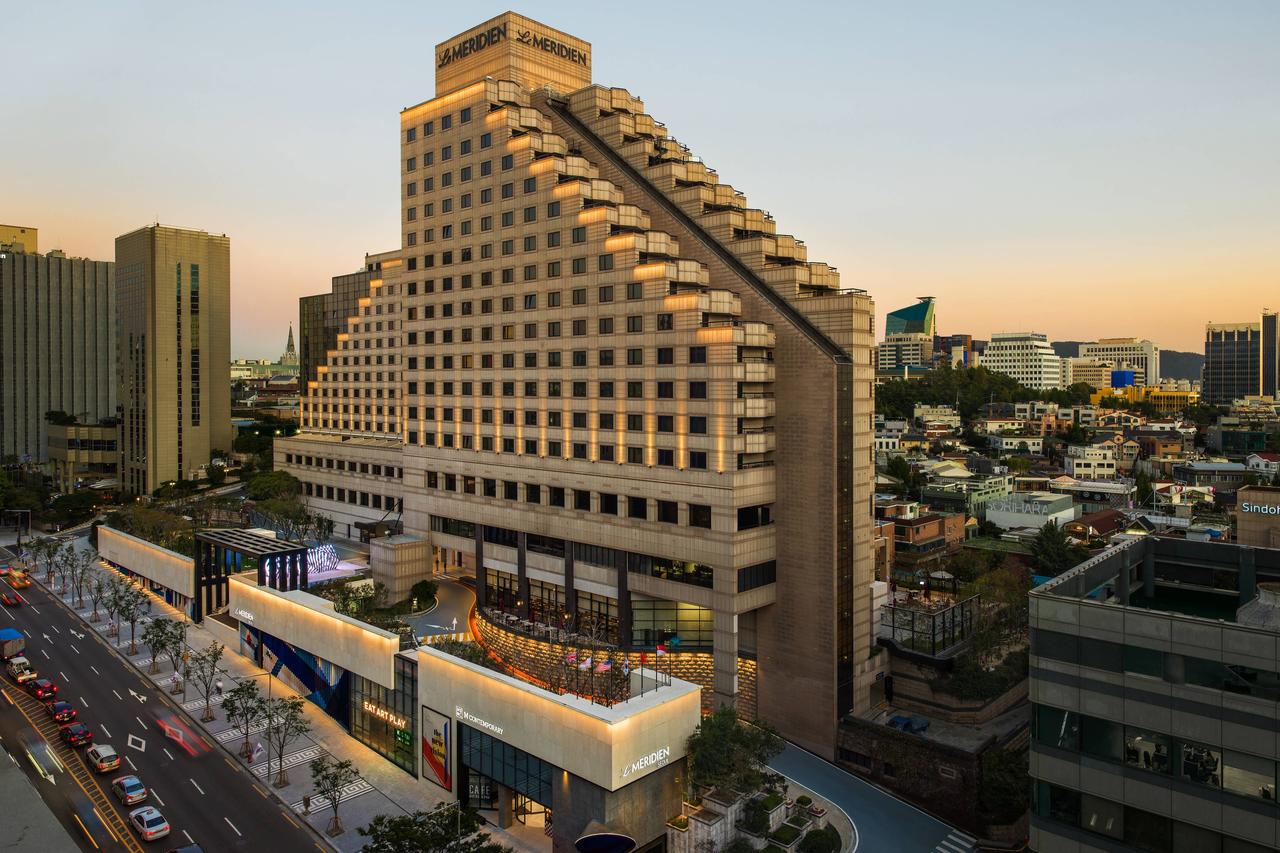 Le Meridien
Located in the business and commercial district of Gangnam, Le Meridien Seoul is the venue for CoinGeek Seoul. The area of Gangnam-Gu is a great choice for travellers interested in cafés, convenient public transport and food, so if you can spare a couple of days before and after the conference why not see this magnificent city.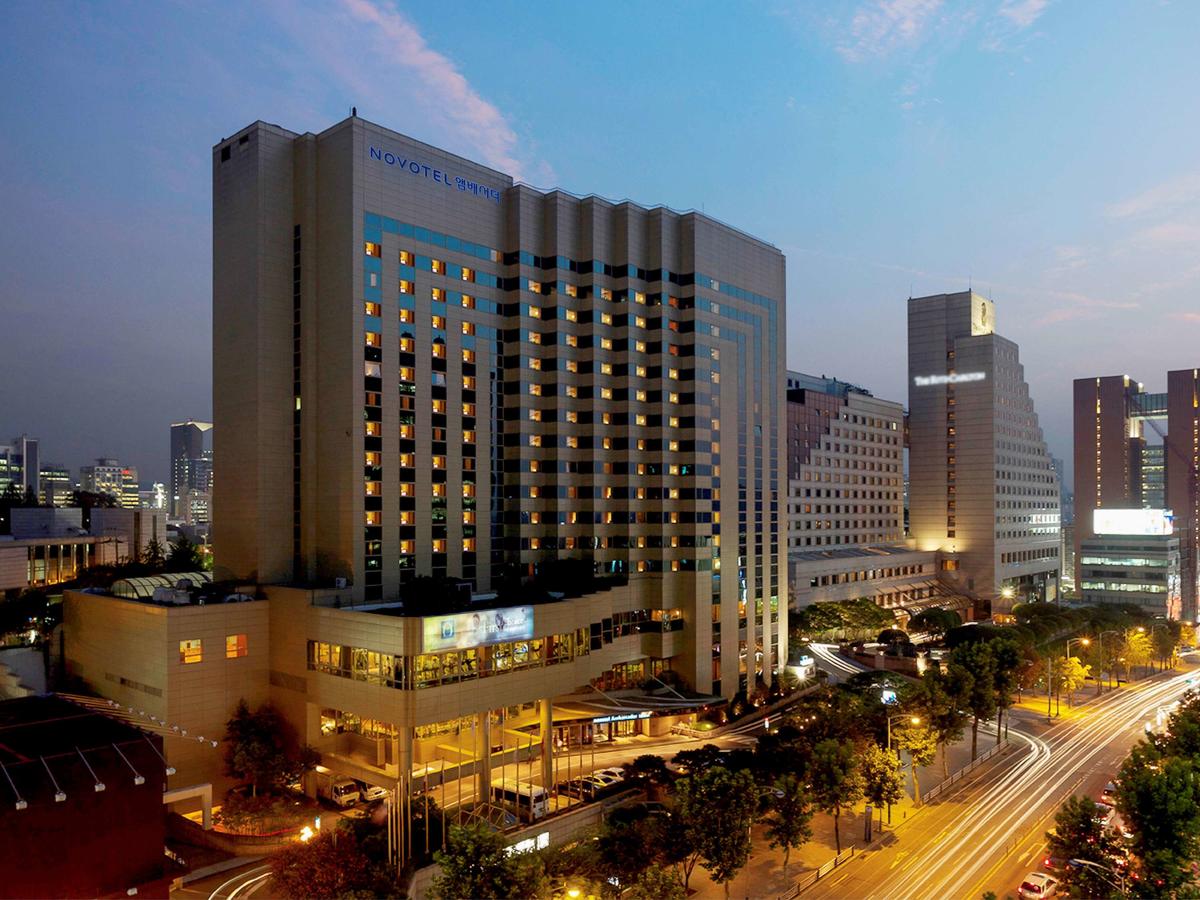 Novotel Ambassador Seoul Gangnam
Just next door to the Le Meridien. Novotel Ambassador provides modern air-conditioned rooms in Seoul's Gangnam business district. It is just 350 yards from Exit 4 of Sinnonhyeon Subway Station (Line 9).
How do I register?
To register please click here for ticket purchasing information.
What does my ticket include?
Registration to the conference gives you full access to the sessions, meal functions, cocktail reception, and the official CoinGeek after-party.
How do I pick up my badge?
Please bring along the confirmation (printed or email) of your ticket purchase and photo ID (passport or drivers license) to the registration desk on Tuesday 1 October between 08:00 and 09:00
Registration hours:
Tuesday 1 October 8 am to 9 am at the Le Meridien, Seoul, South Korea
Payment information
You can purchase your ticket with BSV or using AMEX, Visa or MasterCard. Payments are processed immediately. You can also purchase a ticket on the day (without the advance purchase discount) but registration will take longer than for pre-purchase customers. Registration will be 'pending' until payment is validated.
Promo and discount codes
CoinGeek offers discount codes to members of the Bitcoin Association and selective partners. Discount codes will only be accepted if the registrant is the authorized user.
What happens if I am unable to attend?
Unfortunately, there are no refunds for cancellations.
Can I transfer my registration?
Requests for transfers must be submitted by September 2 2019. Please email [email protected] Transfer requests received after September 2 are subject to a $200 administrative fee plus any additions as a result of changes in the attendee type (e.g. transfer to a non-Bitcoin Association member would result in loss of the discount). The individual submitting the request is responsible for any balance due.
Onsite registration policies and procedures
CoinGeek accepts American Express, VISA, MasterCard or BSV for payment of tickets. Please note all ticket fees are non-refundable. Ticket materials will be released only to the individual whose name appears on the badge. Photo identification (drivers license or passport), and conference attendance confirmation will be required. Business Cards are not an acceptable form of identification. Badges are non-transferable.
We respect your privacy
Your name, address, phone number, and email address are stored securely in our database and we do not share this information with third parties.
Video and photography
Video recording and hybrid events (including webcams, webinars, streaming video content) are prohibited inside the conference unless stated at the CoinGeek Conference. Photographs may not be taken of any product, except by the press or the official photographer designated by CoinGeek.
Photo and video release
By registering to CoinGeek Conference you acknowledge and accept that photographs or video that will be taken of you by the CoinGeek team or its service providers may be used for CoinGeek promotional material and on the Internet by CoinGeek and its service providers.
Badge ethics, counterfeiting, and theft
Only persons registered for this conference and wearing the proper badge will be admitted to the conference. For security and safety reasons, badges must be worn at all times.
Anyone found to be counterfeiting, copying or sharing conference name badges, or using a guest badge when s/he is not eligible for a guest badge, may be subject to sanctions to and including removal from the conference.
After-party entry
For all conference attendees, there will be an exclusive CoinGeek after-party. Wristbands will be distributed at registration. Please note that you need to wear your wristbands to gain access as there won't be a guest list at the door.
GENERAL INFORMATION
When and where is the conference?
CoinGeek Seoul will take place on 1-2 October at Le Meridien, Seoul, South Korea
Is there a dress code?
The dress code is business or business casual, and the official CoinGeek after-party dress code is subject to the rules of the venue.
Will there be WIFI at the event?
Yes, there is complimentary WIFI to all registered attendees. The WIFI username and password will be provided throughout the venue.
SPEAKERS AND AGENDA
How do I submit a speaker and topic suggestion?
Click here to submit a speaker proposal. The deadline for all submissions will close mid-August. Only speakers who are selected will receive a message from a member of the events team as soon as a decision regarding the submission is made. Please note this may take up to four weeks.
Where can I find a copy of the agenda?
Agenda can be found here and will be updated as speakers are announced. Make sure to check back often.
Media Partnerships
Press Passes
Please email requests to [email protected]
Let's get social
Integrate tweets from @RealCoinGeek using #CGSeoul
2nd BSV Virtual Hackathon
The Bitcoin Association Virtual Hackathon is setting the stage for developers to build new applications on the Bitcoin SV blockchain. If you're one of the finalists selected, you get to present your application at the CoinGeek Conference in Seoul on October 2, 2019. You'll win Bitcoin SV and potentially receive investment funds.
This hackathon will be virtual – taking place online on August 17, 2019. That means you can participate from anywhere in the world! Applications are open until August 11, midday (GMT time zone).
Apply to speak
Please read the form carefully and fill in all the fields. We will reject submissions with incomplete fields.