It's Day 2 of the CoinGeek Conference in Zurich, and CoinGeek's Associate Editor for North America Patrick Thompson and CoinGeek reporter Claire Celdran took the helm of CoinGeek TV, interviewing Stefan Matthews of TAAL Distributed Information Technologies Inc. (CSE:TAAL | FWB:9SQ1 | OTC:TAALF) and financial cryptographer Ian Grigg.
Both kicked off their CoinGeek TV interview by sharing their thoughts on the conference so far, welcoming the contributions from speakers across the day.
In particular, Matthews said he was impressed with the presentation of Dr. Craig Wright, which demonstrated a depth and detail of knowledge about the history of money that is rare to find in academia. He also highlighted the importance of his views on quantum computing, and how that might come to impact the industry in the near future.
Matthews said he first met Dr. Wright in 2005, when he was working as an auditor for BDO in Australia. The pair formed a close relationship over the next few years, and began discussing ideas and projects that were part of the accumulation of ideas that eventually led to Bitcoin.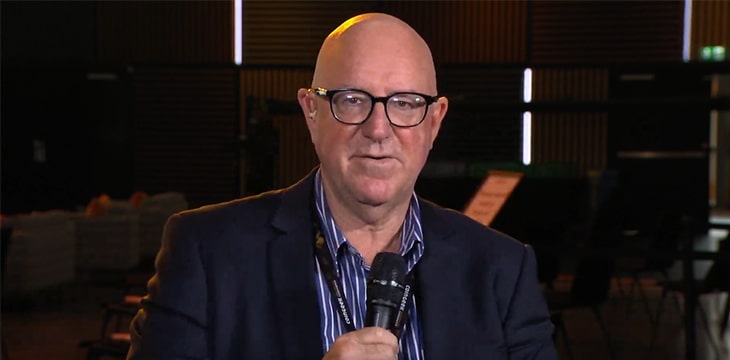 Matthews set out how he was shared early versions of the whitepaper back in 2008, before the paper was officially published. He notes that what he was discussing with Dr. Wright was the precursor to Bitcoin, and the paper even referenced the Bitcoin brand during these discussions. At the time, Matthews admits he didn't think the technology would amount to anything beyond an academic discussion. But for his part, he says he knows what he saw, and what he saw was the precursor to Bitcoin.
Matthews said the scope for BSV blockchain technology is enormous, and that it would continue to make waves across industries over the next two to five years and beyond. Even with the CoinGeek Conferences, he noted the growth in the events since the early days. The sheer number of projects and initiatives becoming real within the BSV ecosystem, and with worldwide rollouts, is cementing its place as one of the most important technologies of the immediate future. For TAAL, all of these projects are important in terms of processing transactions and using its token platforms. For Matthews, he said it was hard to articulate any limit to what was possible with BSV enterprise blockchain.
Financial cryptographer Ian Grigg shared his early recollections of Dr. Wright, and how he first met Craig during those formative years shaping Bitcoin. Grigg's early work on triple entry bookkeeping was thought to have been very influential on Dr. Wright's vision for Bitcoin, providing some of the missing pieces that make the concept viable.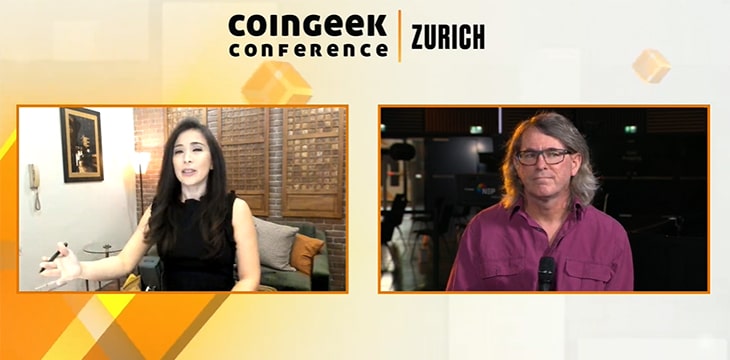 Grigg explained that there is a need for trading partners to work together in order to reconcile transactions, creating problems and disputes that can be solved by the triple entry mechanism. Up until triple entry was invented, parties to any transaction would each keep their own data. But this leads to issues of reconciliation, where parties can sometimes disagree. Even with agreement, it is an inefficient process where data is replicated, creating the potential for loss and error that can easily be avoided with the reliable data delivered by triple entry.
Triple entry logic says negotiate the data up front. Records are created, signed and hashed and stored on a third-party database (i.e. the blockchain), removing the need for reconciliation, and the potential for disputes at a later stage. When data is recorded like this, it becomes a fact—but it relies on that third party to ensure accuracy. Grigg wrote this up in a paper, which was circulated around leading academics including Dr. Wright, prior to their initial meeting.
He met Dr. Wright in a pub without knowing who he was or what he did. Yet over the course of his discussions, it became clear to him that Dr. Wright was Satoshi, and that the work he was doing was foundational to the origins of Bitcoin.
Grigg said there is a huge role for blockchain as the platform powering government functions and delivering transparency, especially procurement documents and the like. When this goes onto blockchain it increases transparency a lot, allowing anyone to audit the process in an immutable way.
Watch CoinGeek Zurich Day 1 – morning sessions here:
Watch CoinGeek Zurich Day 1 – afternoon sessions here:
Watch CoinGeek Zurich Day 2 here:
Watch CoinGeek Zurich Day 3 here:
New to blockchain? Check out CoinGeek's Blockchain for Beginners section, the ultimate resource guide to learn more about blockchain technology.