One of the great things about having a scalable blockchain with innate data management tools is the myriad of use-cases and industries it can be used in.
On Day 2 of CoinGeek New York, Bitcoin Association Founding President Jimmy Nguyen spoke to a panel of experts in healthcare and life sciences to talk about what they're building on BSV blockchain and how this technology can transform these industries.
The panelists included: Steve Lawrence, CEO of EHR Data; Phillip Runyan, managing partner of Veridat; Zachary Weiner, founder of VXPass.com; and Kip Wolf, head of technical ops & portfolio management of X-Vax Technology, Inc.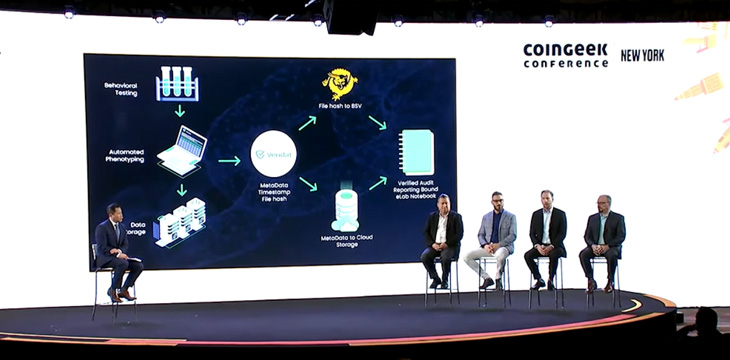 It was an informative, interesting panel that showcased BSV's awesome data management powers and explained how several of the panelists arrived at BSV after failing to find scalable solutions on other blockchains.
Digital twins and data management
One of the things we've been hammering home at CoinGeek is that BSV is much more than a digital cash system. It's also an unrivaled data management platform. For tiny micropayments, users can upload time-stamped, immutable records to the BSV blockchain to ensure data integrity.
Phillip Runyan, the managing partner of Veridat, kicked the panel off by talking about BSV blockchain in the pharmaceutical industry. He mentioned how the data generated in this industry goes through many hands and can often be lost, altered, or changed by accident.
Veridat is working with at least one large pharmaceutical company right now, with another coming on board soon, to upload data to the BSV blockchain. This provides a timestamped, immutable audit trail of what's happening at every stage of the process, from product generation to its journey through the supply chain to consumption.
This is a perfect example of how BSV can transform industries for the better. If data integrity is a concern in your industry, it's well worth considering how BSV blockchain can help.
Verified health records
"It's like having 1,000 notaries saying 'yep, that happened,'" Runyan said.
VXPass founder Zachary Weiner explained how his company is working within the healthcare industry to provide verified health records. This involves the use of digital signatures to write records onto the BSV blockchain without any personal details being revealed.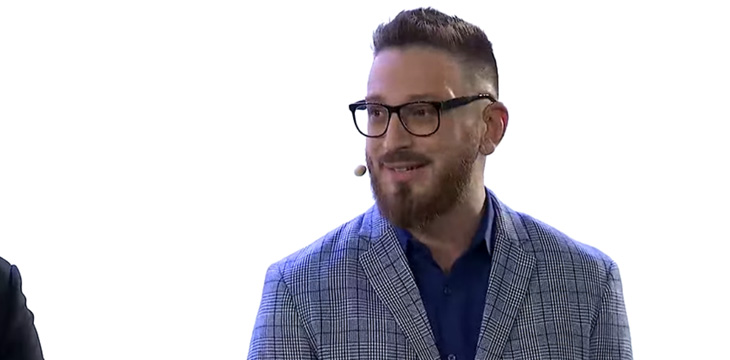 For privacy advocates who are worried about the implications of this, later in the panel, he explained that his company never even handles the personal details of those it serves. Instead, the health record is written on the blockchain, and the user is provided with a hash to access the record when required.
At scale, this could revolutionize how health records are stored, giving patients a way to instantly verify their records even if they move to new healthcare providers or states while maintaining privacy.
Unifying a fragmented healthcare industry
It's no secret that one of the biggest impediments to progress in the healthcare industry is its fragmented, isolated nature. Data of all kinds is stored across disparate databases, and providers can't even access some of it.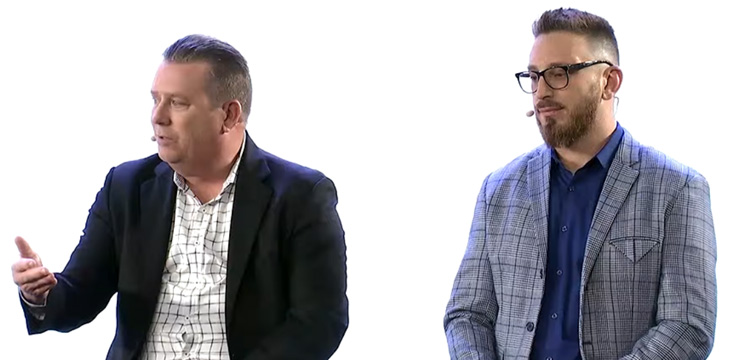 Of course, all across the life sciences industries, people can only make decisions based on the data they have access to. EHR Data CEO Steve Lawrence emphasized this point, stating that he is working to build a unified database, collecting and storing this data on-chain.
This could give all sectors of the healthcare industry access to the same (verified) data, allowing for better decisions on everything from insurance premiums to healthcare decisions.
Giving data back to patients
Data sovereignty is one of the least understood elements of how Bitcoin (BSV) can revolutionize the world. Right now, the data we generate in all walks of life, including healthcare, is owned, sold, and leased by the giant corporations who control the databases.
By owning our own data, we'll have greater privacy, control, and will even be able to profit from it via micropayments. For example, people training machine-learning models who wish to access our data could pay us for it. Unlike today, those who wish to use our data would have to ask us for permission to use it and compensate us fairly.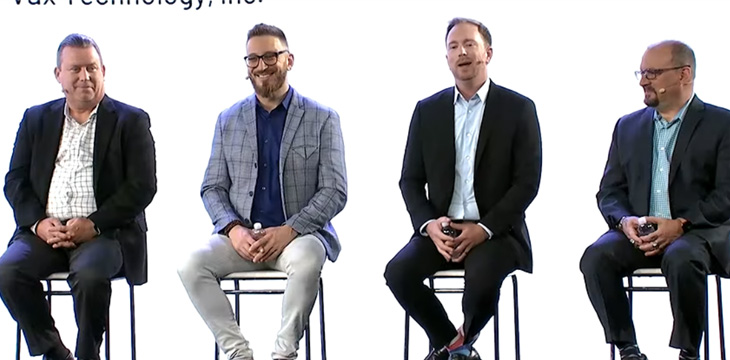 Why BSV is the only realistic option
Throughout this panel, virtually all of its participants described why BSV is the only realistic option for them. Some explained how they had experimented and attempted to build on other blockchains like Ethereum and BCH, with little success, before coming to BSV and finding what they were looking for.
Three things stick out about what was discussed. First, BSV is the only blockchain that scales in the way that's required in something as massive as the pharmaceutical industry. Second, it's the only one that's cost-effective. And lastly, the public nature of the blockchain is necessary. There's no way every participant in the healthcare industry wants to build their own blockchains, and even if they could, it would lead to the same fragmented databases we have today.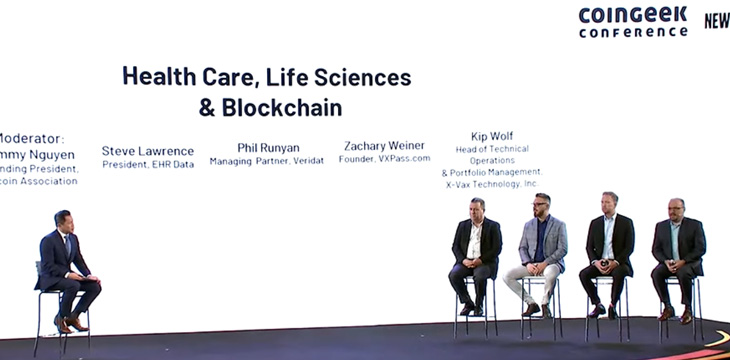 On top of this, Philip Runyan noted that there's an active, thriving BSV application development community that's not publicly visible until you begin making connections and digging into how the BSV blockchain works. This accounts for the growing number of BSV daily transactions; the blockchain is exploding in size as the use cases continue to grow.
On the whole, this was a fantastically informative panel that demonstrated how BSV is transforming industries by providing advanced data management tools, publicly verifiable and immutable records, and more. As X-Vax Technology's Kip Wolf noted, in the healthcare and life sciences sectors, where the regulations are strict and essential to abide by, having a time-stamped audit trail of everything is truly valuable.
Watch CoinGeek New York 2021 Day 2 here:
New to blockchain? Check out CoinGeek's Blockchain for Beginners section, the ultimate resource guide to learn more about blockchain technology.