Sunny Fung, CEO and Founder of ShowPay and the Co-Initiator of MetaID spoke to the conference on day two via live video link from China.
He described MetaID as a tool for decentralized identity management, which has been responsible for users uploading some rather large files to the BSV blockchain in recent months, hitting as much as 1GB and 2GB blocks with consistency. The total cumulative blockchain size on BSV is now 1TB larger than the whole of the BTC network, largely thanks to the ongoing work with MetaID.
Fung said that over the past year, the team at MetaID had been building the infrastructure for the protocol. Describing it as "the most exciting technology of my life," he said most BSV applications will eventually be built on the MetaID platform.
Fung began by pointing to the apps on our phones. There are dozens of applications which all improve our lives. But each of them forms its own data silo, without overlap between them. MetaID solves this problem by wrapping it up within a single ID.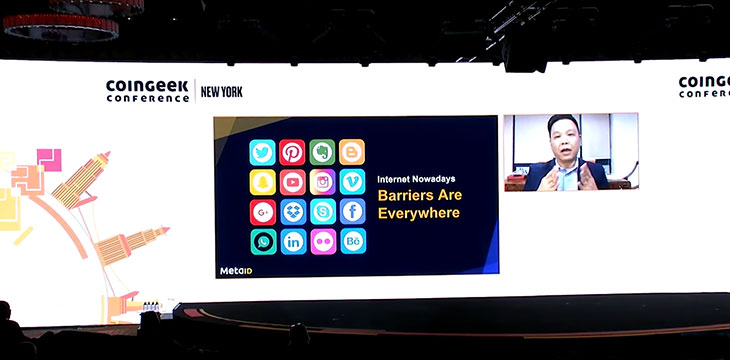 MetaID is an open-source, permissionless protocol that regulates how data and information can be stored on the blockchain. He said that this ultimately means MetaID could make Metanet become the next generation of the Internet. Fung picked up on a quote from as far back as 2018 from Bitcoin founder Dr. Craig Wright, saying the Internet would ultimately become a sidechain of Metanet.
Despite the controversy around these comments at the time, Fung says he now agrees that that is a possibility and that Dr. Wright's vision could be proved correct, as the technology continues to improve. 
Fung described how with one password for all applications, MetaID allows for all data to be attributed to and owned by the individual user. It is already possible to build applications with MetaID, and as much as 80% of all miner fees on BSV are already being generated by MetaID applications. He noted there are as many as 20 different apps built on MetaID so far, with the expectation of many more to follow.
The builds are already stable, the ecosystem is becoming more abundant, and the technology can already be used on a large scale. MetaID is ready, with service providers MetaSV and ShowPay already offering support for MetaID applications. Wallet support is also already available with DotWallet, SatoPlay, and ShowAPP.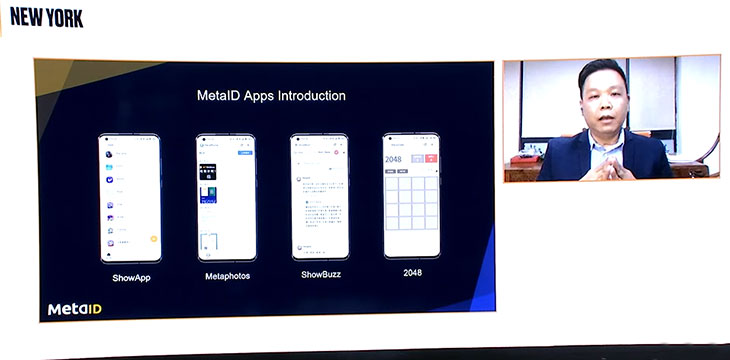 In the next year or two, Fung predicted there will be MetaID applications covering most types of Internet applications. In his presentation at the conference, he highlighted four specific apps already built on MetaID.
ShowApp – a social app where users can chat privately and in groups. The notification center for MetaID notifications, every time an interaction with these apps is generated, such as comments or likes, you receive a notice through this app.
MetaPhoto – an onchain photo album, where users can store photos on-chain permanently. Due to interconnection with other MetaID apps, you can also manage photos uploaded from other applications. 
ShowBuzz – a Twitter-like social platform, where all data is accessible, permissionless, and can be used by other applications via MetaID
2048 – a game that can be played with friends, where results and high scores can be shared seamlessly with friends.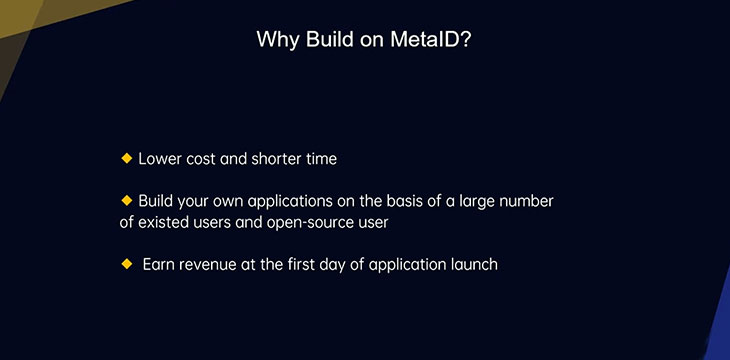 Fung wrapped up by saying developers should build on MetaID because it is lower cost, with a shorter time to build. There is also the scope to build large applications on the basis of large numbers of existing users, as well as to earn revenue from day one of an app launch. And with development work around MetaID advancing at a rapid pace, the ecosystem is only continuing to get bigger. 
Watch CoinGeek New York 2021 Day 2 here:
New to Bitcoin? Check out CoinGeek's Bitcoin for Beginners section, the ultimate resource guide to learn more about Bitcoin—as originally envisioned by Satoshi Nakamoto—and blockchain.