Know Your Customer ("KYC") regulation can cause delays to transactions and expose corporations to severe penalties if they fail to comply with mandated guidelines. Blockchain can play a significant role in streamlining the KYC and AML processes, creating a better environment for all parties involved. 
At the recent CoinGeek Live conference, Russell Perry and Peter Bainbridge-Clayton, founders of RegTech company Kompany, explained how their KYC/KYB On-Chain network is making global business verification and KYC simpler and more efficient for companies. 
KYC on-chain is a multilayer system designed to bring business KYC and compliance onto blockchains, which addresses the critical issue for anti-money laundering ("AML") and KYC. It provides audit-proof company data to corporate clients and acts as the first line of defense for AML monitoring, helping companies comply with increasing government regulations.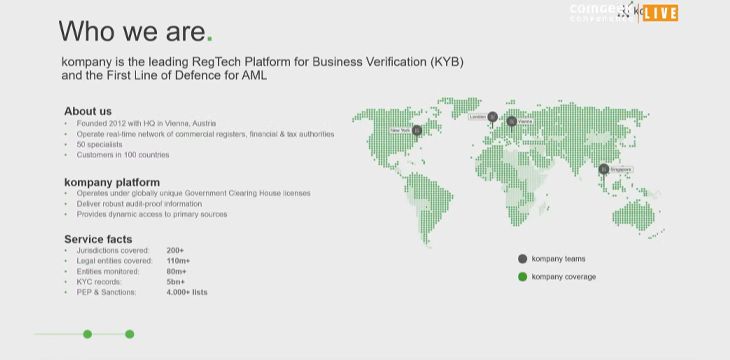 During the talk, Bainbridge-Clayton explained how the current KYC/KYB workflow hasn't kept up to meet the changing landscape of global regulations. Often the companies get outdated information or information not suitable to fulfill regulatory requirements. 
KYC on-chain satisfies the stipulation that the check's content is appropriate, and the data is traceable to a primary government source. It also provides a provable audit trail backing up the claims of the checks. Finally, the check's timing and the age of the data are known and updated in real-time.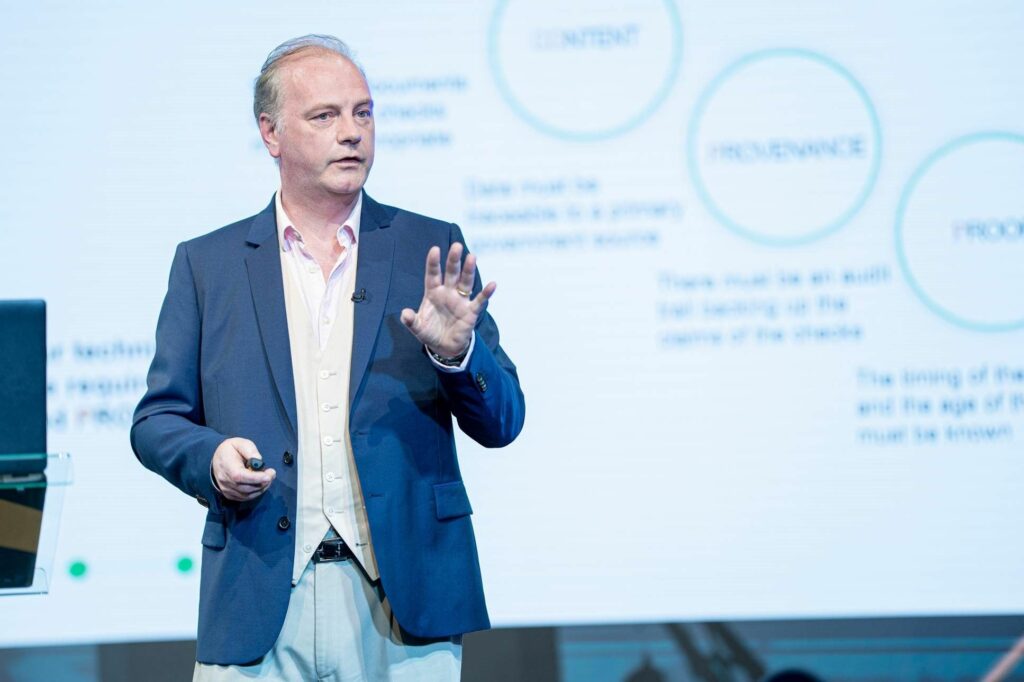 Bainbridge-Clayton explains that blockchains are the best method to verify proof. Kompany's KYC on-chain solution now runs on top of the Bitcoin SV network. Previously they tried Ethereum, but its system was slow and could not keep up with Kompany's API request. Kompany needed a blockchain protocol capable of real-time interactions to satisfy client demands.  
Kompany uses BSV to store proof of client interactions with its API. It stores the API request, processing, and reply in a hashed or encrypted version. KYC on-chain permanently archives the history of the interaction and data exchanged, so if asked by government authorities, companies can confidently provide them with a record of events that cannot be disputed.  
Kompany also has a second layer of BSV integration that uses smart contracts to move the API calls natively on-chain. This feature enables on-chain payment for API services. It allows real-time performing of KYC & AML checks. Finally, it expands the proof layer to cover request and response events, thus building a truth layer. 
Ultimately, Kompany hopes to have created a BSV backed infrastructure for off and on-chain transactional and non-transactional KYC checks that exceed current and expected regulations. It accomplishes this by immutable recording transactions in real-time, using primary sourced and time-stamped data, that is demonstrably true.  
Big picture, Kompany is tokenizing the KYC process and creating a KYC marketplace. 
Watch kompany's presentation, KYC On-Chain: Real-Time Business KYC for BSV.
New to Bitcoin? Check out CoinGeek's Bitcoin for Beginners section, the ultimate resource guide to learn more about Bitcoin—as originally envisioned by Satoshi Nakamoto—and blockchain.