Congressman Darren Soto took the virtual stage at CoinGeek Live 2020 on October 1, and gave keynote speech, "Balancing Innovation & Regulation for Growth of Blockchain Technology." Soto was elected to be a representative of Florida's 9th Congressional District in 2016, and is the co-chair of the Congressional Blockchain Caucus, a group that is looking to catalyze blockchain innovation and development as well as assist other congressmen and women in making that a reality.
During his presentation, Soto answered a number of questions that gave the audience a better understanding of the balance lawmakers are trying to hit when it comes to optimizing innovation around blockchain and digital currency while guaranteeing that there is ample legislation and consumer/investor protections in place.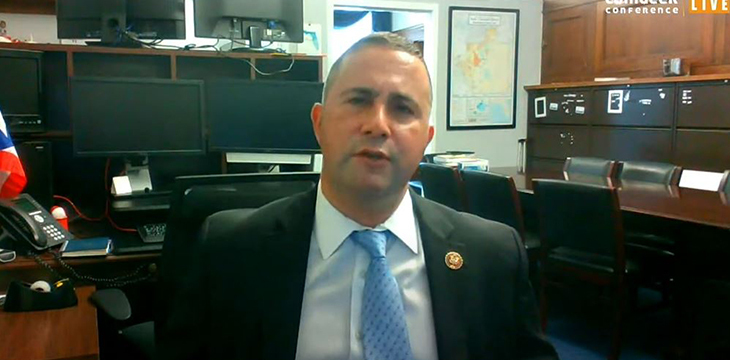 "There's a lot of confusion out there and that's what concerns me," Soto said. "I have heard a lot of new firms entering the space paying as much as 50% in legal fees because there is regulator uncertainty, and no industry can survive if there's that much uncertainty so this is part of the goal to establish jurisdictional continuum and this is exciting because we are establishing a new asset, a digital asset, rather than trying to fit cryptocurrency in definitions of investments and currency that really date back decades in the 20th century."
This is one of the many reasons that Soto is working towards making the legal landscape around blockchain technology and digital currency clear and easy to navigate for existing and prospective companies.
"A lot of companies in the space are concerned about over-regulation because they want the freedom to be able to innovate and experiment with projects, ventures, products, and even different types of financial assets," said Bitcoin Association president Jimmy Nguyen. "How do you suggest that balance best be achieved between regulation and innovation?"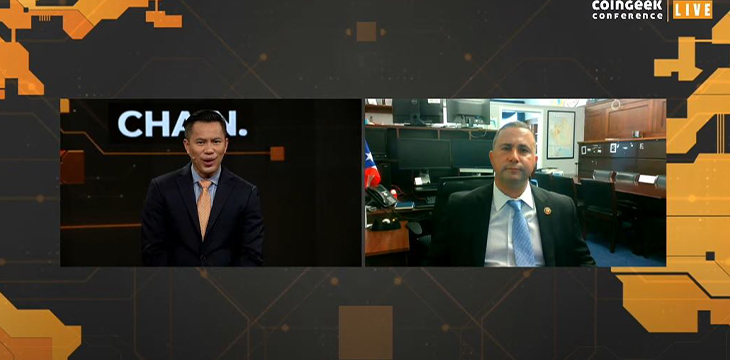 "You are going to see initial legislation what we would refer to as light touch legislation that would be a lot like when a lot of the internet start-up companies were just emerging in the late 90's early 2000's," said Soto. "So there will be just a few basic goals:
Establish some jurisdiction
Establish definitions of what a financial digital asset is vs. a digital currency vs. a futures [product] vs. a commodity, vs. a security, and
Create basic provisions on innovation and anti-fraud consumer protection.
From there, a lot of it will be established through the different agencies for regulations that they have to publish rules on it. There will be input from the industry and if we feel that the agencies are going too far, we could always supersede any regulation with a new law. So right now, those are the main goals, we aren't looking to regulate every aspect of this, but we do want to make sure people have reliable definitions."
When Congressman Soto was asked what got him so interested in using blockchain technologies in a way that can also serve as a public good, Soto said.
"We have a complex world, we need to have secure data when we use that in conjunction with artificial intelligence I believe that we can solve some of the biggest issues that we face as a human race." When we look at major problems like rolling out stimulus checks or utilizing distribution networks for personal protective equipment for our first responders during the pandemic, we urge the government to utilize blockchain technology to assist with that. Data security is so important and having the fixed ledger so that the technology isn't vulnerable to the kind of hacks other technology is vulnerable to, I look at the potential to solve some of the world's most complex problem. The potential between A.I and decentralized blockchain ledgers give us hope that we can solve some of the major problems that plague our planet.
In closing, Congressman Soto said, "Thank you all for having me on CoinGeek. We appreciate all the good work you're doing."
To find out more about the future of law in regard to blockchain and digital currency, we encourage you to watch Congressman Soto's full presentation. 
And don't forget to tune into CoinGeek Live on October 2nd to watch the very last day of the CoinGeek conference!
Watch Rep. Darren Soto's talk at CoinGeek Live 2020 Day 2.
New to blockchain? Check out CoinGeek's Blockchain for Beginners section, the ultimate resource guide to learn more about blockchain technology.