Looks like the first thing they're spending that ICO money for is hiring lawyers.
Two Alibabas are at war: Chinese e-commerce giant Alibaba.com is suing Dubai-based Alibabacoin Foundation, which launched and raised over $3.5 million through an ICO of the Alibabacoin.
Alibaba.com alleges that AlibabaCoin intentionally made no efforts to differentiate themselves from the e-commerce giant, and information on AlibabaCoin's white paper seems to hint that they were taking advantage of the confusion and riding in on the former's reputation to benefit their token sale.
AlibabaCoin claims that they are implementing artificial intelligence and deep learning to integrate facial recognition in accessing wallets, trading, and payments. Their white paper also focuses on international online shopping, and the company's web domains were registered very shortly after Alibaba.com announced that they will not be creating their own cryptocurrency.
The similarities were, in fact, confusing. Even the logo colours seem to match.

The white paper also outlines several other expansions for the company. Apart from trading, wallets, and shopping payments, the company also mentions building an education platform, as well as launching charity events. The white paper says that "ABBC is a non-profit foundation created for a purpose to enhance the blockchain technology and to share the financial benefits to all parts of the world," although launching an ICO not for profit is something that is hard to believe at this time, especially for a company claiming to utilize the latest technology for shopping.
In their defense, AlibabaCoin said they were well within their rights to use the name. "The legend of Alibaba conjures up thoughts of magic, gold coins, and 'Open Sesame,'" Alibabacoin said. "The ABBC entities are well within their rights to use a word connoting magic and golden coins in an area (Alibaba) has not used or, at the very least, has abandoned." A Reuters report says that the company's US-based lawyer has yet to comment on the case.
The U.S. District Court of the Southern District of New York has issued a temporary restraining order against AlibabaCoin, which has since posted a disclaimer on their website stating that they are in no way connected with Alibaba.com.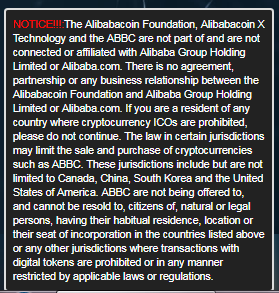 New to blockchain? Check out CoinGeek's Blockchain for Beginners section, the ultimate resource guide to learn more about blockchain technology.