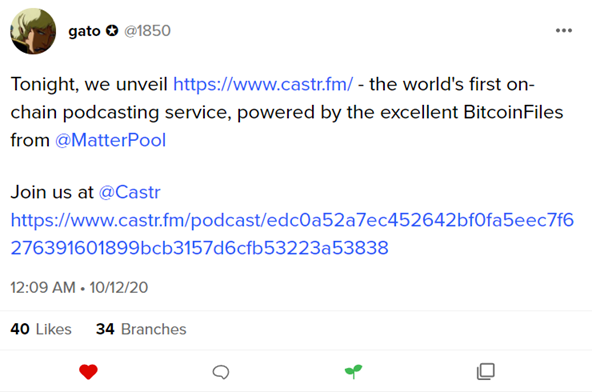 This fall, Castr.fm launched an on-chain podcasting service on Bitcoin SV. Castr leverages the BitcoinFiles service from miner and infrastructure provider Matterpool. I covered how BitcoinFiles enables robust on-chain data storage here.
Castr aims to provide a censorship resistant podcast hosting site that leverages the immutable nature and incentive structures the Bitcoin SV ledger provides. Castr takes the cheaper of 10 cents per MB uploaded or $3 per podcast as a cut. But what if Castr decides to go rogue and remove one's certain direction leaning podcast?
While they can purge the podcast from their site, they cannot scrub it from the ledger. Users will have the opportunity to consume or download the audio so long as a node is willing to serve the content, which is a counter to the mass de-platforming campaign seen in recent years.
Podcasters can earn directly from their following via cheers (1 cent per) and discussion. Like Twetch, it adopts the concept of paid speech. Commenting costs 10 cents, where Castr takes 2 cents as a platform fee. Cheers (example below) and comments are recorded on-chain.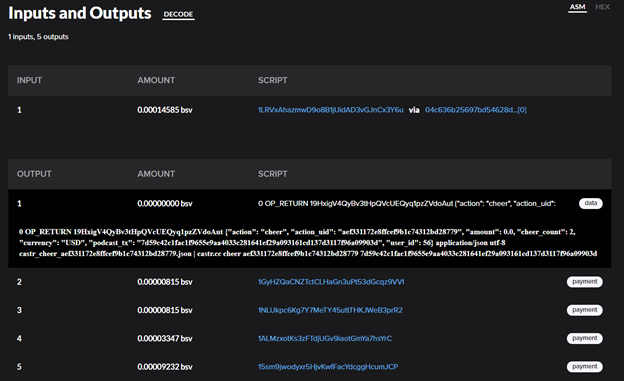 The incentives for content creators to earn from their audience are somewhat altruistic at the moment, but Castr does state in their FAQ that they are exploring more methods for monetization. Regardless, the ability to accept tips directly without an intermediary is valuable.
Obviously uploading megabytes of an MP3 file is still cost prohibitive, even with the recent halving of fee rates from 1 sat/byte to 0.5—but the very emergence of a service like this is what it takes to push fees down.
https://t.co/O1PwPuzMEU v0.0.3 released! Changelog:

– Dynamic per MB cut (podcast uploads should be cheaper)
– Simple upload quality selector (20MB or 50MB podcast compression target)
– Fully iTunes-compliant RSS feeds
– Podcast categories
– Master channel art
– FAQ Page

— Castr.fm (@castrfm) October 27, 2020
Castr has made a few updates since launch, including the ability to select the quality of the audio so that creators can weigh their cost of the upload. Such a tool demonstrates the accountability aspects of Bitcoin since upon upload they can validate the fees paid and always have direct access to the file.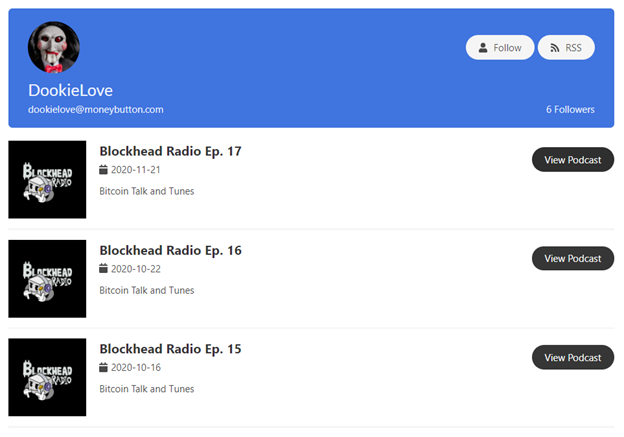 RSS feeds per author are featured, where the link URLs are the BitcoinFiles references with transaction IDs. As far as I know this is the first implementation of an RSS feed that serves data directly from the chain, a fascinating concept. Many blog posts can be found questioning the death of RSS as many sites no longer support it due to 'lack of usage' or certain 'reasons'.
Due to the open nature of the ledger, if one knows the transaction IDs, anyone can serve an RSS feed for any type of content they like. While Castr serves their own feeds, one could easily construct a feed for the entire site with different permutations without relying on Castr themselves to develop and host it.

Notice above that the reference TXID uses a custom Bitcom prefix, allowing anyone to query for podcasts uploaded via Castr.
Since the Bitcoin SV fork in late 2018, large file uploads have been done as an example to demonstrate the chain's capability of scaling. As the space matures, we now are seeing real businesses that take advantage of that scale and provide a valuable service to address current real-world problems on the Internet.
Follow Castr on Twitter @castrfm.
See also: CoinGeek Live panel, Social & Online Content Creators: Moving On-Chain to Make Money
New to Bitcoin? Check out CoinGeek's Bitcoin for Beginners section, the ultimate resource guide to learn more about Bitcoin—as originally envisioned by Satoshi Nakamoto—and blockchain.