Block.one co-founder and 2020 U.S. presidential candidate Brock Pierce has been served papers at his recent New York City rally.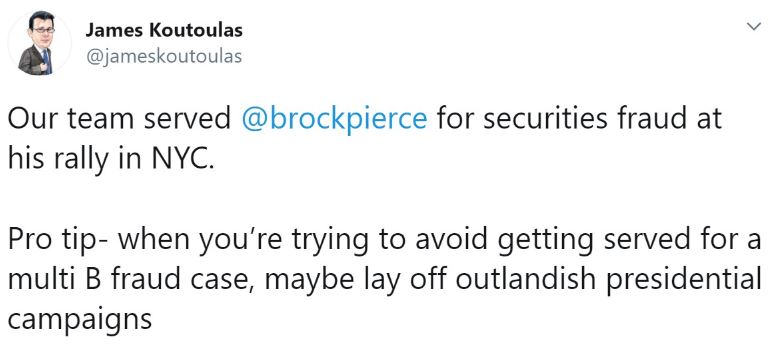 Source: Twitter
According to James Koutoulas, a member of the lead counsel in the lawsuit against Block.one and its founder members, "Brock had refused to accept service from us through his counsel so we had a process server serve him at a rally for his presidential campaign."
Pierce, however, said he has not been avoiding the lawsuit and claims that this move by the Crypto Assets Opportunity Fund LLC process server was merely a publicity stunt.
Evaded? You could have easily served me for months. I'm publicly running for President and my appearances are publicized. Morally bankrupt publicity stunts won't help your meritless case. Very proud of what we've done at B1.

— Brock Pierce (@brockpierce) September 15, 2020
The lawsuit
Crypto Assets Opportunity Fund LLC, along with lead plaintiff Johnny Hong, have filed a class-action lawsuit against Block.one. They claim that Block.one intentionally provided investors with false information in regards to the EOS token sale in order to attract more investors into what was ultimately an unregistered securities sale—which is true and has already been litigated.
In September 2019, Block.one settled with the SEC for $24 million for conducting an unregistered securities sale in the form of an ICO; a mere fraction of the $4 billion that Block.one raised during the 2017 EOS ICO.
However, according to Jenny Vatrenko, a member of Koutoulas's counsel, even though Block.One has settled with the SEC, "Investors who lost money have a private cause of action against Block1 that's not precluded by the SEC's settlement. In other words, they can sue Block one to recover their losses; the SEC fines went to the government, not investors."
Now that Pierce has been served the legal papers, Koutoulas says that in the near future you can expect, "[the Plaintiff] will be filing an amended complaint soon. Then Block.one will try to file a motion to dismiss. If the case survives that motion, then the class certification process begins in earnest to establish who exactly lost money due to Block.one's misconduct, and exactly how much."
New to blockchain? Check out CoinGeek's Blockchain for Beginners section, the ultimate resource guide to learn more about blockchain technology.