Events 3 July 2018
Becky Liggero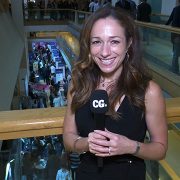 Blockchain Summit London 2018 recap
The annual Blockchain Summit London took place June 26th and 27th at the Olympia, attracting over 2,500 business leaders in the Blockchain space. Over the course of two days, delegates had access to 60 sessions across three separate conference tracks, over 50 exhibitors to check out and plenty of opportunities to network and share new ideas.
Topics covered included regulation, blockchain disruption across all sorts of industries such as travel, banking, trade, social good, property and more, ICO strategy, developer-focused tracks, smart contracts, tokenization and the list goes on.
nChain's CEO Jimmy Nguyen delivered a presentation on how Bitcoin Cash (BCH) will power the future of bCommerce, an inspiring speaker who strongly believes BCH serves as the only "all-in-one" chain and "all-in-one" coin.
In an effort to grow and nurture the BCH ecosystem, Nguyen has formed investment entity "nChain Reaction" to encourage hungry entrepreneurs and innovators to create on the BCH chain.
"We want to invest in products and applications that are great for Bitcoin Cash usage. That make it easier to use, that support the infrastructure and help ignite Bitcoin Cash adoption around the world," Nguyen shared with CoinGeek.com.
"Since Bitcoin Cash forked last August 2017, I've seen this wave of new young entrepreneurs starting products and applications on the chain…we believe [BCH is] going to become the global public ledger of the future.  It also has, because of the May 2018 protocol upgrade, restored OP_Codes—operating codes in the scripting language—which will enable tokens, smart contracts, all kinds of new functionality," he said.
Bankorus CEO and Founder Greg Van den Bergh talked on security tokens and how he sees this space as an area of enormous growth for blockchain technology.
"We're the largest player in Asia for security tokens. We see ourselves as the marketplace, the 'one stop shop' for people to buy and sell security tokens and to manage their wealth on the Blockchain," Van den Bergh told CoinGeek.com
"Innovation normally goes in threes, if you look at social networks, Friendster, then you have MySpace and then you have Facebook, Facebook being multiple times bigger than everything else. In crypto, you first had Bitcoin, then you have Ethereum and the ICOs which is much bigger than the whole Bitcoin ecosystem and then after that we believe the third wave is going to be security tokens which is going to be exponentially larger than anything you have seen before in crypto," he explained.
Jared Psigoda, CEO of blockchain gaming platform BitGuild, has been working in the gaming industry for over 20 years and has identified a massive opportunity in blockchain for providing a seamless gaming experience and virtual item trading for gamers.
Not only does Psigoda believe blockchain will revolutionize the gaming industry, he predicts the technology's applications in the gaming industry could influence mass blockchain adoption in general.
"The hard fact right now is most crypto currencies out there don't really do much right now. They're financial instruments for trading value back and forth about the future of how a company or a crypto currency company is going to do. And the market is not looking so great right now. Personally, I believe we need to start building applications and actually start building things on top of this great technology," Psigoda shared.
"Gaming is a 100 billion + a year market, it's got a lot of young, tech-savvy people that are quick learners, game designers are great at building experiences for new users that have a little friction as possible for them to get to try something out," he said.
"So we think games will bring a lot of new people to this industry if we're able to create these blockchain games that are actually fun and engaging for the user," Psigoda added.
When it comes to choosing what chain to build on as a gaming company, Psigoda revealed some of the biggest challenges out there right now—transaction speed and cost.
"On Ethereum right now, to buy a one dollar item could cost you two dollars in fees and 10-15 minutes in waiting to get that actual item. So it's a race now to see who can resolve that, but I think who ever resolves it, developers are going to flock to which ever blockchain is able to do that," he shared.
One of the summit's most anticipated speakers was Dr. Craig Wright, Chief Scientist of nChain, who attracted a long line of delegates waiting to get into his session. Dr. Wright spoke on "atomic swaps" and the future of tokenization on the Bitcoin Cash blockchain.
With tokenization as such a hot topic in the blockchain world, interested parties are shopping for the best chain to build on (or to migrate to) and Dr. Wright provided three reasons why he believes the BCH chain is superior.
"Scalability, security and extensibility. Those three reasons are what's going to actually make it work on Bitcoin Cash," he told CoinGeek.com
"First of all, we have scalability. That we have constructed contracts in Ethereum means that you actually have limits, you always have limits…security is the next thing. Bitcoin Cash and the technology we've been developing for it and exclusively for it is going to be far more secure. Building big actually makes it more secure itself," he said.
"Extensibility. This is the final bit. We've been developing ways of extending what you can do. We're going to make the basic tokens for utility, stocks, bonds and everything else, but we're going to make a system that enables financial securities, that enables anything everyone can ever dream of to actually integrate on to the Bitcoin Cash blockchain," he added.
"The two of us can actually send something and some machine out there on the internet will pick up our transmission without ever having any involvement with us and will start operating based on that sale. That's the sort of level we're going to get to," he said.
Note: Tokens on the Bitcoin Core (SegWit) chain are referenced as BTC coins; tokens on the Bitcoin Cash ABC chain are referenced as BCH, BCH-ABC or BAB coins.
Bitcoin Satoshi Vision (BSV) is today the only Bitcoin project that follows the original Satoshi Nakamoto whitepaper, and that follows the original Satoshi protocol and design. BSV is the only public blockchain that maintains the original vision for Bitcoin and will massively scale to become the world's new money and enterprise blockchain.