A growing number of enterprises around the world is supporting blockchain technology, according to Deloitte's 2020 Global Blockchain Survey.
Too big to ignore?
From early February to March 3, Deloitte surveyed 1,488 senior executives across 14 countries. Compared to Deloitte's 2019 Global Blockchain Survey, there was a significant increase in the interest and implementation of blockchain across businesses.
"This year's survey suggests that blockchain is solidly entrenched in the strategic thinking of organizations across industries, sectors, and applications," said Linda Pawczuk, Principal, Global and U.S. Consulting Leader for Blockchain and Digital Assets at Deloitte.
It is well known that blockchain technology has the potential to be revolutionary and can allow businesses to reduce costs while increasing efficiency. That being said, it is practically irresponsible for business leaders and their companies to not be researching and developing—if not implementing—blockchain, especially if they are considered a leader in their industry. 
The results
The 2020 survey discovered that 39% of respondents had already implemented blockchain into their processes. In 2019, only 23% of respondents had implemented a blockchain. 
In addition, 83% of the respondents reported that they would lose a competitive edge if they didn't adopt blockchain. In 2019, only 77% of respondents said that they would lose a competitive edge if they did not implement blockchain.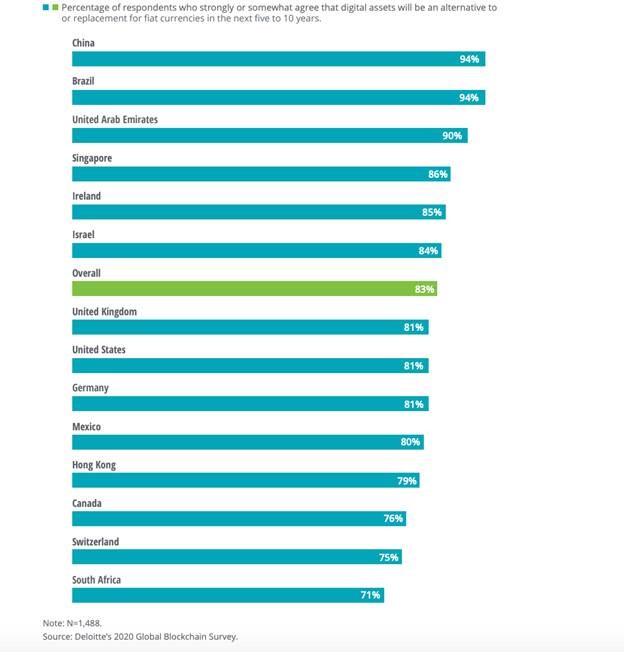 A majority of respondents from each country believe that digital assets will be an alternative to, or replacement for, fiat currency in the next five to ten years. It is also important to note that 54% of respondents said that blockchain is overhyped, while only 43% of 2019 respondents believed that blockchain was overhyped.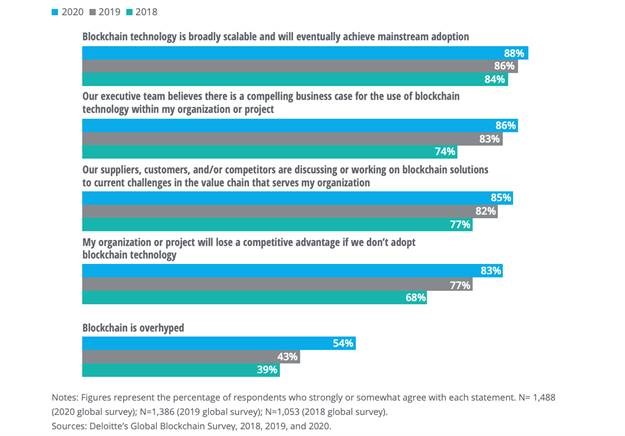 How are corporations using blockchain?
According to the survey, the top five use-cases the respondents have for blockchain are for digital currencies, data access and sharing, data reconciliation, identity protection, and payments.
However, the respondents claim there are still a few barriers that prevent them from implementing a blockchain.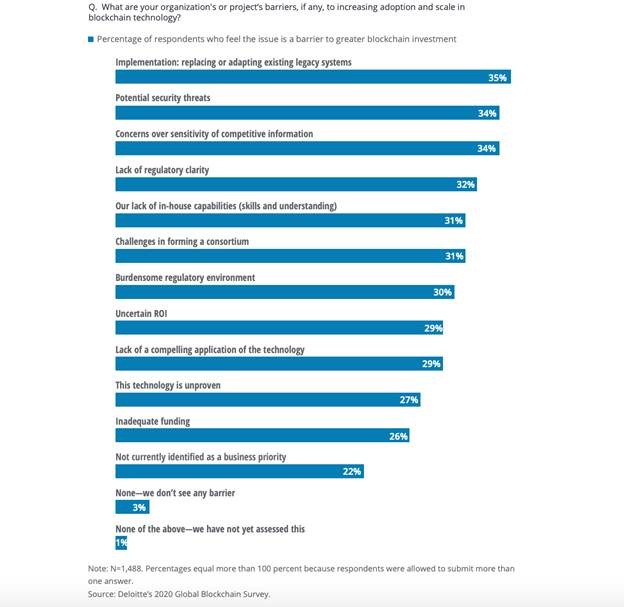 When Deloitte asked, "What are your organization's or project's barriers, if any, to increasing adoption and scale in blockchain technology?" 
Many respondents said that it would be difficult to replace the legacy system that is currently in place, that they were worried about security threats, and that the lack of regulatory clarity was preventing them from moving forward with blockchain. 
Only 3% of respondents said that they don't see any barrier to adopting blockchain in their business model.
New to Bitcoin? Check out CoinGeek's Bitcoin for Beginners section, the ultimate resource guide to learn more about Bitcoin—as originally envisioned by Satoshi Nakamoto—and blockchain.