Bit.sv is a content creation platform where users can earn Bitcoin SV. Below is a video from Brad Jasper (@synfonaut on Twitter) explaining how it all works:
This article will dive into the details of Bit.sv, its features, wallet details, unique upvoting mechanisms and more!
Signup process
Bit.sv is still in beta so users will have to sign up by contacting Brad directly, but is still possible: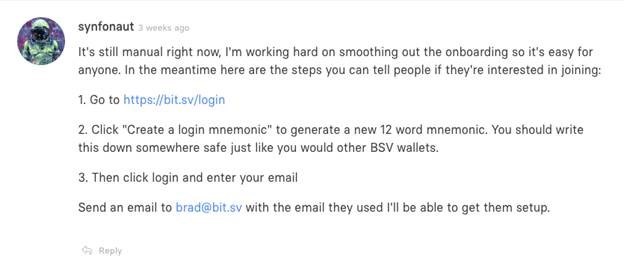 Once you have an account you must set a username which will also conveniently be your paymail account: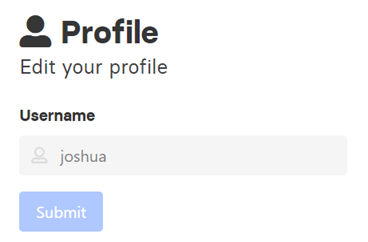 Wallet
Once your paymail is set, you can click your profile in the top right and wallet to see your balance, paymail, send and receive money: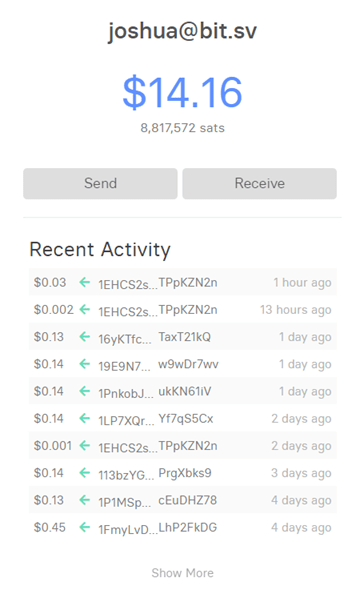 Bit.sv also has a fully integrated wallet that supports sending to public addresses, paymails and can receive payments via a QR code. This is a nice feature, especially since an unknown aspect of the platform is its PWA (progressive web app) support.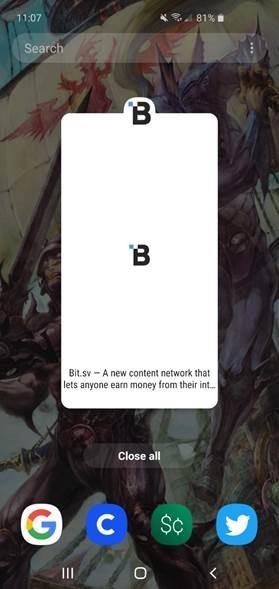 Users can use the PWA of a web app simply by adding a shortcut of the URL to their home screen on their smartphones. This grants the ability to access the site as if it was a smartphone app without the hassle of installing from the Google Play or Apple stores.
Consequentially, this means that the app owner effectively routes around app store fees and avoids the costs and time to work with Google or Apple to get theirs deployed.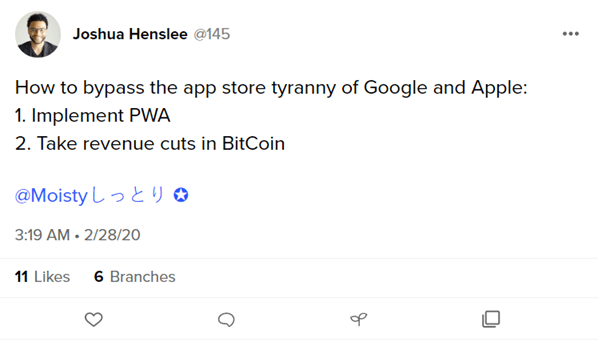 Given that Bit.sv takes a 10% cut of paywall purchases this is ideal since they can claim the full percentage vs. having to pay Google or Apple a cut of that downstream.
Dashboard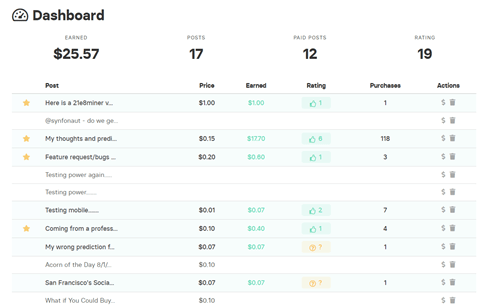 On the Dashboard creators can view their posts, how much they have earned, total purchases and their rating. Rating is the sum of likes for all your posts. This may be a more complex calculation in the future (read on for more details). Creators can also delete their posts (they are still on-chain), but this function hides them from the site.
Paywalls and encryption
The primary feature of Bit.sv is hiding valuable content behind paywalls. The creator sets the price and users can buy the content seamlessly via clicking and holding price button to unlock the content.
This is perhaps the slickest UX I have seen on a blockchain application: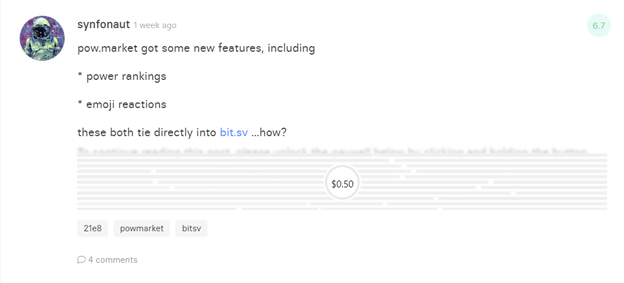 Creators can add free content before the paywall to entice users to purchase. Alternatively, they can post completely free content. Content behind paywalls is encrypted on-chain so when a user purchases the content, they are effectively purchasing a decryption key.
Users can only comment on posts after they purchase them and are prompted with an option to like or dislike the content. This affects the creator's rating, encouraging accountability on the platform and signaling to other potential customers before buying.
Since the content is on-chain, users always have access to their data; this is a great step in the direction of enabling creators to own their data. Bit.sv is an interface to interact with the ledger, but if their domain goes down, users do not lose access to their creations. Another interface could implement the protocols that Bit.sv leverage to provide a similar service.
Bit.sv implements the Metanet protocol along with the MAP to structure the data fields and encrypted content. Metanet enables permissioned data structures and the ability to link content pieces together making it the ideal protocol for organizing posts.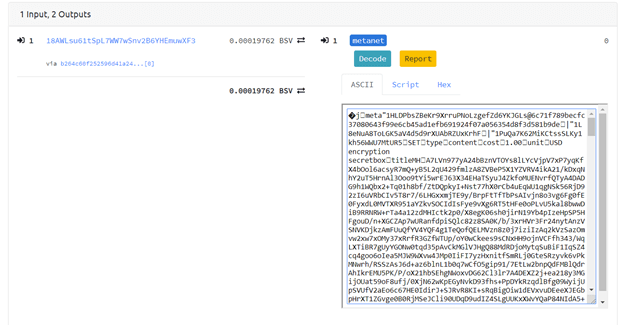 The platform supports external paywalls so that those who are not signed up can still buy content. The nice aspect about these is that MoneyButton, RelayX and QR codes are supported for payment meaning that users can use any Bitcoin SV wallet to unlock the paywall.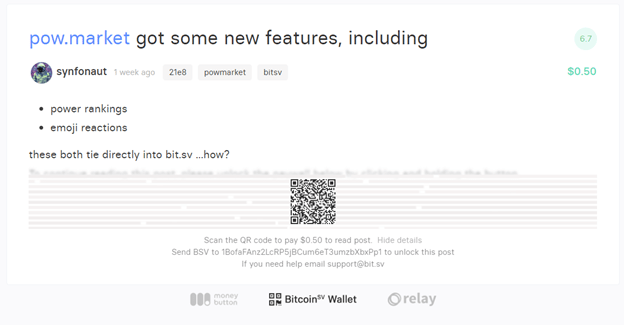 Aligning incentives
As mentioned above, Bit.sv takes a 10% revenue cut of all paywall purchases. This aligns incentives with other participants in the Bitcoin SV society as they have a reason to continue to grow the platform, onboard as many users, and generate as many transactions as possible.
This implies a strong incentive to continuously add features to entice creators to keep posting. One of the most interesting features Bit.sv have added is the integration of 21e8 magic numbers.
Applying PoW to content
Bit.sv supports applying computing power to the transaction ID of your post as a means of curation. Instead of one-click, cheap upvotes (i.e. Reddit) anyone can allocate Proof-of-work toward the transaction hash of your post order to 'vote' your content higher on the page.
I will not go into detail about what 21e8 is in the scope of this blog post but to learn more you can grab a 21e8miner, start mining yourself, read the relevant posts on Bit.sv and check the blockchain.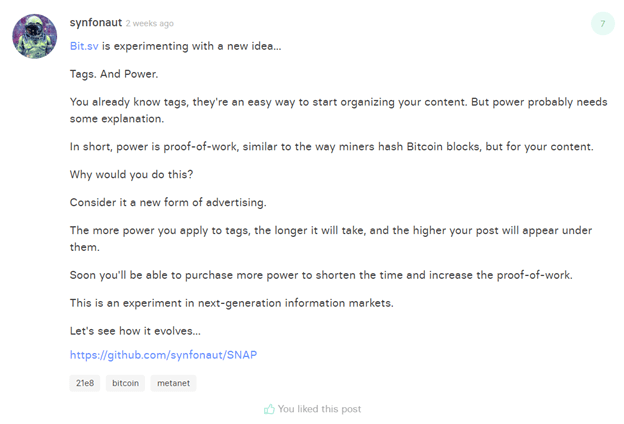 Bit.sv has implemented tags in order to organize content like most social media sites however this method of curating your content to the top of the webpage under different tags is rather novel.
An interesting aspiration of this is to combat the 'fake news' issue by sites enforcing some type of standard before displaying content. For example the site may not show a blog post or news article unless it has been mined with a magic number with at least four trailing zeroes (ex. '21e80000').
Conclusion
Bit.sv is perhaps the user-friendly Metanet application implemented right now and is still in beta! Personally, I managed to have a post purchased over 110 times at a price of $0.15 discussing my prediction about the upcoming halving event.

This is a promising, early indication that a market exists for content creators. I am excited about the future of Bit.sv and hope to see more join the platform!
New to blockchain? Check out CoinGeek's Blockchain for Beginners section, the ultimate resource guide to learn more about blockchain technology.