Illicit activity only makes up 1.4% of all digital currency activity in Africa, a new report has revealed. The report by blockchain analytics firm Chainalysis revealed that Latin America is the leading region for digital currency scams, with East Asia ranking second.
The rapid rise in adoption of digital currencies in Africa has seen the number of scammers targeting traders shoot up as well. However, the number of traders falling for such scams has remained relatively small in the region, the New York firm revealed in its detailed "2020 Geography of Cryptocurrency Report."
"While scams still make up a large portion of illicit cryptocurrency activity in Africa, the share isn't as high as it is elsewhere," the report stated.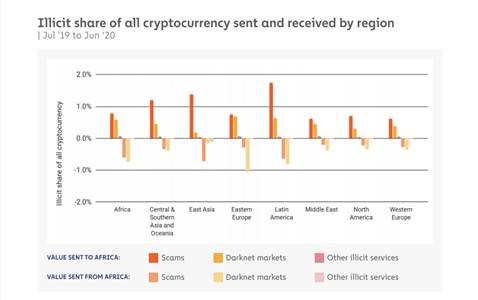 African traders are extremely wary of falling for scams, Ray Youssef told Chainalysis. The founder of peer-to-peer trading platform Paxful attributed this to the prevalence of scams in the fiat world which has instilled fear in many. This fear of scams has made it even more difficult for legitimate platforms such as Paxful to pitch their products to African traders, he revealed.
The report also revealed the biggest digital currency scams in Africa, with Mirror Trading International leading the way. Through its website MyMTIClub.com, the South African firm reportedly commands a dominant 95% lead in the past seven months. The amount of funds it has managed to raise from African trades has surged steadily since December 2019 when it received under $1 million to June 2020 when it received $8 million.
Other scams that have brought in millions of dollars include SBlock.com, CloudTokenWallet.com, WoToken.pro and F2Trading Corporation.net.
Of the illicit activity in Africa, scams took the lion's share in the period under review at 55%. Darknet markets were second at 41%, with stolen funds accounting for a paltry 4%. However, this number is much lower than the 86% scam prevalence in East Asia.
Aside from illicit activities, the report also revealed the massive growth in digital currency adoption in Africa. Three African countries ranked in the top 10 in the Chainalysis Global Crypto Adoption Index. Kenya led the continent, ranking 5th globally, with South Africa and Nigeria ranking 7th and 8th respectively.
New to Bitcoin? Check out CoinGeek's Bitcoin for Beginners section, the ultimate resource guide to learn more about Bitcoin—as originally envisioned by Satoshi Nakamoto—and blockchain.