Africa must regulate its digital asset industry; the International Monetary Fund (IMF) has stated, calling for greater consumer protection in the continent.
Africa has the world's fastest-growing digital asset industry. While the size of digital currency transactions still trails Asia, Europe, and North America, the region is quickly becoming a Bitcoin hub, the IMF noted in a recent blog post. This requires diligent regulations which minimize risk while maximizing innovation.
Africa is one of the fastest-growing crypto markets in the world, but only one-quarter of countries in the region formally regulate crypto. Read our latest #IMFBlog for more. https://t.co/xSrAP1WyBp pic.twitter.com/QYtL3ag486

— IMF Africa (@IMFAfrica) November 27, 2022
According to the Washington-based global financial agency, most African countries are yet to formulate regulations for the sector. Only 25% of Sub-Saharan countries have formally regulated digital assets. Two-thirds have imposed some form of restrictions on the sector, with a further six countries banning digital currency altogether. Zimbabwe and Liberia haven't officially banned digital assets but continue to crack down on VASPs, including by denying them banking services.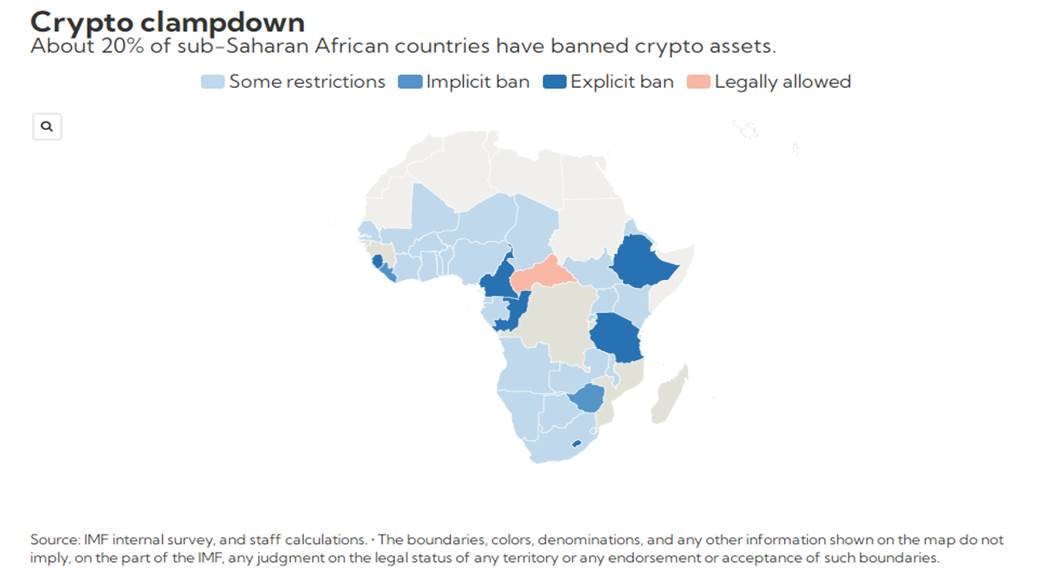 IMF Africa's Twitter account
The IMF, which has continuously bashed digital assets, pointed out in its blog post that digital assets are too volatile to be stores of value.
"Policymakers are also worried that cryptocurrencies can be used to transfer funds illegally out of the region and to circumvent local rules to prevent capital outflows. Widespread use of crypto could also undermine the effectiveness of monetary policy, creating risks for financial and macroeconomic stability," the UN body added.
As previously stated, the IMF reiterated that the worst possible application of digital assets is where they are granted legal tender status.
The Central African Republic (CAR) adopted BTC as a legal tender this year, the second country in the world after El Salvador. CAR came under criticism for its move, with the IMF among those calling for a reversal of the directive.
"The adoption of Bitcoin as legal tender in CAR raises major legal, transparency, and economic policy challenges," the bank stated at the time. It now says the move violated the CEMAC (Economic Community of Central African States) Treaty.
African countries, just like most other nations globally, have struggled with regulating digital assets. In top economies like Nigeria and South Africa, regulators have treated digital assets like securities. However, their main focus has remained ensuring that digital assets don't facilitate crime.
Kenya is the latest to take a stab at Bitcoin regulation. As CoinGeek recently reported, a new draft bill wants to classify digital assets as securities for tax purposes. The East African nation is one of Africa's biggest Bitcoin hubs, ranking in the top 20 globally for adoption.
Watch: The BSV Global Blockchain Convention panel, Blockchain in Africa
New to Bitcoin? Check out CoinGeek's Bitcoin for Beginners section, the ultimate resource guide to learn more about Bitcoin—as originally envisioned by Satoshi Nakamoto—and blockchain.