Laxo Solutions is building BSV's first-ever multi-sig wallet and is expecting to launch its beta in Q1 2020. The team at Laxo has created many BSV and Metanet apps under their label Bitmesh; they have been long-time supporters of BSV and look forward to giving BSV users a safer way to store their funds.
"We are long-time BSV supporters, we witnessed several forks and prepared for a long time, we know the upcoming fork will sunset p2sh, and we are ready to release the first multi-sig wallet based on threshold signature, it is superior to p2sh." Said Wang Fu Qiang, the founder of Laxo Solutions.
The BSV hard fork in February 2020 will make pay-to-script-hash (P2SH) outputs invalid. Unfortunately, some BSV wallet providers, like BitGo, use P2SH-based multi-signature addresses and refuse to update their wallets for their users. Once the BSV upgrade takes place in February, users of Bitgo's BSV wallets will no longer be able to receive BSV, but they will be able to send BSV from their Bitgo BSV wallet. 
No worries for BSV users, Laxo will be the first wallet supporting Multisig for BSV based on Threshold technology, @BitcoinAsso @Lise0508 @BitMeshOfficial https://t.co/hnLPMeXfLp pic.twitter.com/FXl2YrZ1Il

— Volt.id (@VoltWallet) December 19, 2019
However, Laxo is looking to solve this problem by creating its threshold signature multi-sig wallet before the BSV fork takes place in February. This makes it possible for wallet providers like BitGo to follow suit and release a new wallet for their BSV users that supports the Genesis Hard Fork.
What is a threshold multi-signature wallet?
A threshold multi-signature wallet is a cryptocurrency wallet that requires more than one party (each party is called a copayer) to provide their signature for a transaction before it is approved and sent. However, unlike standard multi-sig wallets—which give each copayer a unique private key and address—in a threshold multi-sig wallet, only one private key and wallet address are created. Each copayer is given a piece of that private key, and when N out of M copayers sign a transaction, that one key is used to sign the transaction, and only one wallet address appears on the blockchain.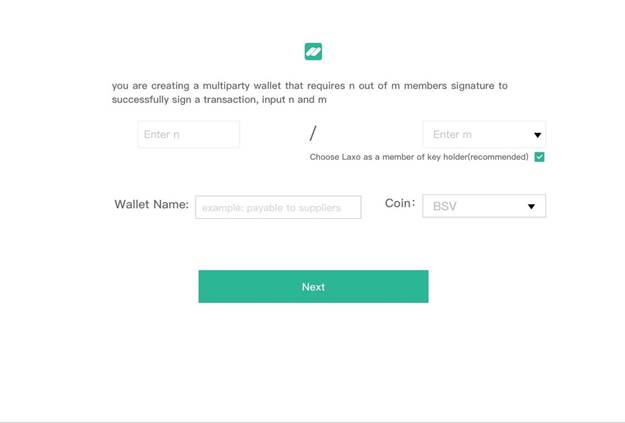 "Upon creation [of our threshold signature wallet], the private key is split into several pieces held by different parties," says Wang Fu Qiang.  "Whenever they make a transaction, different parties do some interactive computation and money is sent, but the private key never forms into a whole one, this mechanism ensures the security of the wallet."
For this reason, if an attacker is trying to compromise the wallet, they will not know where to attack, no user actually holds the private key for the wallet. In addition to being more secure, threshold multi-sig wallets can scale in terms of the group members. In a threshold multi-sig wallet, you can add or delete members from the group without having to move the funds to a new location or set new parameters regarding the group members. Compared to a 'regular' multi-sig wallet, where you have to transfer all the funds to a new wallet and then reassign the copayers with the new additions or deletions.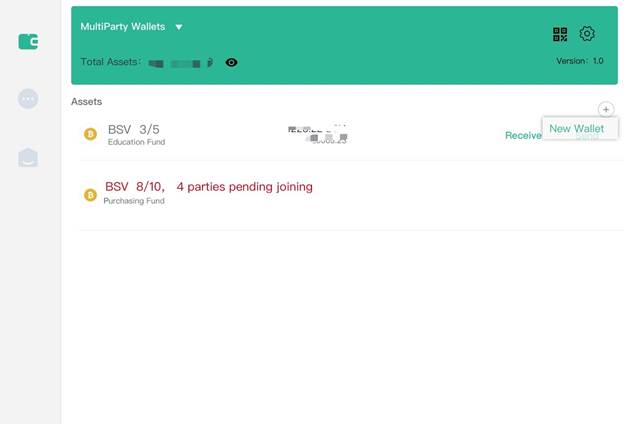 Use threshold multi-sig for increased security
Threshold multi-sig wallets are more secure than your standard cryptocurrency wallet (single signature) or even your average multi-sig wallet. Using a threshold multi-sig wallet prevents any data that could lead to failure–like a copayers wallet address or multiple private keys–from leaking and supports scalability, unlike a standard multi-sig wallet. Fortunately, threshold multi-sig wallets will be available for BSV users soon. The Laxo BSV threshold multi-sig wallet is expected to have its first release in Q1 2020, so be on the look-out for the launch of their beta in the near future.
And remember to check back on CoinGeek for more updates regarding the launch of the Laxo threshold multi-signature cryptocurrency wallet! 
New to Bitcoin? Check out CoinGeek's Bitcoin for Beginners section, the ultimate resource guide to learn more about Bitcoin—as originally envisioned by Satoshi Nakamoto—and blockchain.