The fourth iteration of the Bitcoin SV Hackathon has set a new record in both the number of participating developers and geographical reach. The Hackathon attracted over 600 developers from across the globe, with a majority participating solo. Ultimately, three projects emerged as the finalists and will battle it out at CoinGeek New York in October.
The 4th Bitcoin SV Hackathon kicked off on June 14, with a total prize pool set at $100,000 (payable in BSV). For this iteration, the Bitcoin Association set the theme as peer-to-peer applications, with the participants required to leverage SPV Channels and the merchant API (mAPI).
Ten weeks later in August, TKS Pnt, CATN8, and Bitcoin Phone were announced as the three finalists. The three projects will present to an elite panel of judges at CoinGeek New York, which kicks off October 5, for a chance to walk away with the lion's share of the prize money.
As we get closer and closer to finding out who will take home top prize in the 4th #BSV Hackathon at #CGNewYork on October 7, we look back on our most popular competition to date in by the numbers!

Read more: https://t.co/LkIyY7NRvI
#BSVblockchain

— Bitcoin Association (@BitcoinAssn) September 15, 2021
The Hackathon was the largest ever, attracting 623 participants. Of these, 552 developers entered the competition working on solo projects while 71 entered in teams. The participants all had six weeks to code and build their projects before submitting them to the judges.
Python was the most popular skill, with 128 developers specializing in the high-level general-purpose programming language. 102 specialized in JavaScript, 69 in Java, 46 in C++, 41 in React, and 32 cited blockchain as their area of specialization.
The Hackathon attracted 144 full-stack developers, 87 entrepreneurs, 41 designers, and 34 data scientists. It also brought in 30 mobile developers, 27 backend developers, and 32 participants who identified as product managers.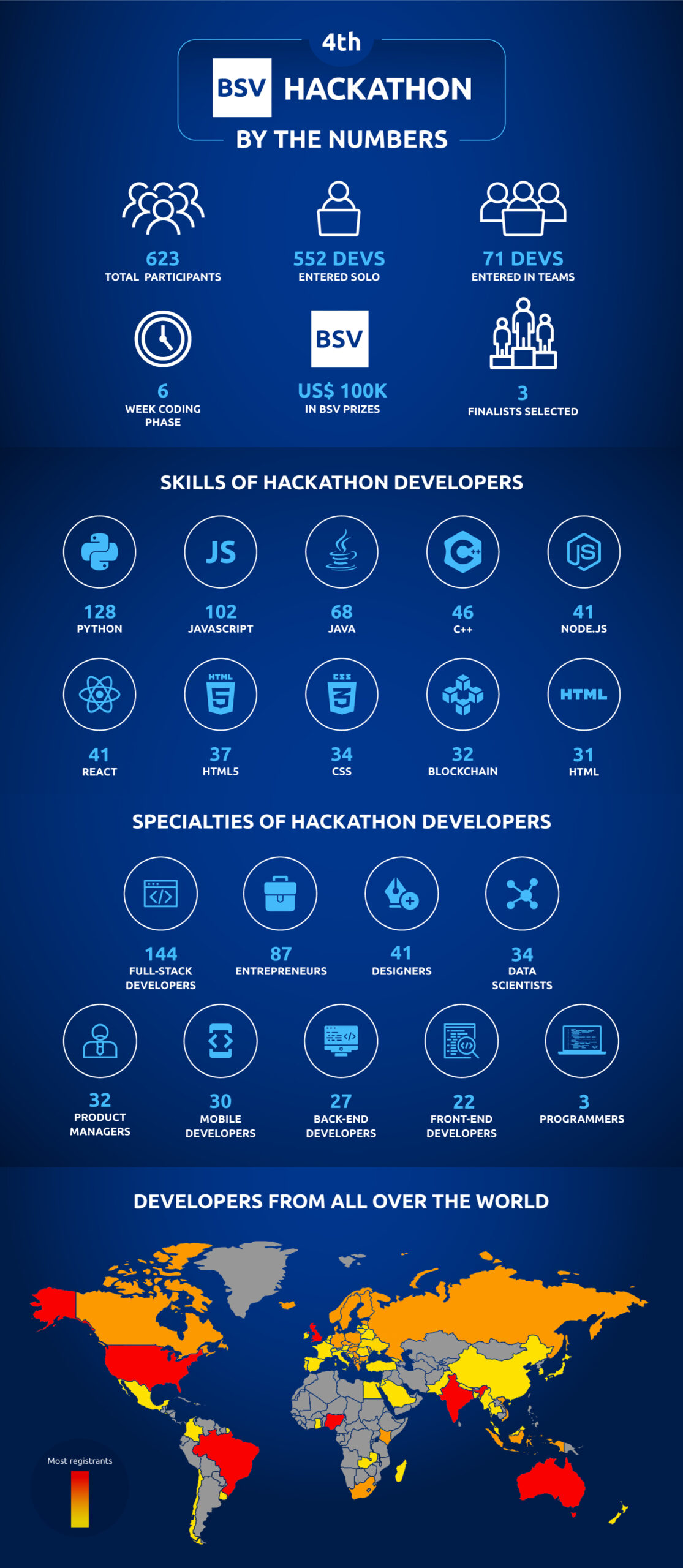 Geographically, Australia, the U.S., Brazil, and Nigeria were represented by the highest number of participants. India and the U.K. also saw a high number of participants, as did Canada, Russia, Sweden, Germany, and Poland.
Register to join the eighth CoinGeek Conference, taking place at The Sheraton, Times Square in New York City.
New to Bitcoin? Check out CoinGeek's Bitcoin for Beginners section, the ultimate resource guide to learn more about Bitcoin—as originally envisioned by Satoshi Nakamoto—and blockchain.