China is purging out mainstream cryptocurrencies while their own digital currency is underway.
Last year, the Chinese government cracked down on cryptocurrencies, banning ICO's and cryptocurrency exchanges from the country. This year is starting no better for the Chinese BTC community, as the government's tightens their chokehold on the cryptocurrency further—this time with their hands on the mining community.
According to initial reports, the government wants to limit energy consumption for those dedicating electricity to BTC mining, a move that can substantially stifle and eventually wipe out the mining industry in China should profitability turn out too low. But sources now say that the government is, in fact, ordering a shutdown of cryptocurrency mining altogether and has sent out a notice calling for an "orderly exit." Chinese miners currently hold around 79% of the legacy chain's (BTC) global hash rate.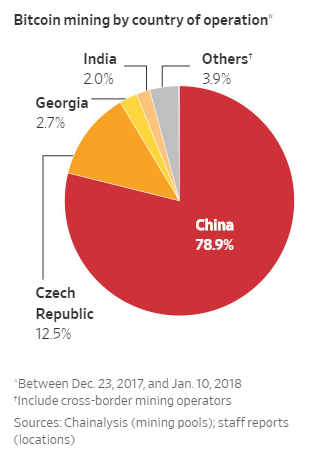 Amid these reports, Chinese mining pool ViaBTC—which is currently one of the biggest mining pools in the world—announced that starting yesterday, January 10 at 12:00 UTC, their cloud mining business is closing down.
"In order to control speculation and protect the interests of our investors, ViaBTC will officially close cloud mining Market at UTC time 12:00 Jan 10th, 2018.
Please finish all your cloud mining contract trading ASAP. Thank you all for your support."
Why the government is absolutely determined to rid itself of such a highly profitable industry is not exactly baffling—they are phasing out the competition so they can take over.
The same way the Chinese government shuns mainstream social media sites in favour of their own brands, it seems absolutely determined to purge out cryptocurrencies—so they can use their own. In October last year, People's Bank of China's (PBOC) director Yao Qian announced that they have already completed tests on their digital currency between the central bank and commercial banks.
New to blockchain? Check out CoinGeek's Blockchain for Beginners section, the ultimate resource guide to learn more about blockchain technology.