Turkey's capital markets regulator will intensify its efforts to formulate regulations for the crypto industry. According to a report by a local outlet, the regulator believes that the efforts might materialize this year, even as interest in cryptos in Turkey soars.
The Sermaye Piyasası Kurulu (SPK) has noticed the rise in crypto use and ownership and wants to stay ahead of the industry this year, a report by Hurriyet reveals. Also known as the Capital Markets Board, the regulator has also been pressured by some public authorities which believe the government must be ready and able to protect investors.
The CMB stated, "Public authorities state that investors intend to more clearly define their rights in terms of crypto-currency issues and eliminate these concerns."
The watchdog also recognizes that the lack of well-laid out regulations has made it impossible to tax the industry, missing out on a lucrative opportunity. The regulatory efforts will also extend to businesses and platforms that deal with crypto, from custodians to crypto exchanges.
According to a source cited by the outlet, the CMB is concerned that investors aren't sufficiently protected by the current regulations. With the number of crypto scams being ever on the rise, the CMB finds it crucial to have measures in place to protect the public.
The report also revealed that the Istanbul Financial Center will focus on the development of emerging technology such as blockchain in Turkey. The IFC "provides innovative opportunities in capital markets and payments systems, such as a blockchain-based distributed ledger technology and artificial intelligence."
Indeed, cryptos have become really popular in Turkey. A study by Hamburg, Germany-based company Statista revealed that Turkey has the highest percentage of crypto users. According to the report, one in every five Turks has used or owned cryptos.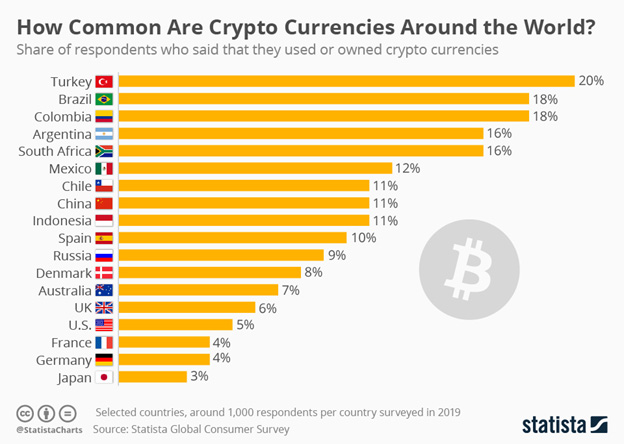 Turkey's crypto ownership is way above some of the more renowned crypto giants such as the U.S., the U.K. and Japan. The U.S. has a 5% crypto ownership, with the U.K. and Japan having a 6% and 3% ownership respectively.
Turkey also intends to launch a state-backed digital lira. The currency will be rolled out this year in a trial run. Turkey is also among the countries that called for the development of a Muslim crypto. Together with Iran, Malaysia and more, they believe that this is the best way to fight the influence that the U.S. dollar has on the global economy.
New to blockchain? Check out CoinGeek's Blockchain for Beginners section, the ultimate resource guide to learn more about blockchain technology.