What kind of world do you want?
The answer to that question posed by BSV Blockchain Association Founding President Jimmy Nguyen during the opening of the BSV Global Blockchain Convention is clearly evident during the whole of three days of the event, which took place at the Grand Hyatt Dubai from May 24 to 26. The presentations and panel discussions underlined all the good that the BSV blockchain can do in the world—and yes, even Bitcoin creator Dr. Craig Wright promises to do good.
"What I want to say is, we're not going to destroy anything," Dr. Wright said in his keynote speech. "We're going to have more fun, and we're going to start with a nice little network out there and we're going to make all those lovely people in solidarity-type Ethereum world super, super happy—and I mean super happy because we're going to allow them to keep building their platform at scale, with no limits."
Certihash team-up just the start of IBM's BSV blockchain exploration
Back in April, Certihash announced that IBM Consulting will be assisting with the software design and development of its Sentinel Node project, which will detect and track every log change and record it to the blockchain. With Sentinel Node, users will be able to immediately recognize data breaches or changes of files.
On Day 3 of the BSV Global Blockchain Convention, Patrik Walaszczyk, blockchain solution expert at IBM Consulting, noted that this could be the first of many projects for IBM on the BSV blockchain. In the midterm, IBM Consulting plans to expand and promote Sentinel Node among enterprises, and then possibly extend its assistance in the long term to the rest of the Certihash cybersecurity products family.
"Why do we believe that BSV is the right technology choice for enterprises? First of all, the massive scaling power of BSV enables very low fees which facilitates the micropayments transactions and greater data capacity. Which leads us to define the BSV as a some kind of enterprise grade ready blockchain, which offers a secure platform for developers to build new solutions," Walaszczyk said. "BSV is the right choice because it offers low volatility of cost, which led us to easily predict cost structure and possible overhead of what we're going to build."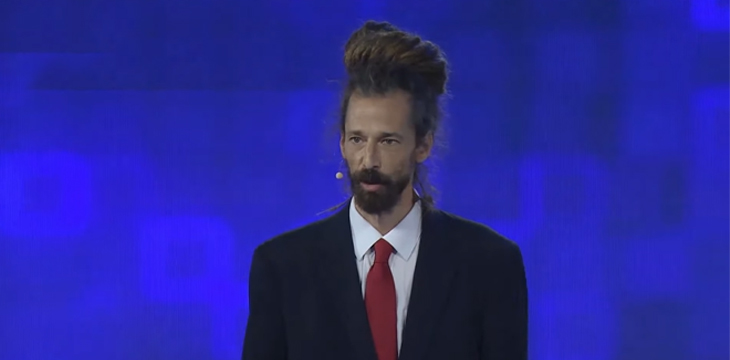 Building on blockchain is a common theme in previous CoinGeek events, and this still holds true at the BSV Global Blockchain Convention. Companies that are building on BSV—the only massively scalable blockchain—showcased the latest with their platforms on the third day of the convention. Vaionex founder Robin Kohze has several announcements up on his sleeve, including the launch of the BSV Transpiler, allowing users to convert 1:1 many of the popular Ethereum smart contracts directly into BSV scripts.
Ethereum smart contracts can now seamlessly be converted to bsv smart contracts to create a new funnel of adoption. Craig was always adamant that #BSV could roll up all existing blockchains and that's what that looks like.https://t.co/Njj56kDRpj pic.twitter.com/u4jT5ACC7d

— Rob (@Rob_GCC) May 26, 2022
Justin Pauly, President of VX Technologies, also has a special treat for everyone: they're giving away one-month free access to VXLOCK, a text box on blockchain allowing anyone to try and use the Bitcoin blockchain for themselves.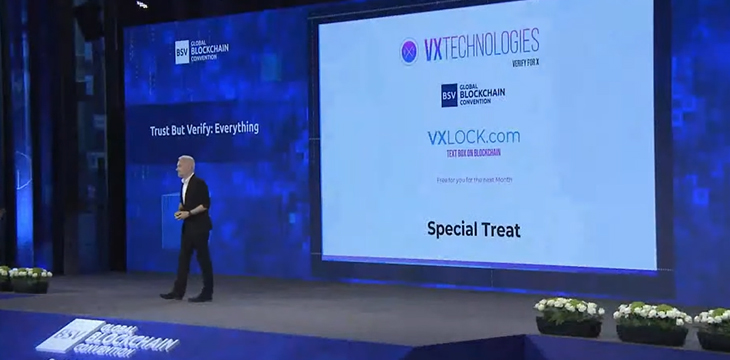 Actual products with real, sustainable value at #GBC22
Ease and utility—these are the two major factors have emerged from all of the presentations, discussions and exhibits in the past three days. And many of the attendees have noted how the BSV Global Blockchain Convention stands apart from other 'crypto' conferences.
"I have been to almost 11 events since January, and I have been going through and in touch with other blockchains coming in the market but the thing with BSV which I like the most is the easiness of combining it with different layers. The Layer 1 concept of BSV, the integration, and the speed, that is something which is very good," Abhishek Shukla, of Ykcor Group, tells CoinGeek.
For first time blockchain conference attendee Kilsy Novoa, of American Cybersystems, the trip to Dubai from Los Angeles has certainly been a fruitful one. She said, "I came basically to learn more about the technology and what blockchain and BSV together do, and I've learned quite a lot. I'm taking a lot with me back home."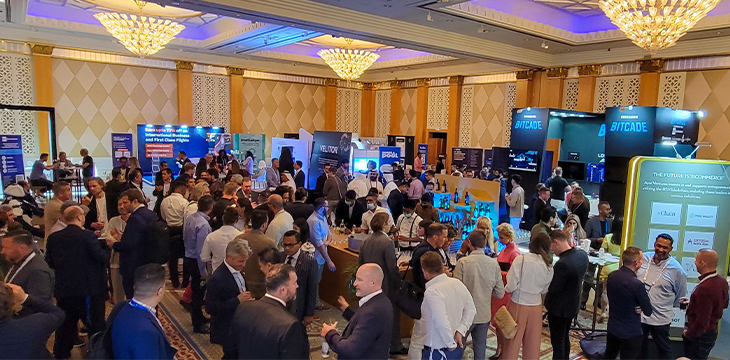 Manila-based Maricar Carniyan is one of the winners of Centbee and Bitcoin Association's Honey Rewards competition, and her trip to Dubai is eye opening.
"When I arrived here in Dubai, I first thought the community is very exclusive because that is what it was all about for Ethereum and other communities, but here in the convention, you'll see that people here are warm, they like to impart knowledge. It's a very, very tight community, and I'm glad to be part of it," she tells CoinGeek.
Joe Holles de Peyer, Co-Founder and COO of Gate2Chain, is loving the convention experience: "It's been really interesting. We've met loads of super inspiring people. We've discovered an amazing country, as in UAE. I think they have very clear vision as to where they want to be and this exciting future. The most important thing I think is that they have a clear regulatory framework for the different types of tokens and a clear base structure of how to proceed… so various clear legal guidelines for development, and that's the cornerstone to build the new sector.
Want to see for yourself how Bitcoin is now all grown up and doing good in the world? Join us at the next BSV Global Blockchain Convention in 2023!
Watch BSV Global Blockchain Convention Day 1 here:
Watch BSV Global Blockchain Convention Day 2 here:
Watch BSV Global Blockchain Convention Day 3 here:
New to blockchain? Check out CoinGeek's Blockchain for Beginners section, the ultimate resource guide to learn more about blockchain technology.