The game developer denies the allegations, citing high graphics settings as an excuse. But nobody's buying it.
Cryptojacking has been making quite some noise the past few years, as hackers turn their attention to cryptocurrencies due to their lucrative and pseudonymous nature. Unwitting victims may not even know their computers are infected with malware, which enable hackers to use other peoples' computers to mine cryptocurrency for them. The easiest signs of an infection is a heightened CPU and bandwidth consumption—or a computer that heats up despite not really running heavy applications. At least, none that you know of.
Video game distribution giant Steam is the latest to be infiltrated by a cryptocurrency mining scam. Steam has delisted an indie game called Abstractism after users filed complaints that the game slipped in malicious files into players' computers. According to user complaints, the game included files disguised as a launcher for Steam but seemed to be s Trojan virus and malware. An investigation found that the program hijacked users' computers to secretly mine Monero, a malicious activity called cryptojacking, as reported by Motherboard.
Motherboard says that there were some early warning signs from the game, such as encouraging users to keep the game running even when players are not using it in exchange for rare items.
The game was released in March 15 by a game developer called Okalo Union and publisher dead.team for a mere $0.49. Okalo Union, replying to a user review pointing out the mining scam, denies the crypto-mining allegations and cites high graphics settings as an excuse for the game's disproportionately high CPU and GPU usage.
"Abstractism does not mine any of cryptocurrency [sic]. Probably, you are playing on high graphics settings, because they take a bit of CPU and GPU power, required for post-processing effects rendering."
But users aren't buying it, as apparent in a forum, and the developer has been banned from the platform.
However, a quick check through Google Play shows that Okalo Union still has some games available on Android: Castle 2048, Geo Cube, Geo Cube Elite, among them—all of which are either free or priced suspiciously low like Abstractism. With the whole cryptojacking scandal, any games from this developer should not be allowed into anyone's phone or computer. Google Play should take them off.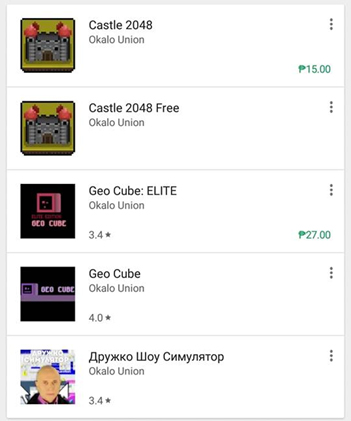 New to Bitcoin? Check out CoinGeek's Bitcoin for Beginners section, the ultimate resource guide to learn more about Bitcoin—as originally envisioned by Satoshi Nakamoto—and blockchain.