Singapore's central bank is proving to be the toughest regulator in the world for digital currencies to obtain an operating license from. According to a recent report, of the 176 firms that applied for the coveted license, about 100 have seen their applications rejected and only five have obtained the license so far.
Singapore was once seen as a digital currency haven, with many firms setting up local operations or moving their headquarters there. However, the local regulator has become very tough on these firms in the past two years. The Monetary Authority of Singapore (MAS) has shown just how serious it is on ridding the country of unregulated entities after kicking out Binance and its local subsidiary Binance.sg from the country, despite its CEO Changpeng Zhao residing in Singapore.
A report by Japanese financial newspaper Nikkei reveals that the MAS crackdown goes beyond bringing down the world's largest exchange. The newspaper reports that out of the 176 businesses that applied for a license to offer "digital payment token services," 103 have either been rejected by the MAS or the applicants have withdrawn their application.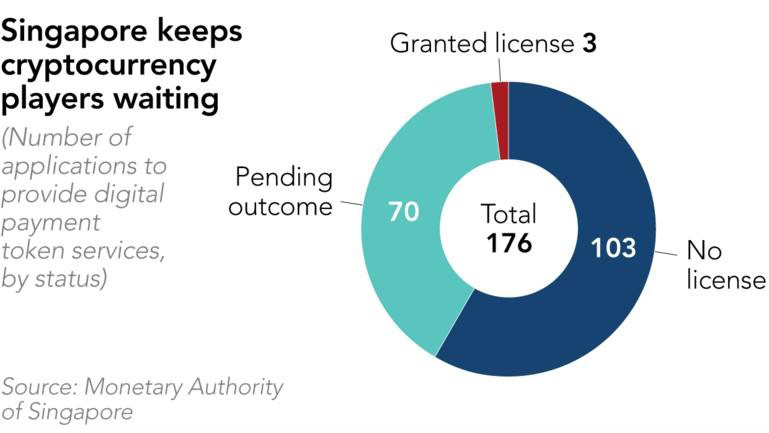 The MAS insists that it's a supporter of blockchain technology and digital currencies and believes they have a role to play in the future of finance. However, it recognizes the risks they pose and is determined to protect Singaporean investors.
"Cryptocurrencies could be abused for money laundering, terrorism financing or proliferation financing due to the speed and cross-border nature of the transactions," a spokesperson for the watchdog told Nikkei.
"Digital payment token service providers in Singapore … have to comply with requirements to mitigate such risks, including the need to carry out proper customer due diligence, conduct regular account reviews, and monitor and report suspicious transactions," the spokesperson added.
At first, the MAS let the virtual asset service providers (VASPs) operate with little oversight. However, it introduced a new licensing regime in January 2020 when the Payment Services Act took effect. Companies that were already operating were allowed to keep on serving their clients by being granted an exemption until the MAS could review their applications. In July 2021, there were 90 companies in this category. A week ago, this number had shrunk to just over 70.
Currently, the MAS has only listed three firms as licensed digital currency entities. These are Independent Reserve, an Australian exchange; FOMO Pay, a digital payments startup; and DBS Vickers Securities, a subsidiary of DBS Group Holdings, Singapore's largest bank.
Coinhacko and TripleA are the other two that have made announcements claiming to have received the coveted license, although the MAS hasn't officially recognized them on its website.
Some appreciate the MAS' strict regulations and requirements for the VASPs. However, there have been many complaints, especially from companies whose license applications have been denied.
Anndy Lian, the chair of Dutch exchange BigONE, is one of those who've expressed disgruntlement over the process under which the MAS is handing licenses. He believes that the regulator arbitrarily selects winners and losers in the Singaporean digital currency sector.
"The whole process of selecting who to give the license to is not very transparent. It gives the impression that the government is favoring big players and foreign exchanges," Lian stated, speaking to Nikkei.
Even those that have obtained this license have some complaints about the MAS. Eric Barbier, the CEO of TripleA, one of the five licensed firms, called out the regulator for its refusal to engage with the industry and tell firms what it requires from them.
"MAS never talks. MAS asks questions and questions and questions. You can ask questions but they will not answer, and most regulators are like this," said Barbier.
Watch: CoinGeek New York presentation, Increasing Footprints of BSV Blockchain in Middle East & South Asia
New to Bitcoin? Check out CoinGeek's Bitcoin for Beginners section, the ultimate resource guide to learn more about Bitcoin—as originally envisioned by Satoshi Nakamoto—and blockchain.