Wondering what Hugh Jackman's latest venture is? Well, he's busy trading cryptocurrencies using an automatic trading program. This is according to FinanceIgnite.com, a website that contains links to a number of SegWitCoin (BTC) scams.
The beloved X-Men star is the latest celebrity whose image is being fraudulently used by crypto scams to lure investors. Wolverine, as he is known for his acting roles in the X-Men movie franchise, is falsely said to have appeared on a television show where he opened up about a new opportunity to make millions from the comfort of one's home.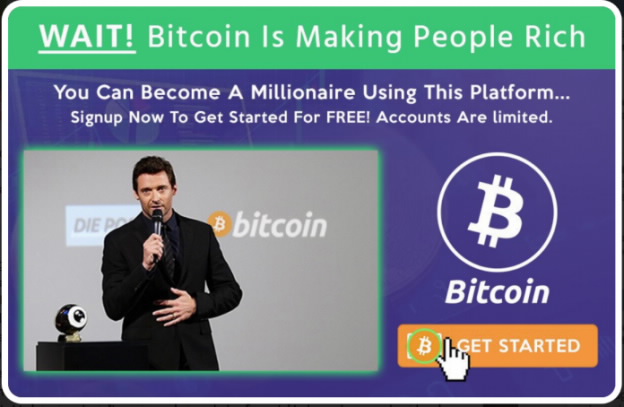 The scam site quotes Jackman as saying: "What's made me successful is jumping into new opportunities quickly- without any hesitation. And right now, my number one money-maker is a new cryptocurrency Auto Trader Program. It's the single biggest opportunity I've seen in my entire lifetime to build a small fortune fast. I urge everyone to check this out before the banks shut it down."
The scam site breaks down several reasons why investors should get rid of their doubts and invest in the trading program. Purportedly, investors can trade in various cryptos including Ripple, Zcash, Monero and Ethereum. They claim users can make over 10,000% in returns. The program uses artificial intelligence to make long and short selling decisions for you, making you money passively, the scammers advertise.
Interestingly, the site cites some of the world's billionaires who have purportedly endorsed it. They include Virgin Group founder Richard Branson, Tesla leader Elon Musk and Microsoft founder Bill Gates. While Elon Musk is a long-time proponent of cryptos, Bill Gates has never been a fan, joining skeptics such as Warren Buffett and Jamie Dimon. Clearly, the scammers are just using any name that might impress upon a victim.
The scammers redirected the users to two sites; Bitcoin Revolution and Bitcoin Evolution. Bitcoin Revolution has been on the news before, with claims that it was a registered financial entity in Malta. The Malta Financial Authority released a statement denying the claims.
The use of fake celebrity endorsement has become a widespread menace in Australia, local crypto outlet Micky reports. Scammers in the country have used the images of TV hosts Waleed Ahly and Karl Stefanovic, Oscar-winning actress Nicole Kidman and many more.
The scammers have continued to rely on social media sites and search engines to spread their scams. Google Ads, Yahoo, Outlook, Facebook and Instagram have been the most popular. Just recently, Dutch billionaire John de Mol, the creator of Big Brother, sued Facebook for allowing crypto scammers to publish ads using his name and images without his knowledge or consent.
New to Bitcoin? Check out CoinGeek's Bitcoin for Beginners section, the ultimate resource guide to learn more about Bitcoin—as originally envisioned by Satoshi Nakamoto—and blockchain.