A new report by PricewaterhouseCoopers (PwC) has revealed that 80% of all central banks globally are considering launching a central bank digital currency (CBDC) or have already done so.
In its second annual PwC Global CBDC Index report, the Big Four accounting firm revealed that the race for CBDC dominance is heating up, with smaller economies taking the big leap even as more major economies scale up their research and development of digital sovereign currencies.
The report identified two categories of CBDCs—retail and wholesale. On the retail front, Nigeria ranks first with a score of 95 out of 100. The West African country launched its eNaira digital currency last year, becoming the first African country to take the leap. Despite initial glitches with its digital wallet during its launch, the eNaira has hit the ground running. However, adoption has been below expectations, even as the International Monetary Fund (IMF) claims that the eNaira could potentially be used to launder money and fund terrorism.
Second is the Bahamas which launched the world's first CBDC in October 2020. Known as the Sand Dollar, it has continued to gain traction and now even has a linked debit card, the first of its kind in the world.
Mainland China is third, with Jamaica, Eastern Caribbean, Ukraine, Uruguay, Thailand, Sweden, and South Korea completing the top ten list, respectively.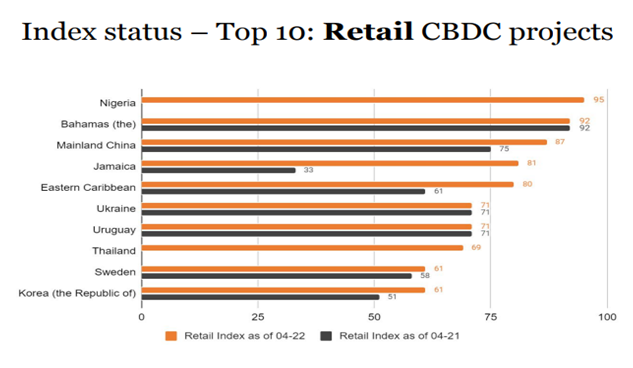 Source: PwC Global Index and Stablecoin Overview 2022
Thailand tops the list for wholesale CBDC developments alongside Hong Kong. The Bank of Thailand and the Hong Kong Monetary Authority launched a joint effort called mBridge, in 2019, focusing on a wholesale CBDC that enables real-time cross-border payments between the two nations. As CoinGeek reported in February 2021, the Digital Currency Institute at the People's Bank of China and the Central Bank of the UAE joined the project in its second phase.
Singapore, Canada, France, and South Africa are the other countries that PwC found to be quite advanced in the wholesale CBDC field.
"Increasing financial inclusion, facilitating cross border payments and controlling financial crime are all factors that come into play. We expect CBDC research, testing and implementation will intensify in 2022," Haydn Jones, a blockchain and digital currency specialist with PwC U.K. commented.
In its inaugural report on CBDCs, PwC ranked the Bahamas as the global leader in retail CBDC development, with Cambodia, Mainland China, Ukraine, and Uruguay following suit. Nigeria wasn't on the top ten list back then as its eNaira was still in its infancy.
To learn more about central bank digital currencies and some of the design decisions that need to be considered when creating and launching it, read nChain's CBDC playbook.
Watch: CoinGeek New York presentation, Digital Currency as a Tool for Financial Inclusion
New to Bitcoin? Check out CoinGeek's Bitcoin for Beginners section, the ultimate resource guide to learn more about Bitcoin—as originally envisioned by Satoshi Nakamoto—and blockchain.