China has become the symbol of central bank digital currency development globally with its digital yuan. However, according to a new report by PricewaterhouseCoopers, the Asian giant isn't the leader in this field. The Big Four audit firm bestowed this crown to the Bahamas which has made bigger strides with its Sand Dollar digital currency.
PwC published its inaugural Global CBDC Index recently, measuring global central banks' maturity level in deploying their own CBDC.
"We believe CBDCs will contribute significantly to the modernisation of the international monetary landscape, hand-in-hand with reconfiguration in both payment and financial infrastructure. They will generate numerous opportunities for further digitisation in both corporates and financial institutions, as their integration in payment and financial infrastructure progresses," PwC stated.
Henri Arslanian, the global digital currency leader at PwC, said that the general public will be the biggest beneficiary of the CBDC deployment. "It will give them access for the first time to a digital form of central bank money. And that is a big milestone in the evolution of money," he stated.
The Bahamas is the global leader in CBDC development, according to the report. PwC gave the Bahamas a rating of 92. Cambodia was second with a rating of 83, with mainland China coming in third with 75. Ukraine, Uruguay, Ecuador, Eastern Caribbean, Sweden, South Korea and Turkey completed the list.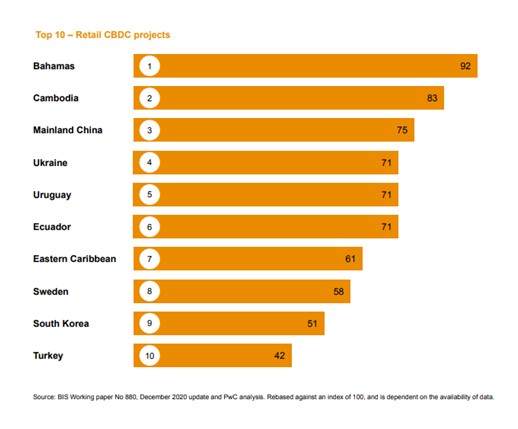 On interbank CBDC development, Thailand ranks first globally, tying at the top with Hong Kong. As CoinGeek reported, Thailand and Hong Kong have been collaborating on Project Inthanon-LionRock, a joint study for an interbank state-backed digital currency. China and the UAE recently joined the project.
The Bahamas launched its Sand Dollar CBDC in October last year. The digital currency is now available to all its 400,000 citizens for day-to-day transactions. In February, it followed this up by launching the first CBDC-linked debit card.
China, on the other hand, has been conducting trials for several months now. It has been airdropping the digital yuan to the public in limited tests in major cities. The Asian country is reportedly targeting a launch next year in time for the Beijing Winter Olympics.
Once it launches, the digital yuan will have a much bigger impact than the Sand Dollar however. China is a global economic powerhouse, with its economy only second to the United States.
To learn more about central bank digital currencies and some of the design decisions that need to be considered when creating and launching it, read nChain's CBDC playbook.
See also: CoinGeek Live panel, The Future of Banking, Financial Products & Blockchain
New to Bitcoin? Check out CoinGeek's Bitcoin for Beginners section, the ultimate resource guide to learn more about Bitcoin—as originally envisioned by Satoshi Nakamoto—and blockchain.