Paymail has been available for nearly two months now, and early adopters have already rushed to Bitcoin wallets supporting the new protocol. For those who haven't been quick to grab their own Paymail address though, we're here with a quick walk-through of the experience, and the benefits of using this simple but effective new protocol.
If you're unfamiliar with Paymail, it's a great new protocol service exclusive to the Bitcoin SV (BSV) network. It allows for an easier identity service, essentially creating email addresses for users to send and receive BSV from. Without spoiling too much, using it is a delight when compared to long, confusing addresses that you might be used to.
We signed up for our Paymail using Money Button, and that was a fast and easy process. By simply providing a name, email, and password, we were ready to get started in seconds. Just to make sure there wouldn't be any problems, we also went through the email verification process, which simply involved clicking a link sent to us by email.
Next, we had to fund our account so that we could purchase the Paymail address. Using the HandCash wallet, we sent a few bucks to our HandCash wallet. The transaction happened quickly, thanks to the incredibly fast BSV network, that if you would have blinked, you'd miss it.
Clicking our our account profile in the top right corner of the browser, we see we already have a default Paymail consisting of numbers followed by @moneybutton.com. To personalize that, we clicked on "Create new paymail." That brought up a search screen to verify if the name was available. If it is, you can simply buy it for $1. If it's not, the price might be a bit higher.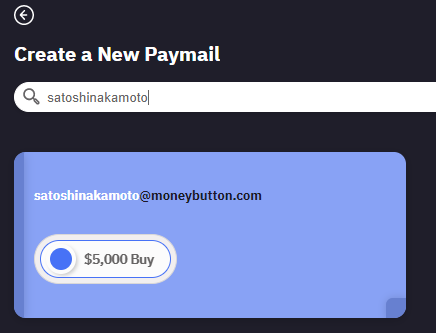 With our new paymail secured, we tried sending and receiving transactions. That's also a very simple process. In the Money Button dashboard, just fill out another user's paymail address, write in the Money Button how much you want to send, and swipe to confirm the transaction.
Altogether, we had a working paymail address and had tested some transactions in under five minutes, and your experience could be faster as we were taking notes as we did it. It's an incredibly easy process to use, and everything about it is simple to understand and fast to complete. And for $1 to guarantee not only that our identity is reserved on the BSV blockchain, but that we have an easy to use address for transactions, it's a bargain.
New to blockchain? Check out CoinGeek's Blockchain for Beginners section, the ultimate resource guide to learn more about blockchain technology.