It may seem like finding data that has been stored on Bitcoin SV network would be difficult, but it couldn't be easier. While it's possible to use a block explorer to locate information on a limited basis, it's also possible to find anything that has been stored by using a simple BSV search engine, Oyo.cash.
Given that the Bitcoin SV (BSV) blockchain is more than just a repository for cryptocurrency transactions, it is gaining a lot of awareness for its endless possibilities as a store of data. Complete websites are now being built on the network and there are plenty of other applications that are being added on a continuous basis. BSV's ability to handle large block sizes and virtually unlimited scaling potential make way for a complete infrastructure on the blockchain.
Oyo.cash allows anyone to search the BSV blockchain using text. Simply visit the page, enter the search term and click "Explore." Within seconds, all results pertaining to that term found on the blockchain are returned. For example, perform a search on "Coingeek" and find pages of results, many of which are links to stories and comments, such as one entitled "Data storage will be the most important use of BSV."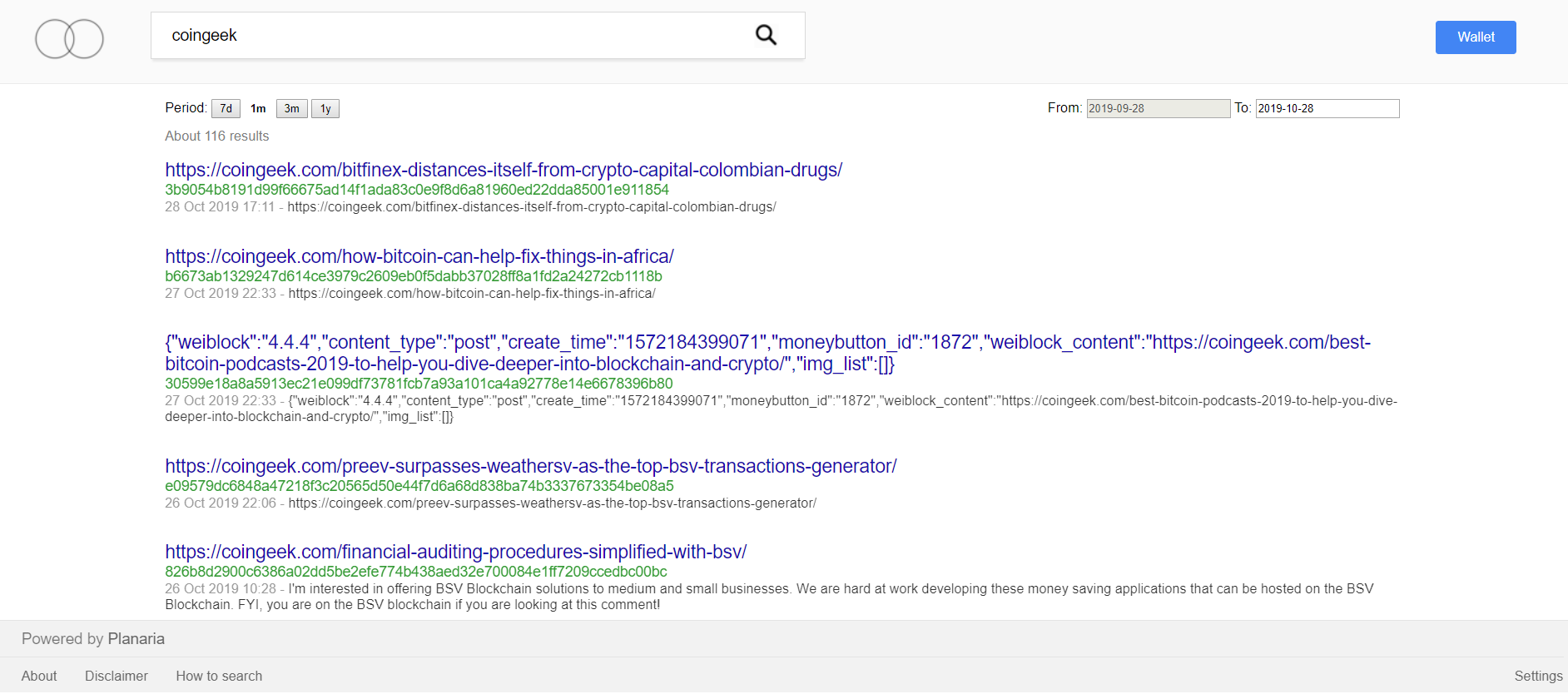 Users are given the option to select results by timeframe going back a year, or by just the past week, the past month or the past three months, as well as a user-configurable timeframe. They can also search on hashtags, protocol prefixes, transactions from certain senders and can even search in certain apps – for example, Twetch. It's worth noting that Oyo.cash does not store any user data and that all of the search actions take place from within the user's web browser alone.
The search engine and platform are powered by Planaria and can only communicate with a BOB node connected to the platform. As more development occurs on the BSV blockchain, there is still a lot more being introduced and capabilities and features continue to be rolled out on a consistent basis.
Oyo.cash also comes with its own BSV wallet; however, it isn't a standalone application. Access takes place through the Oyo.cash website, with wallet holders configuring a username, password and PIN to access their holdings. It's also possible to configure access using a private wallet key.
This is just one of the latest examples of how far along BSV has come and how versatile and complete the blockchain is for everyday use. While the majority of projects focus on ways to turn their digital currency into wealth, BSV developers are building the Bitcoin ecosystem into a viable and legitimate platform that can be used by individuals and businesses alike in a wide range of functions and applications.
New to blockchain? Check out CoinGeek's Blockchain for Beginners section, the ultimate resource guide to learn more about blockchain technology.