OpenSea is laying off half its employees as it seeks to revamp its platform amid a market share loss and an NFT trading slump.
During the NFT mania in 2021 and 2022, OpenSea was the biggest NFT marketplace, with over 70% of the market share. Since then, NFT trading volume has dipped drastically, with popular collections such as Bored Ape Yacht Club's floor price hitting new lows in recent months.
OpenSea's woes have been exacerbated by a loss of market share to its rivals, with Blur.io emerging as the world's largest NFT marketplace. A year ago, OpenSea commanded 72% of the market, but today, it only accounts for 20%, data shows. Blur.io now dominates the market at over 70%.
In response, OpenSea is making changes to its operations, starting with axing half its employees. CEO and founder Devin Finzer took to X to reveal the layoffs and his company's new approach.
6/9
We're building a new foundation so we can innovate faster and we'll have some experiences to share with you soon. We will change how we operate – shifting to a smaller team with a direct connection to users.

So today, we're saying goodbye to a number of OpenSea teammates.

— Devin Finzer (dfinzer.eth) (@dfinzer) November 3, 2023
A company spokesperson revealed that the layoffs would affect half the employees.
"Today, we are making significant organizational and operating changes as we focus on building a more nimble—and ultimately better—version of OpenSea. With these changes, we are better positioned to deliver for the community, shipping high-impact efforts and matching the speed at which this space evolves," the spokesperson told one media outlet.
OpenSea will offer the affected employees four months' worth of severance pay. It will also cater to their healthcare and mental health services for six months and assist them in transitioning to other opportunities.
In his X thread, Finzer doubled down on the company's aim of keeping nimble and adopting a flatter organizational approach.
"Finally, we're making these changes with our community in mind. As we rebuild, we'll continue supporting our existing products, and will be iteratively testing OpenSea 2.0 in public—remaining nimble, attentive, and focused," he stated.
Finzer didn't reveal what changes OpenSea 2.0 would introduce or the timelines.
This is OpenSea's second round of layoffs. In July last year, it axed 20% of its staff, with Finzer blaming the "crypto winter and broad macroeconomic instability." At the time, he claimed that the layoffs afforded the company "multiple years of runway under various crypto winter scenarios (5 years at the current volume) and give us high confidence that we will only have to go through this process once."
An NFT reality check
The layoffs are a reality check for a company that was once one of the most high-flying startups in the industry. In January 2022, OpenSea raised $300 million at a $13.3 billion valuation, making it more valuable than established companies like Japanese electronics company Toshiba (NASDAQ: TOSBF) and American media conglomerate News Corp.
It has been a steep descent since.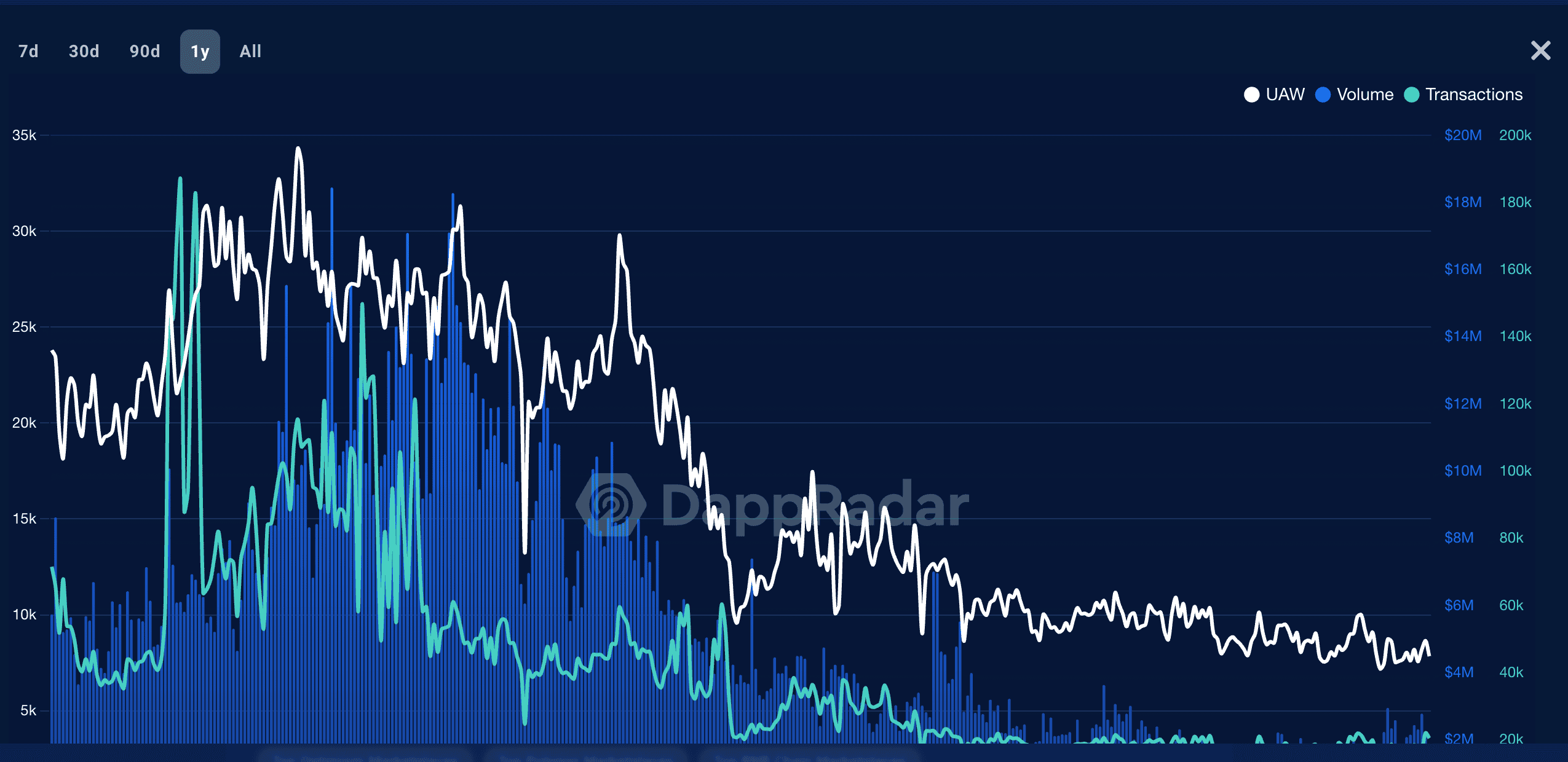 Once the hottest sector in the blockchain world, NFT trading has taken a nosedive in the past year. The dip is unsurprising. Most of the NFTs that sparked the rise of the sector were nothing more than JPEGs, most of which could be replicated. Just like the ICO mania of 2017, a collapse was in the cards to weed out the projects without any utility.
NFTs will rise again, but this time, only projects with utility will make the cut. The BSV blockchain community is pioneering NFT utility, with projects like SLictionary, Soundoshi, and Rad NFTV showing what's possible with NFTs.
Watch: Web3 & blockchain best practices discussed at Global CIO Institute Oxford
New to blockchain? Check out CoinGeek's Blockchain for Beginners section, the ultimate resource guide to learn more about blockchain technology.