Even in 2019, initial coin offering (ICO) scams still exist. Two blockchain startups, RepuX and JoyToken have reportedly exited with $8 million raised in their respective ICOs. According to a report by The Next Web, RepuX raised $4.7 million, while JoyToken raised $3.3 million.
RepuX promised its investors a blockchain-powered data marketplace where small and medium sized businesses could sell anonymized data to developers, according to the report. The developers would then use the data to train machine learning algorithms while the business owners would earn Repux tokens.
JoyToken, on the other hand, claimed it's building a blockchain-based gambling platform that would be powered by its native JOY token. The project had even run ads on some very trusted media websites.
However, it looks like the end of the road for the two projects. According to the report, the two companies dissolved their U.K. offices earlier this week. On the U.K. government's Companies House website, it was indicated that both RepuX Payment Limited and Joy Payment Limited were dissolved on May 14, 2019. It's worth noting that the two companies registered the same office address.
Some members of the crypto community had already smelled a rat even before the showdown took place. On the Bitcoin Talk forum, some members had pointed to the two companies as having shady practices that tainted their reputation. On one particular forum, a member posted a poll asking other members what they thought of the two firms. 68% of the respondents believed that the project owners were scammers.
The two companies shared a lot in common, further fueling the speculation that the two were well-orchestrated exit scams. One of the things they shared was their marketing agency, AmaZix. The agency started working with RepuX and JoyToken in December 2017 but ceased the relationship six months later. According to a message on its Telegram channel, it terminated the relationship with the two startups due to 'irreconcilable differences' regarding communications policy and bounty management.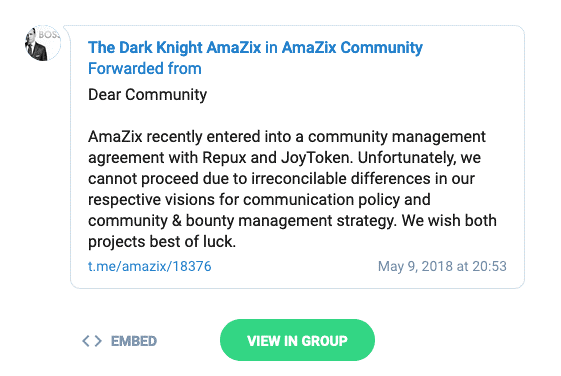 At press time, the two companies are no longer active on any of their platforms. On Twitter, their last tweets are dated over eight months ago. Their Telegram channels haven't been active in a long while either, and their websites are no longer live.
Another thing that the two alleged scams shared was the advisors. They both listed Lee Murphy and Mateusz Mach as advisors. While not much information is available on Lee Murphy, Mach is a celebrated innovator. He was featured on Forbes '30 Under 30' Social Entrepreneurs for developing the Five App, the world's first sign language messenger. The extent to which the two were involved in the two startups, if at all, hasn't been established yet.
New to Bitcoin? Check out CoinGeek's Bitcoin for Beginners section, the ultimate resource guide to learn more about Bitcoin—as originally envisioned by Satoshi Nakamoto—and blockchain.