Bitcoin SV's massive scalability and extremely low-cost transactions have enabled developers to create the coolest applications, targeting virtually every field. One of these is Bitok.Live, an application that allows you to immortalize your voice. Sounds cool? Well, that's because it is.
Bitok.Live allows you to easily record your voice and then store the recording on the BSV blockchain. To do this, you simply visit Bitok.Live and hit record. The site is quite easy to navigate, with the record button being clearly displayed at the top. Once you record the voice, you get to name the recording and post it to the BSV blockchain.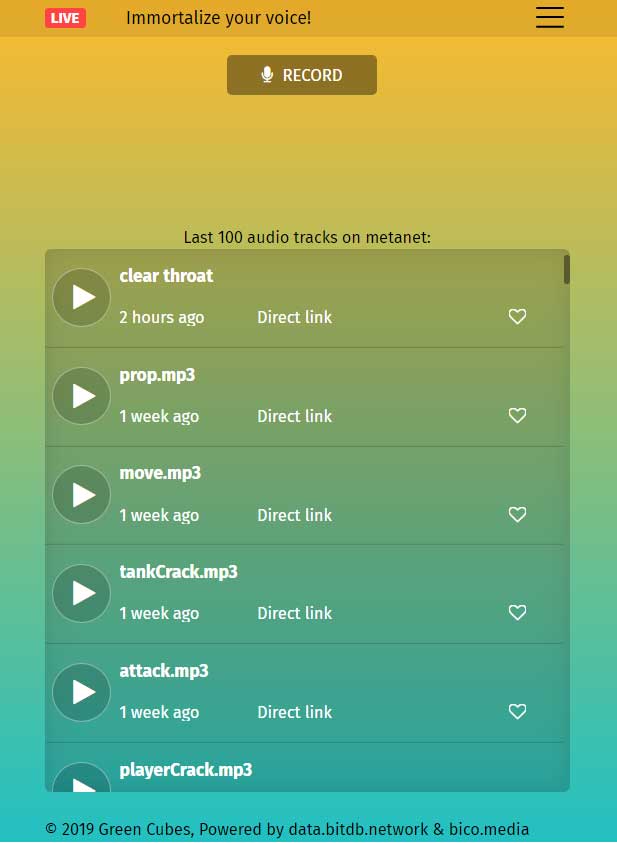 Publishing your recording costs you 0.0008 BSV, equivalent to less than 8 cents. This is enabled by BSV's low fees which facilitate such microtransactions. As with many other BSV applications, Bitok.Live is connected to Money Button. The transaction fee is thus charged to your Money Button account. For those without an account, there is a link for you to sign up to the leading BSV wallet.
In those few steps, your voice is immortalized and will be available forever on the BSV blockchain.
The platform allows you to view all the voice recordings that are posted in real time. And the BSV community is taking advantage of this opportunity, posting all manner of recordings on the platforms. You'll find voice recordings of people hailing Dr. Craig Wright for this revolutionary technology, other laughing heartily, as others play musical instruments. And why not? After all, it only costs $0.008 to ensure your voice becomes immortal.
Bitok.Live is powered by Bico.Media, a platform that allows content creators to quickly and easily write files on to the BSV blockchain. Bico.Media is quite diverse and allows you to upload all forms of media, from images to word documents. Bitok.Live, on the other hand, is limited to voice recordings.
The platform is one of the many BSV applications that are built on the 'Earn and Spend' model of the BSV ecosystem. Once you upload your voice recording, you can earn from other BSV users through the tipping system.
While Bitok.Live is limited to voice recordings only, it offers you a great way to interact with the BSV blockchain, make micropayments and earn in BSV for your content.
New to Bitcoin? Check out CoinGeek's Bitcoin for Beginners section, the ultimate resource guide to learn more about Bitcoin—as originally envisioned by Satoshi Nakamoto—and blockchain.