Document workflow is one of the most tedious and error-prone processes in any organization, but one that's critical to operations. While solutions have been developed that simplify the process and make it more efficient, none has been able to integrate the security and transparency of blockchain technology. SeraScript has taken this challenge head on, and as its President and founder Dennis Schroder shared at CoinGeek New York, the startup is taking Bitcoin to a whole new market, and thriving at it.
Schroder's experience with paper goes back to when he was a kid, distributing newspapers in his hometown of Cleveland. Since then, he has been on a life-long mission to eradicate paper, and with SeraScript, he's doing just that.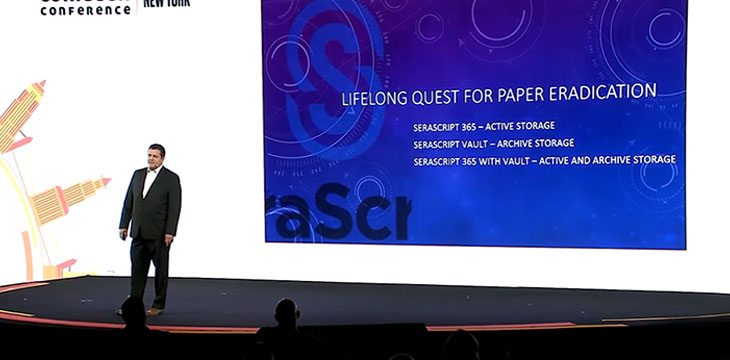 The platform comes in three options, with the first being SeraScript 365 which offers active storage with workflow management and blockchain integration. The second, SeraScript Vault, offers archival storage, such as automatically archiving documents that expire at a certain time in the future. SeraScript 365 with Vault, which is the third product, blends the two together to offer optimum experience. They are all powered by the Bitcoin SV blockchain.
All of SeraScript's products are built to be easy and intuitive, Schroder told the conference. With 365, uses can make up to 50,000 major revisions, with Vault offering unlimited revisions. Users can also organize their documents as they deem fit. 
SeraScript's products are built on top of Microsoft 365, a decision that Schroder said was geared towards attracting the large clientele that uses the product. 
"85% of the Fortune 500 companies use this product, so we are already positioned to have a huge user-base, and we've already got a pretty decent user base with these products. We've got customers using these products as we speak," Schroder said.
Real-life impact
SeraScript is already impacting the operations of several of its users. One of these is Zyxogen, a microfluidics innovator that has for a long time "had a broken process." The company's system would see documents being sent to and fro countless times to be signed and notarized, with a good chunk getting lost or damaged in the process.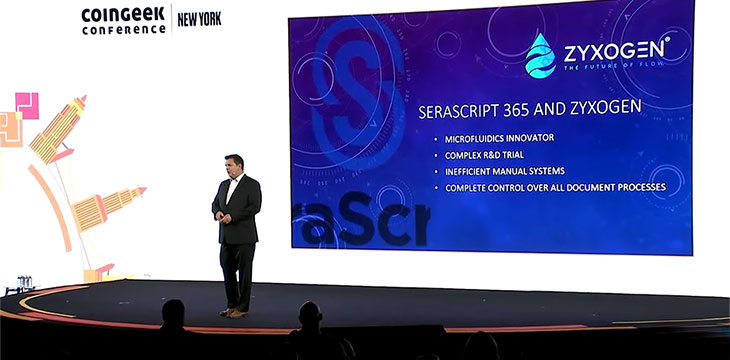 "We eliminated all their inefficient manual systems and processes. They've gone from taking about a month and a half on a task to doing it in about four days, so it's a pretty big deal. They now have complete control of the document process," Schroder said.
The company also supports approval processing for Zyxogen and other clients. "Or if we want to get crazy, we can do complete digital signatures. We've got integrations with two signing companies that are built right into the product already," Schroder stated.
SeraScript has also seen great success in its partnership with Concorde Investment Services, an SEC-registered investment advisor and broker-dealer. The company had about three-quarters of a terabyte worth of data strewn across an old and outdated document platform. SeraScript managed to migrate the data onto a Bitcoin SV-powered platform. Concorde was able to go into the data and amend the corrupt or incorrect data, with all changes traceable on the BSV blockchain.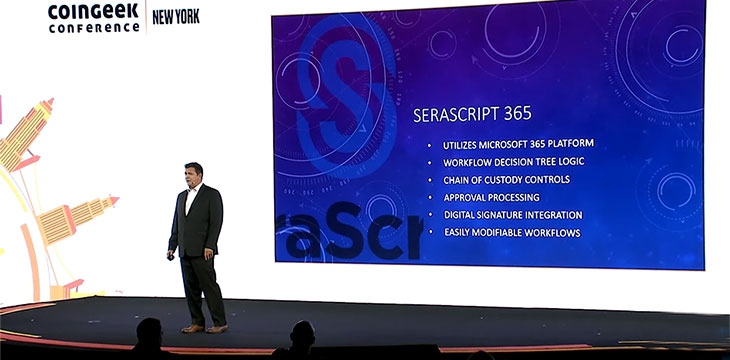 "We have all the changes as things go through a workflow being immediately posted to the blockchain and hashed so that it's 100% verifiable," he said.
To better serve clients like Zyxogen and Concorde, both of which operate in a highly regulated sector, SeraScript has sought and gained the approval of some of the leading watchdogs in the market. They include being SEC, Financial Industry Regulatory Authority (FINRA) and Health Insurance Portability and Accountability Act (HIPAA)-compliant.
Schroder revealed that one of its biggest partners in the BSV space is Veridat, the trust-as-a-service firm founded by Philip Runyan. 
Watch CoinGeek New York 2021 Day 2 livestream here:
New to Bitcoin? Check out CoinGeek's Bitcoin for Beginners section, the ultimate resource guide to learn more about Bitcoin—as originally envisioned by Satoshi Nakamoto—and blockchain.