Once one of the world's most active digital asset markets, Eastern Asia has fallen behind its peers in the past three years, but Hong Kong remains a bright star in the region, according to a recent Chainalysis report.
Eastern Asia accounted for 8.8% of global digital asset activity in the year ending June 2023, Chainalysis revealed. This is a significant dip from a few years ago when the region was a global powerhouse, accounting for over a third of global trading activity.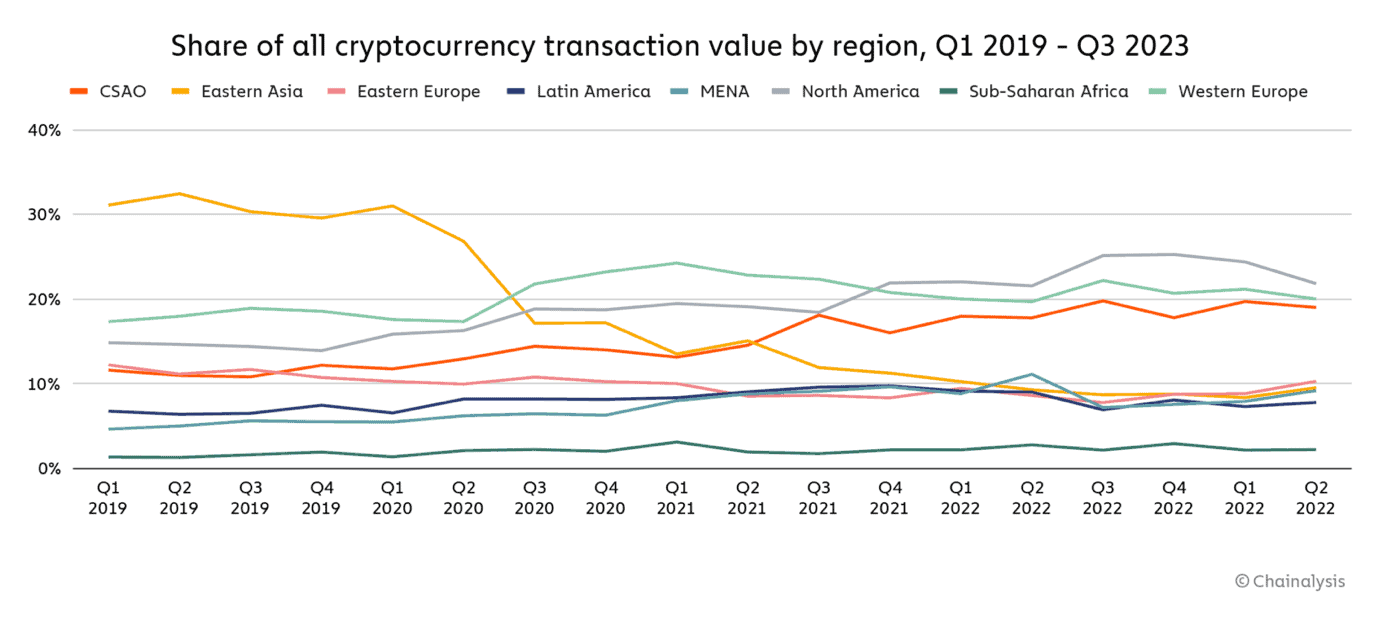 The dip is down to China's anti-digital asset campaign over the past three years. Xi Jinping's government has ramped up its crackdown on crypto trading and mining, banning offshore exchanges from serving the country.
The brightest star in Eastern Asia is Hong Kong, the Special Administrative Region (SAR) that has defied mainland China's digital asset stance and is pushing to become a crypto haven.
"…a potential tailwind for East Asia comes from Hong Kong, where several crypto initiatives and industry-friendly regulations launched over the past year have fostered bubbling optimism," says the New York-based blockchain analytics firm in its report.
The city-state received $64 billion in the year ending June, not far below China's $86 billion, despite housing just 0.5% of mainland China's population.
However, Hong Kong's digital asset adoption seems limited to professional investors. A total of 46.8% of the city's transaction volume was over $10 million, higher than the global share. In contrast, China and South Korea's institutional investors accounted for less than 30% of the transaction volume.
In another trend that defies its neighbors, Hong Kong relies heavily on decentralized exchanges. Just 29% of trading volume passes through centralized exchanges (CEXs), contrasting to China and South Korea, where 74% and 69% go through CEXs, respectively.
Is Hong Kong China's digital asset sandbox?
Being a Special Administrative Region of China, Hong Kong's policy frameworks are seen as an extension of the mainland. However, with digital assets, the two have taken opposing stances. But could Hong Kong be a sign that China is warming up to digital assets?
Dave Chapman believes it might be too early to view Hong Kong's digital asset rise as an indicator of a change in Xi Jinping's anti-crypto stance. Chapman runs OSL Digital Securities, one of only two digital asset exchanges to have received a license in the city under the new regulatory regime.
"The promotion of Hong Kong as a potential crypto hub is not necessarily indicative of the Chinese government's stance on crypto," he told Chainalysis.
"However, we are seeing a number of Chinese state-backed entities indirectly supporting Hong Kong's web3 ventures, and this could be viewed as an exploratory approach to understanding digital assets without loosening mainland policies."
China Pacific Insurance (NASDAQ: CHPXY) is one of the Chinese state-backed entities investing in digital assets in Hong Kong. The second-largest property insurer in China and owned by the mainland government, the company launched two digital asset funds earlier this year.
Additionally, several reports have revealed that Chinese investors have been using Hong Kong-based platforms to trade in digital assets. Since Xi's government has banned offshore exchanges from serving locals, some of them have been traveling physically to Hong Kong to purchase and sell digital assets, the Financial Times revealed in a July report.
Crypto HK, an over-the-counter digital asset firm in Hong Kong, is one of the beneficiaries of the influx of Chinese investors. Founder Merton Lam revealed that before the two regions opened their shared border, Chinese investors made up less than 5% of its clientele.
"Now it's probably like half," he told FT.
Watch: What's next for digital asset exchanges & investment?
New to blockchain? Check out CoinGeek's Blockchain for Beginners section, the ultimate resource guide to learn more about blockchain technology.