The FBI is leading an investigation into the July 15 Twitter hack, in which 31 high-profile Twitter accounts were compromised by a hacker and used to promote a digital currency investment scam. 
According to Reuters, U.S. lawmakers that are concerned about future attacks on Twitter prompted the FBI's investigation. 
"While this scheme appears financially motivated…imagine if these bad actors had a different intent to use powerful voices to spread disinformation to potentially interfere with our elections, disrupt the stock market, or upset our international relations," said U.S. Senator Ed Markey.
The hacker had the ability to take over any Twitter account, yet, used their power to promote a digital currency scam. The scam consisted of the hacker telling the millions of followers of the compromised accounts to send them digital currency, promising to send them double the amount that they were being sent.
However, it was a scam—the attacker did not send double the amount of digital currency to any of the individuals who participated. The attacker currently has a total of 7.411 BTC across the three wallet addresses they used to scam others (address 1, address 2, and address 3).
Timeline of attack
The hacker's first account takeover occurred at 2:16 p.m. EST when the hackers compromised @AngeloBTC, a well-known BitMEX trader's Twitter account.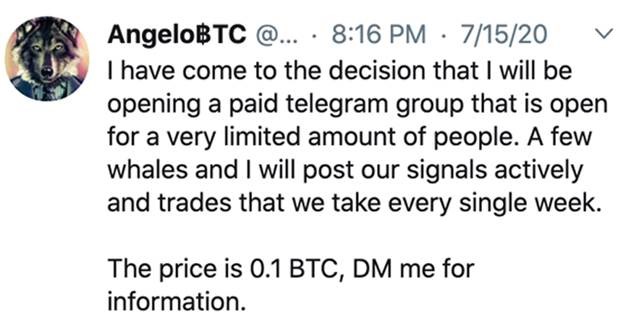 In their first account takeover, the hackers requested that AngeloBTC's 150,000 followers send him a direct message, and send 0.1 BTC so that they could join his private Telegram group. However, there was no private Telegram group, and sender's got scammed out of their money.
Either sold account or hacked pic.twitter.com/LbxofELx8S

— Larry Cermak 🫡 (@lawmaster) July 15, 2020
Shortly afterward, the attacker began targeting Twitter accounts associated with well-known companies, executives, and celebrities, such as Apple, Jeff Bezos, and Kanye West.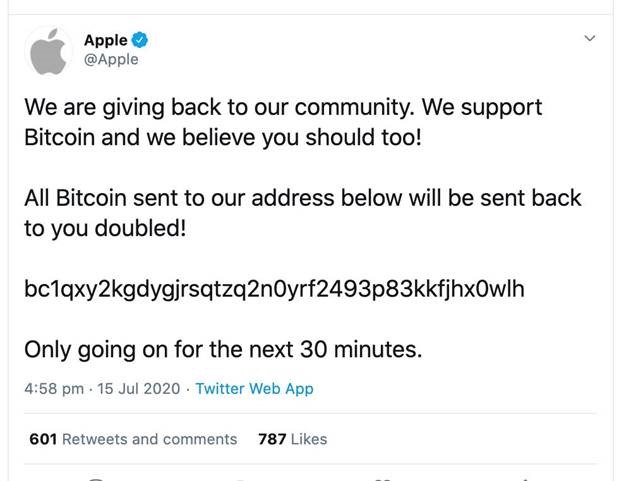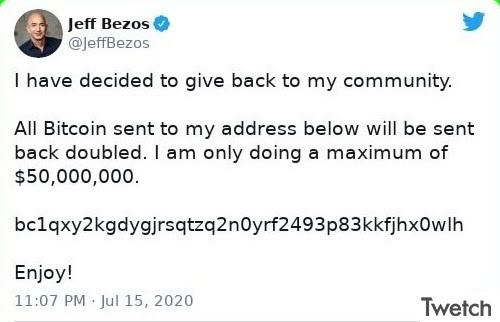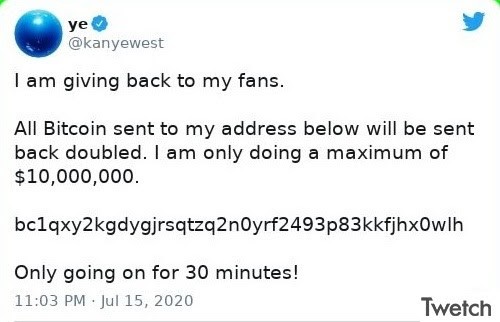 Ultimately, the hacker was able to broadcast their digital currency investment scam to tens of millions of users and rake in more than $100,000.
We got lucky
We were honestly lucky that all the hackers did was promote a digital currency scam. Imagine if they used the compromised accounts, such as that of former U.S. President Barack Obama, or former Vice President Joe Biden, to start some sort of political conflict in which a foreign country retaliated.
When you consider all of the things the hacker could have done with the power that they had, it becomes concerning and alarming that they were able to breach Twitter in a way that gave them this power. That being said, it makes sense that the FBI is investigating Twitter, because if this were to happen again who knows what would happen.
New to Bitcoin? Check out CoinGeek's Bitcoin for Beginners section, the ultimate resource guide to learn more about Bitcoin—as originally envisioned by Satoshi Nakamoto—and blockchain.