World Blockchain Summit India
World Blockchain Summit India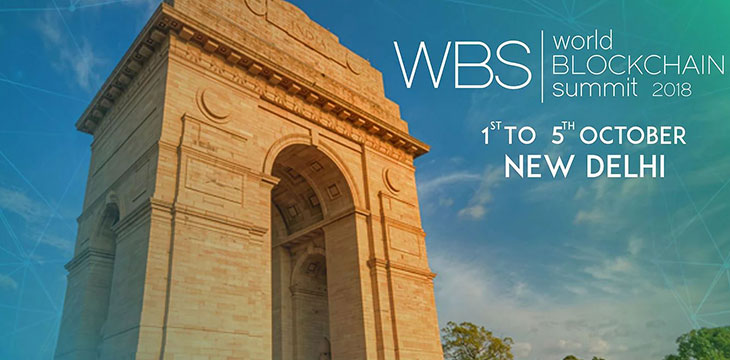 About this event
WBS Highlights
The Blockchain technology has caused quite an upheaval in the tech world. With the arrival of BCT conventional business models are challenged and an ecosystem of distributed ledger, immutability, real time data sharing, transparency is enabled. The summit features a host of international tech leaders, experts, Blockchain innovators, data scientists and many more take part in panel discussion, Q&A, Use cases, PoCs presentation, fire side chats and workshops.
Government Meet
Witness the who's who from various international governments uniting on the sole purpose to share their plans for accentuating the use of blockchain technology in their respective governance, explore global cooperation and discuss their strategy to combat major issues using distributed ledger technology. The Honourable Prime Minister of India, Shri Narendra Modi, along with global leaders of participating nations will converge on World Blockchain Summit to co-address the potential of future transformation in global governance through BCT in coming years.
Conference
Witness a convergence of global indusrty stallwards, blockchain experts, thought leaders & technocrats talk about the impact of blockchain across industries, use cases/PoCs, advantages
as well as key challenges related to the adoption of distributed ledger technology. It is a great opportunity to be a part of panel discussions, blockchain talks, fire side chats, Q&As, BCT workshops and many more. All conceivable ideas emerging under one roof with a fundamental aim to revolutionize the conventional business models.
Use Cases/POC
The WBS platform showcases various innovative BCT solutions, use cases, PoCs presentation by renowned tech organisations, global blockchain innovators and upcoming startups from
all round the world in order to present key solutions and other services in blockchain and distributed ledger technology.
Startup Program
The WBS enables a robust Startup Launchpad ecosystem where emerging startups showcase their innovative blockchain technology solutions highlighting the use case applicability and
corresponding PoCs in various potential sectors. The startup program includes mentor program, investor program, incubation program, academia, Cofounder program, media mileage program,
startup award, startup conclave and knowledge series.
Workshops
Attend interesting workshops by passionate industry experts, cryptographers, blockchain innovators designed to educate, explain various use cases across industries and motivate towards adoption of BCT. Get a closer look for an in-depth explanation and potential of blockchain applicability. Workshops are open to tech professionals, developers, cryptographers, students and blockchain enthusiast.
Investor Meet
WBS 2018 shall witness investors from across the world from Silicon Valley to NYC to London to Singapore to Hongkong to India, a rare opportunity to hear and meet the best from global investors fraternity. Leadership from some of the best global ICO's will share their success mantras from heart to heart. They will be approachable by all the prequalified BCT Startups to explore investment.
Pitch Competition
Upcoming Startups compete against each other with their innovative solutions and ideas by delivering a 8-minute Launchpad pitch to win the best blockchain technology idea award and an attractive cash prize. The best and influential ideas are selected by our investors panel who thereafter will enable the entrepreneurs to expand their business propositions in various parts of the world.
Experience Centres
Experience the latest developments in the blockchain space through augmented visualizations, demonstrations of exchange of cryptocurrencies, live demos of PoCs, AI, IOT and many more. Get a
closer look to the reality how the blockchain works and functions in the real world.
Networking Dinner
Getting along with who's who of the tech world over a sumptuous dinner and cocktail and discussing on the prospect of various technology innovations of present and future.
Blockathon
WBS blockathon promotes innovation in times of disruption. WBS encourages innovators, developers, DLT startup, hardware enthusiast, maker community to showcase their skills to compete in a challenge a create a solution prototype over a three-day event. Collaborate-BuildPresent the prototype. The reward will be worth fighting for.
Entertainment
WBS is a carnival so entertainment is bound to happen. Experience number of national and international artists performing their best at the venue to get the adrenaline pumped up and give an
epic conclusion to every evening.
For any integration or further enquires, please reach us at:
[email protected]
[email protected]