Unchain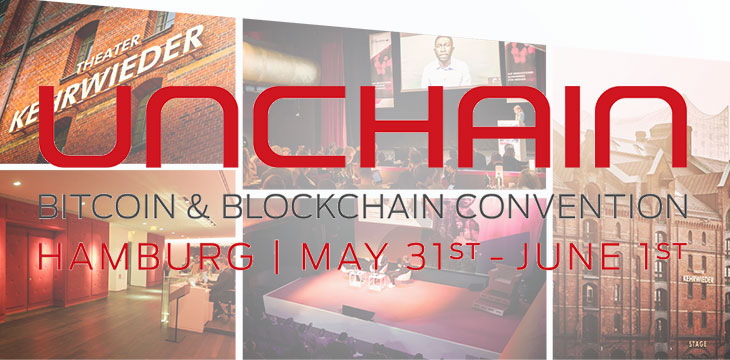 About this event
JOIN THE CRYPTO-REVOLUTION
Unchain is a 2 day conference, featuring some of the world's leading Cryptocurrency and Blockchain experts and entrepreneurs. We will discuss:
– Technology and development
– Business opportunities
– Real world examples and showcases
– Cryptocurrencies and investment
– Impacts on legislation, politics and society
BLOCKCHAIN MEETS ECONOMY
UNCHAIN's main goal is to connect the Bitcoin and Blockchain community with leading German companies from all industries. We believe that cryptocurrencies and Blockchain technology will affect every aspect of the economy in an unpredictable and disruptive way – so better introduce you to the new New Economy now!
A UNIQUE EXPERIENCE
UNCHAIN is more than a conference. We will create inspiring environments for the participants to get to know each other well. Hamburg is famous for its night life, so be prepared for a number of performances, parties, excursions and surprises. All this will be available for speakers, sponsors and holders of UNCHAIN Experience tickets.
LOCATION
NOSTALGIA MEETS MODERN SPIRIT – THEATRE KEHRWIEDER
A beautiful and extraordinary venue in the heart of Hamburg's warehouse district. This charming theatre provides a mixture of historic atmosphere and authenticity as well as distinguished contemporary interiors. The classical theatre stage and the red velvet of the walls are forming a contrast to Kehrwieder's industrial look and it's white modern furnished lounge. It has a capacity of up to 350 seats.
THAT'S WHY YOU SHOULD VISIT HAMBURG
– With a population of nearly 2 million Germany's "Gate to the world" is also Germany's media capital: about 50% of german media companies are located in Hamburg (Axel Springer, DER SPIEGEL, DIE ZEIT etc.)
– The Port of Hamburg is Germany's largest universal port: That's why the city also is a hot spot for leading industry and logistic companies like Airbus, Lufthansa, Beiersdorf, Unilever, Edeka, Allianz and Vattenfall
– Hamburg offers an excellent living-standard as well as inspiring cultural environments
– New York Times voted Hamburg as one of the TOP-10-Locations to travel worldwide
– Even the Beatles developed their unique musical style, name and Mop Top haircut here