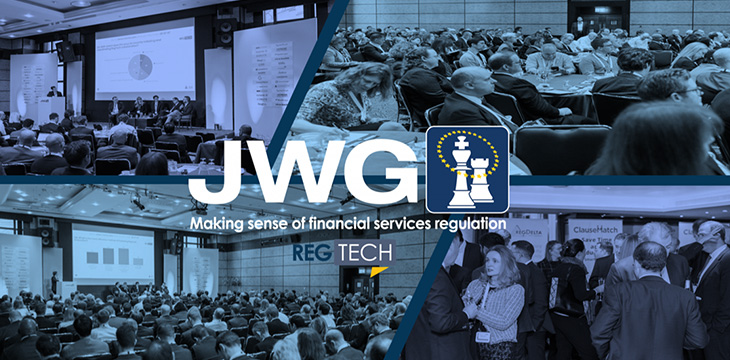 About this event
About the event
Background:
In 2018, JWG hosted our third RegTech Capital Markets Conference. The day was a resounding success and saw a 40% increase in audience size from 2017. The event has featured on Business Insider's top 10 RegTech conferences for the year, and in 2018 the feedback from 350 C-level execs, managing directors and others from big-name institutions in both the public and private sectors was tremendous. Throughout the day, we ran surveys, had all-star panels and got lots of insight about what it takes to get beyond RegTech basecamp.
Purpose for 2019 conference:
10 years on from the financial crisis the RegTech foundations put in place in its aftermath are showing signs of stress. In this conference we will explore the cracks in public and private sector capabilities, disconnects between change programmes and BAU compliance, and the latest thinking on how to best manage skyrocketing regulatory noise levels. In short, we seek to understand how our leaders are taking RegTech to Board level.
By getting the best and brightest stars of together we will establish what progress firms, regulators and their suppliers have made and what lies ahead. This will not be just another talking shop, however. We will have big stage demonstration of leading RegTech solutions and a chance to interact with the pioneers who are bringing them to market.
Past attendees:
We are proud to say that over 250 delegates, director level or above, from 60+ investment firms were in attendance in March 2018 – and we expect an even larger 2019 turnout.
Audience:
With over 50 investment firms as members of our special interest groups, and an extensive global network, we guarantee an audience that includes the right individuals from top tier firms and their regulators which you are unlikely to meet elsewhere. You will also be able to keep an eye on how the new entrants are positioning themselves in this hot new landscape. Last year we had 20 sponsors, a number of which have reserved their stands.
Who should attend:
• Regulatory SMEs: heads of regulatory change, compliance, legal, regulatory reporting, regulatory programme owners, etc.
• Executive decision-makers: CDOs, CIOs, CAOs, COOs, etc.
• Technology: CTOs, heads of eCommerce, heads of IT, etc.