London Bitcoin Cash Speaker Series II
London Bitcoin Cash Speaker Series II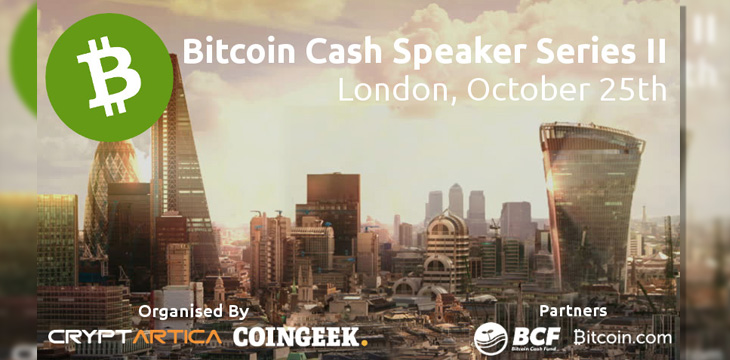 About this event
The London Bitcoin Cash (BCH) Speaker Series II will take place on Thursday, 25 October at Huckletree Shoreditch, from 6-9PM.
This event is a follow-up to our first Speaker Series event. The series aims to cover the recent BCH ecosystem development and to nurture the local BCH community in London. Co-organised by Cryptartica and CoinGeek, and supported by our partners, Bitcoin Cash Association (BCA) and Bitcoin.com.
Speakers who have confirmed their participation:

Petter Ikekhua – Evangelist – CoinGeek.com
Gabriel Cordona – Senior BCH Developer, Bitcoin.com and Founder, BitBox
BrewDog Craft Beer Breweries
Alex Agut & Rafael Seibane – Founders, HandCash
Alejandro De La Torre – VP Business and Operations, BTC.com

The first part of the evening will focus on BCH adoption. Mark from CoinGeek and Gabriel from BitBox will discuss about how their companies/projects help spread BCH adoption. BrewDog, the first major breweries to accept cryptocurrency, will also speak about their experience in adopting BCH.
On the second half, the focus will shift towards wallets. Alex and Rafa, founders of HandCash, will speak about their journey towards creating a user-friendly wallet. Alejandro from BTC.com will then close the event.
Reserving Your Space
This is a free event but RSVP is required as space is limited.
Link to RSVP and for more details.