The future of Bitcoin (Pause Fest official side event)
The future of Bitcoin (Pause Fest official side event)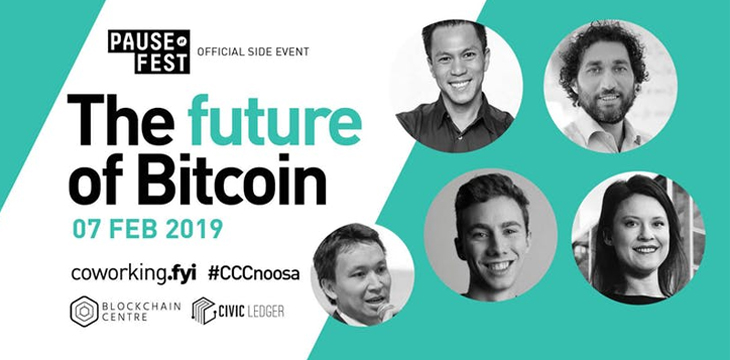 About this event
Let's pause for a minute!
In case you're not aware, it's the 10th year anniversary of Bitcoin and the technology behind Bitcoin continues to evolve. The key ethos of Pause Fest is to foster respectful mutual collaborations and be a platform and unifier for industry.
At this Pause Fest official side panel event in partnership with coworking.fyi and the Blockchain Centre we will hear about the future of Bitcoin from:
Jimmy Nguyen (USA), Founding President, bComm Association and CEO, nChain representing Bitcoin SV;
Lucas Cullen (AUS), Co-Founder, CTO, Civic Ledger
Kee Jefferys (AUS), Tech Lead, Loki
Leah Callon-Butler (PHL), co-founder of intimate.io.
This event will be moderated by Taylor Tran (AUS) co-founder of coworking.fyi and the Crypto Coast Convention #CCCnoosa.
Come and kick off 2019 and Bitcoin's 10th year anniversary with this industry panel to gain insights into how the next 10 years in Bitcoin and blockchain might play out.
Ticket price is:
– $10.00 
– FREE for Blockchain Centre VIP Community Members. Please email [email protected] for a ticket.
This event will be video recorded and later promoted on the internet.
See you there!