Cryptocurrency World Expo London Summit
Cryptocurrency World Expo London Summit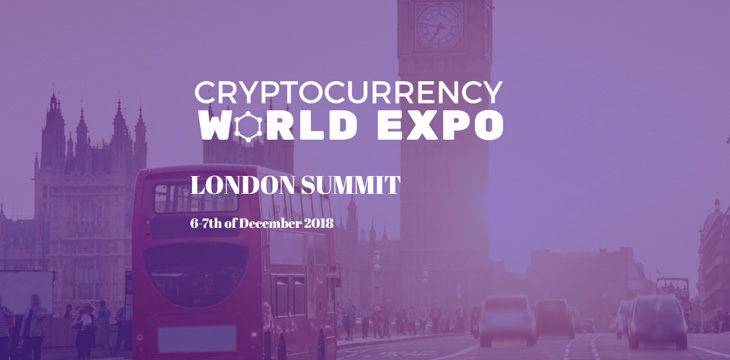 About this event
On the December 7th  2018, CryptoCurrency World Expo –London Summit will take place.
The London Summit is attended by the full gamut of the cryptocurrency sector starting  from the biggest exchanges to brokers, payments providers, fintech, miners, traders, ICO participants and cryptomaniacs  blockchain developers, entrepreneurs and experts in tax and legislations all together.
With over 1 200 delegates in Cineworld at O2 Arena.
Address: Cineworld Cinema – Greenwich
The O2, Peninsula Square, London SE10 0DX
Pre Registration and networking – 6th of December
If you do not like to wait in a long queue, you can come the day before.
Pre Registration and networking starts at 6PM.
Conference day – 7th of December
Congress starts at 10 AM to 7 PM.
Registration from 9 AM.
Cryptocurrencies trading.
How to invest to take a profit and not to lose your money? What are traders' most frequent mistakes? How to exploit a trend? How to choose the most suitable way of investing: exchanges, brokers, miners?
Legal, tax and regulation.
Legislative regulations and taxes concerning cryptocurrencies: experience of different countries and prospects of UK.
Developments.
How to build community of blockchain incubator in practice? Creation of smart contracts and services on blockchain. Meetings with leading developers.
Pre-ICO, ICO.
Creation of ICO as marketplace for tokens, digital assets and blockchain based investing where you can research and invest in tokenized assets, launch a crowdsale and give your investors a tradeable digital asset.
Successful entrepreneurs who have received funding through ICO, and ICO leading developers will share their experiences about Initial Coin Offering.