ConsenSys India Blockchain Hackathon
ConsenSys India Blockchain Hackathon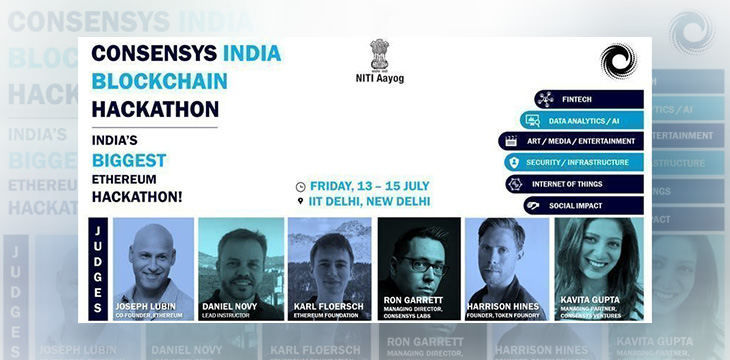 About this event
ABOUT CONSENSYS INDIA DEVELOPER PROGRAM
ConsenSys is a venture production studio building decentralized applications and various developer and end-user tools for blockchain ecosystems, primarily focused on Ethereum. We are a global formation of 800+ technologists and entrepreneurs committed to building the infrastructure, applications, and practices that enable a decentralized world.
Education forms a core part of our mandate as it is a key enabler of a blockchain-based ecosystem. We have already made great strides in this area with our educational initiatives which have successfully produced 100+ blockchain experts hailing from 95+ countries. Now, for the first time, we are looking to set up educational programs outside the United States.
For India, however, we wanted to do something really special as it is a country so rich in technical talent and holds a special place in our hearts.
That's why we decided to create and launch the ConsenSys India Developer Program as the first project for ConsenSys India – our new Indian cohort. The ConsenSys India Developer Program is a highly selective, coding-intensive training program carried out over 5 weekends, followed by a 2-day hackathon where students will be required create projects based on their learnings.
Students will get a once-in- a-lifetime opportunity to learn from the global leaders in the Ethereum blockchain ecosystem. Instructors include some of the first developers and coders on Ethereum as well as the creators of core Ethereum developer tools such as MetaMask, Infura, Truffle, and uPort.
The course will conclude with a graduation ceremony where students will be given a ConsenSys India Developer Program certificate on the blockchain and a chance to join the ConsenSys India team!