Bloxpo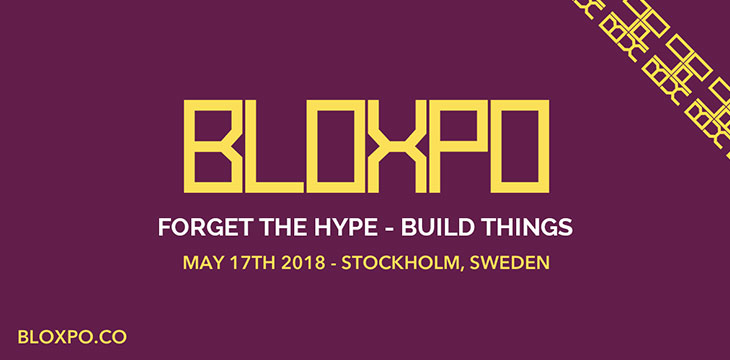 About this event
FORGET THE HYPE — BUILD THINGS
Blockchain has the potential to make the world more transparent, global and democratic.
We want to work towards this vision, but to get there we need more people to create using blockchain.
We want to inspire people to invest, to code, to start companies, to change regulations, and to teach the masses about this technology. A technology that could impact the world with the same force as the internet did and continues to do.
That is why we created BLOXPO, a place to teach and inspire innovation around blockchain and to create a true impact for our future.
TICKET SALE
Register now to secure your ticket to BLOXPO 2018.
– Main stage access
– Side tracks & Experts talks
– Exhibition hall access
– Business lounge access
– Food & Drinks included
– Closed Afterparty
The Speakers
Our speakers come from a broad range of different countries, industries and sectors. Early-adopters and entrepreneurs to business leaders, investors and politicians, they all will be there.
Agenda
BLOXPO is a 1 day conference with different tracks to suit all different interests within the blockchain and cryptocurrency community. While the exact agenda is in the making, here are some of the areas that we will cover at the conference.
Decentralized Applications
Decentralization is at the core of blockchain and cryptocurrencies. We will discuss this new paradigm in relation to business and society together with experts from both fields.
Future of Money
Will we see a cashless society and what role will cryptocurrencies play? We will discuss this with community experts together with central bank leaders.
Regulations & Taxes
We will have crypto lawyers on stage to discuss the current issues we are facing and how the landscape of law will change with smart contract and cryptocurrencies.
Real world solutions
Forget the hype – Build things. That's the tagline of this conference. How can blockchain be applied in the real world? We will have industry leaders on stage showing their solutions.
Location
BLOXPO is held in Stockholm, the capital of Sweden. Sweden is ranked as a world-leading player in new technology and innovation and the blockchain community is growing fast.
Venue
Friends Arena / Quality Hotel Friends
Råsta Strandväg 1
169 79 Solna
Stockholm
Sweden
Contact
For general inquiries, contact our Project Manager.
Love Dager
[email protected]
For partnerships and speaker requests.
Erik Vesterlund
[email protected]