Blockpass Seminar – Security Tokens
Blockpass Seminar – Security Tokens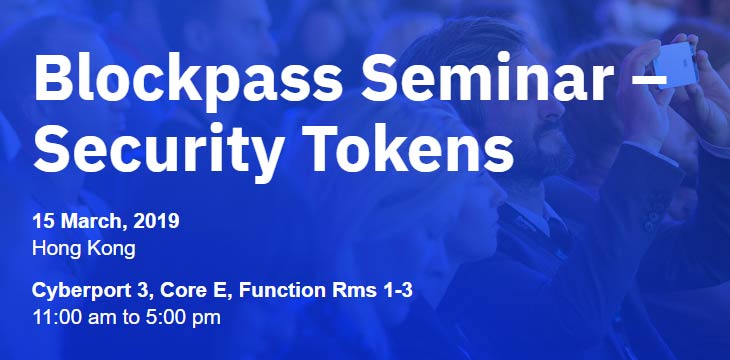 About this event
The arrival of security tokens represents a huge opportunity for investors as well as enormous potential for operational efficiencies in capital markets and provides for innovation in other sector verticals too.
Some have estimated that the potential market could be worth into the trillions of dollars. New infrastructure is emerging to support the effective use of these crypto-assets including new types of exchanges, issuance platforms, funds, custodians and legal and regulatory compliance providers.
In 2019, Blockpass is launching a series of leading security token events to help educate and inform business, investors and policymakers wishing to explore this trend and to help build the community that will drive the security token ecosystem of the future. Join us for our inaugural event at Hong Kong's Cyberport.
Topics to be covered
How do STOs differ from ICOs and IPOs?
Policy, legal and regulatory compliance issues related to Security Token Offerings
Future of stock exchanges and clearing houses
What infrastructure still needs to be built to take STOs mainstream?
What will be disintermediated; what will simply be made more efficient?
Who should attend?
Blockchain-based investors, entrepreneurs, companies launching security tokens, cryptocurrency exchanges, banks, regulators, lawyers and policymakers, academics, media and other blockchain and fintech influencers.
Why attend?
Understand the Security Token ecosystem and address roadblocks to wider adoption
Explore the investment opportunities offered
Network with leading entrepreneurs and service providers in the field
Access real-world examples and case studies
About Blockpass
Blockpass offers shared regulatory compliance services for humans, companies, objects and devices. As an identity system that supports verification of humans (KYC), objects (KYO) and connected devices (KYD), Blockpass will enable the development of new applications that rely on a trusted connection between multiple entities.