Blockchain Supply Chain Forum
Blockchain Supply Chain Forum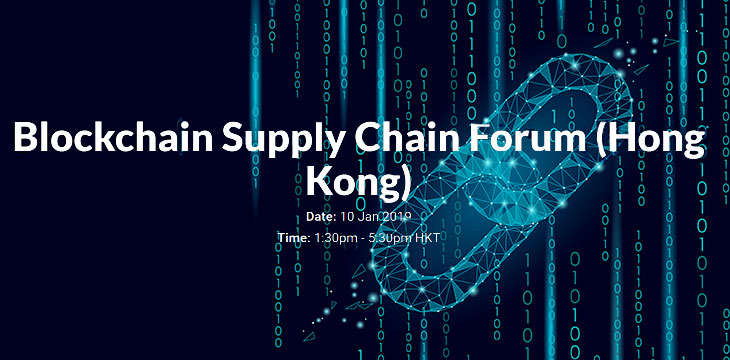 About this event
The concept of a blockchain – a distributed, tamper-proof and time-stamped database of transactions that can be managed without intermediaries – is highly attractive in the supply chain domain, and the industry has launched a number of proof-of-concept initiatives.
However, awareness of how blockchains work and what they can accomplish is still relatively low. The lack of knowledge is exacerbated by the fast pace at which the technology is evolving.
The Blockchain Supply Chain is a unique forum connecting blockchain experts, supply chain and logistics decision makers and tech innovators. This intimate gathering will explore how companies are investigating the use and deployment of the technology to help their supply chains.
Why Attend this Event?
The Blockchain Supply Chain Forum is a first truly pan-Asia annual event at which the leading manufacturers, retailers, logistics services providers and technology vendors under one roof and for one day.
High Value
Unlike other IoT events and shows out there covering all sectors, the Blockchain Supply Chain Forum focuses exclusively on logistics and supply chain disruption and blockchain technology.
Built for end-users by supply chain experts
This is the only blockchain program constructed by a top level steering group of leading supply chain and logistics professionals and extensively researched for 6 months.
Independent experiences & no sales pitches
Five hours filled with unique content and no vendor sales pitches! End users and industry experts will share the latest projects, implementations and blockchain solutions in supply chain, logistics, transportation, warehousing in Asia.
5-6 leading senior speakers in just half-day
Compared to other blockchain events, the Blockchain Supply Chain Forum brings you in just one day more industry experts and practitioners from across Asia to discuss the latest trends in blockchain technology.
Unrivaled networking opportunities
Over five hours of networking breaks, interactive luncheon and a drinks reception where you can build valuable contacts, meet like-minded peers from all sectors and discuss how they use blockchain in their supply chain, logistics, fulfillment and transportation.
Who Should Attend?
The Blockchain Supply Chain Forum will be made up of senior-level delegates responsible for the adoption of digital technology for their businesses.
You will be able to meet with C-suite, VPs, Directors and Heads of :
– Supply Chain
– Logistics
– Operations
– Innovation
– Operational Excellence & Transformation
– Warehouse
– IT
Designed BY logistics/supply chain professionals FOR shippers, IT software vendors and logistics providers, the Blockchain Supply Chain Forum is a can't-miss event. Join our event and our community!