Criminals are now turning to decentralized applications to launder money and obfuscate their criminal activities, a new report by blockchain analytics firm Elliptic has revealed.
These criminals laundered over $4 billion through decentralized exchanges (DEXs), coin swaps, and cross-chain bridges, the report, titled "The state of cross-chain crime," found. The most prolific perpetrators were Ponzi schemes, ransomware operators, dark web markets, hackers, and illicit gambling platforms, Elliptic disclosed.
DEXs accounted for $1.2 billion of the illicit money moved by criminals since 2020, the report says. These exchanges, which tend to have lower Know Your Customer (KYC) and Anti-Money Laundering (AML) standards, have been attracting users beyond the traditional cybercriminals. NFT scammers are among the new-age criminals relying on DEXs, another recent Elliptic report found.
More than half the laundered funds were moved through two DEXs, Uniswap and Curve.
Cross-chain bridges have also become a common target for criminals seeking to move their funds. Elliptic identified RenBridge as criminals' top choice, revealing that more than $540 million has passed through the bridge, allowing users to move tokens between various blockchains.
Back in March, criminals attacked Axie Infinity's Ronin Bridge, taking away over $600 million in ETH and USDC. According to Elliptic, the incident offered insight into how criminals exploit DEXs and bridges to launder funds. First, they used two DEXs to swap the USDC for ETH. They then began to launder the funds through Tornado Cash, the Ethereum-based mixer that United States authorities sanctioned earlier this year and whose developer is still behind bars.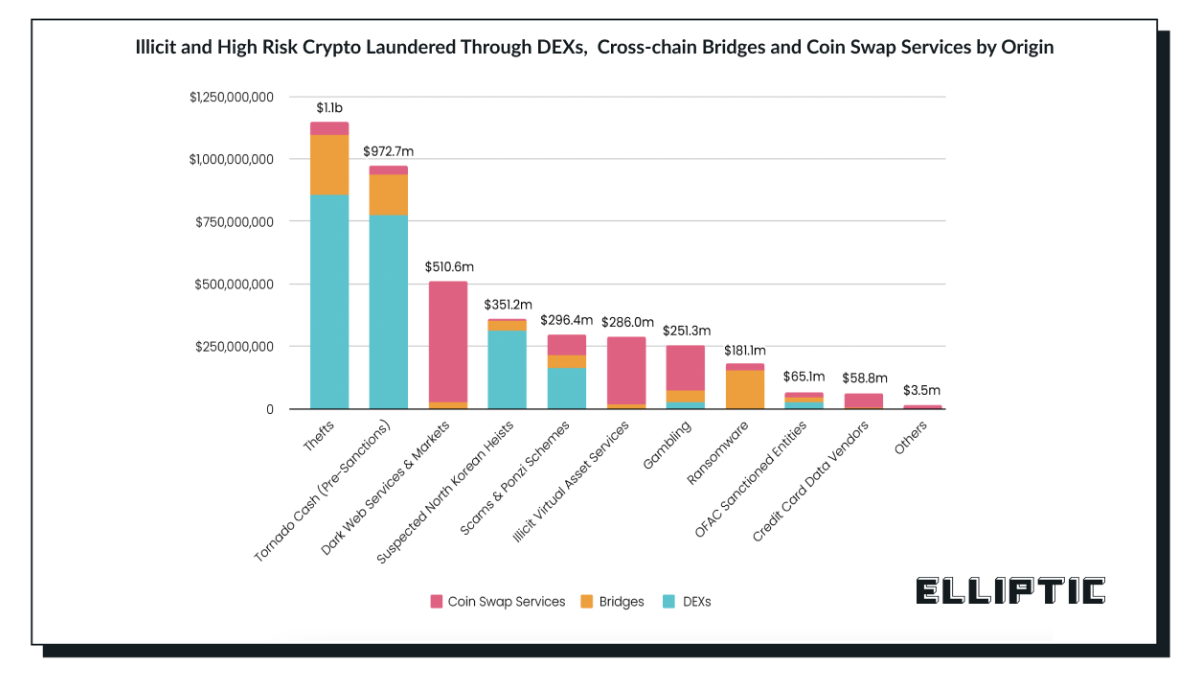 Coin swaps have also become common tools for money launderers. The report found that since 2020, over $1.2 billion has been laundered through these services, which usually require little or no KYC verification for their users. 
"Many are advertised on Russian cybercrime forums and cater almost exclusively to a criminal audience," Elliptic found.
The rise of decentralized finance (DeFi)-based money laundering is significantly threatening the efficiency of U.S. sanctions. According to the report, sanctioned entities "constitute approximately $1.5 billion of illicit "crypto assets being processed by DEXs, cross-chain bridges or coin swap services."
While they are becoming a popular avenue for crime, these decentralized services are in no way crime-centric, and most of their users are legitimate, the report clarified.
In a statement to one outlet, a spokesperson for Elliptic added, "To be clear, Elliptic is not saying DEXs or bridges are used exclusively by criminals, in fact, the opposite is true, they are mostly used by legitimate users. But Elliptic has traced illicit funds (from hacks etc.) that have been moved through DEXs and bridges in order to obfuscate their origin."
Watch: The BSV Global Blockchain Convention presentation, Sentinel Node: Blockchain Tools to Improve Cybersecurity
New to blockchain? Check out CoinGeek's Blockchain for Beginners section, the ultimate resource guide to learn more about blockchain technology.