On Day 2 of the CoinGeek Live conference, the team from healthcare data platform EHR Data presented a vision for the future of clinical healthcare data, stored, shared and controlled at an individual level on the blockchain.
Their presentation was led by Chief Scientist & Consultant Ron Austring, Chief Clinical Officer Cheryl D. Jorgenson, and Director of Product Design, Joseph Eckstein.
With advances in technology and medical science, enough healthcare data already exists in the world to make significant in-roads into treating diseases and improving health outcomes. Curing cancer, for example, and stopping the suffering of millions of people from a variety of debilitating conditions, are crucial goals for healthcare policy—yet at present, lives are being lost due to a lack transparent patient data within the healthcare sector.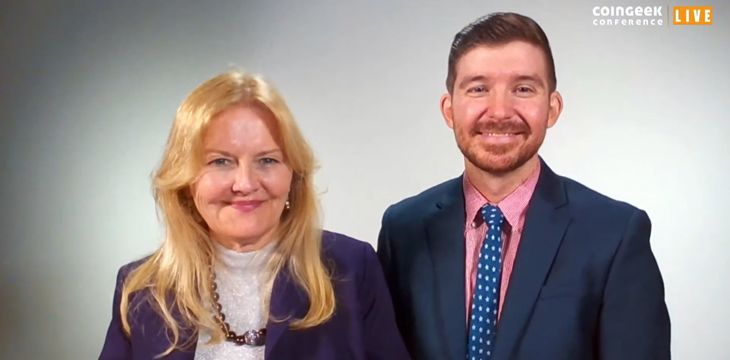 According to EHR Data, this is a problem that could be addressed by more integrated healthcare records. At present, the data exist, but only on private servers and siloed from third parties who may be able to benefit from its use.
At the same time, patients themselves have no control over how their data is stored and managed, and in most cases will even find it challenging to access their data that rightfully belongs to them.
EHR Data is solving that problem by building the world's largest health data set, merging health records with blockchain technology. According to their vision, healthcare data should be stored securely at the personal level, giving individuals complete control over who has access to that data, on what terms and for how long.
With the help of microtransactions and smart contracts, data on the blockchain can be put to numerous uses automatically, and even monetized by the individual. By creating the blockchain platform, EHR Data hopes to change the way we engage, manage and monetize our private healthcare data. 
Cheryl Jorgenssen said that the current silo structures of health data gives only very limited scope for sharing information. This means there is no access to real-time clinical data, no workflow integration, and no tracking of clinical services under current data structures. Especially in the wake of the global pandemic, disparate data silos are no longer good enough to meet the needs of healthcare at scale.
https://twitter.com/EHR_DataInc/status/1311683533904191488?s=20
Inter- and intra-operability of data is the goal, providing the information clinicians need to make healthcare decisions in an accurate and timely way. By bringing together all siloed data together globally, making it inter and intra operable, EHR are creating a single source of truth powered by the BSV blockchain.
Director of Product Design Joseph Eckstein said they were currently working on a proof of concept model, known as the Missouri model, for a system designed to help curb the opioid epidemic. The data model has been built to be system agnostic and real-time, in order to integrate with existing systems deployed by pharmacies, hospitals and other healthcare organizations.
With the Missouri model acting as the proof of concept, Eckstein says the next step is scale—something exclusively able to be done by the BSV blockchain. This means the system can scale to more states, to multiple countries and to multiple drug types, using the same proof of concept model. According to Eckstein, this demonstrates that one system can do it all, finally uniting the disparate threads of healthcare data and systems into a more usable format.
Ron Austring spoke on the monetization of healthcare data. Patient royalty programs allow patients to license this data for research and development, for example, allowing pharmaceutical companies to access data, while providing a reward mechanism for consenting patients. Healthy habits can also allow for refunds on insurance costs, for example, introducing greater elements of preventative care.
According to Austring, the technology puts individuals in the driver's seat as consumers of healthcare, and allows them to benefit from improved outcomes and reduced costs, simply by improving data structures, and embracing the benefits of BSV.
Watch EHR Data: The First Healthcare Data Platform Using the Bitcoin SV Blockchain track from CoinGeek Live 2020
New to Bitcoin? Check out CoinGeek's Bitcoin for Beginners section, the ultimate resource guide to learn more about Bitcoin—as originally envisioned by Satoshi Nakamoto—and blockchain.