It appears another crypto exchange has fallen prey to hackers. DragonEx announced it was hacked on its official Telegram channel on March 25, throwing their customers into a frenzy of worry and speculation.
The Singapore-based exchange experienced the hack on Sunday, March 24. They then announced to their customers in their Telegram channels, and admitted that funds had been "transferred and stolen."
On the bright side, some of the funds have already been supposedly recovered. Still though, authorities in Estonia, Thailand, Singapore and Hong Kong have been contacted and are investigating. The platform remains closed while the investigation is ongoing.
The exchange shut down on Sunday, likely as the attacks were being discovered. A maintenance message went up, setting off speculation of a hack amongst customers in the Telegram chat.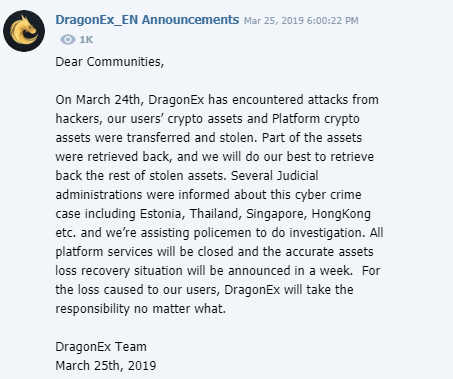 They've admitted to losing funds from 20 wallets, with Bitcoin Core (BTC), Ethereum, XRP, Litecoin and EOS all gone missing. In an update on March 26, they wrote to their customers:
"DragonEx will announce the accurate loss date in one week, and provide with the solution.
"DragonEx will not run away and will take the responsibility. The most important is to retrieve back the stolen assets. The accurate lose data will be announced in a week and offer the solution."
The exchange isn't the only victim of a hacker attack this year. Cryptopia suffered of one in January, forcing it to go offline on January 15. As of the most recent report, up to 9.4% of their total holdings could have been stolen. They have recently reopened for business, but more than two months later, are still not fully operational.
DragonEx is looking to other exchanges to help them out, in the meantime. They suspect the hacker transferred the funds out to Huobi and gate.io. As a result, DragonEx is begging for their assistance, saying, "We earnestly request help from all our fellow exchanges and other industry strength, please help us to investigate and traced the assets, freeze them and stop the assets flows."
New to blockchain? Check out CoinGeek's Blockchain for Beginners section, the ultimate resource guide to learn more about blockchain technology.