Bitcoin has been around since 2009, when Satoshi Nakamoto launched the technology that went on to disrupt the financial world. However, as the years have passed since its launch, Bitcoin hasn't gained the correct traction—many still consider it a casual coin for price speculation and HODLing.
At the Digital Pilipinas' "ASEAN: The next blockchain and crypto hub in the world" webinar, local and international experts in the industry look into the uses of blockchain and digital currency beyond 'crypto.' A session on this topic was comprised of discussions to determine which blockchain use cases create the most revenue, followed by a Philippine panel that tackles the ongoing blockchain projects in the Southeast Asian country.
Digital Pilipinas lead convenor Amor Maclang had a brief introduction discussing some of the panelists' backgrounds. Maclang also revealed that Digital Pilipinas is now the largest private-led sector in building various innovative technology ecosystem that promotes and engage in a global digital economy.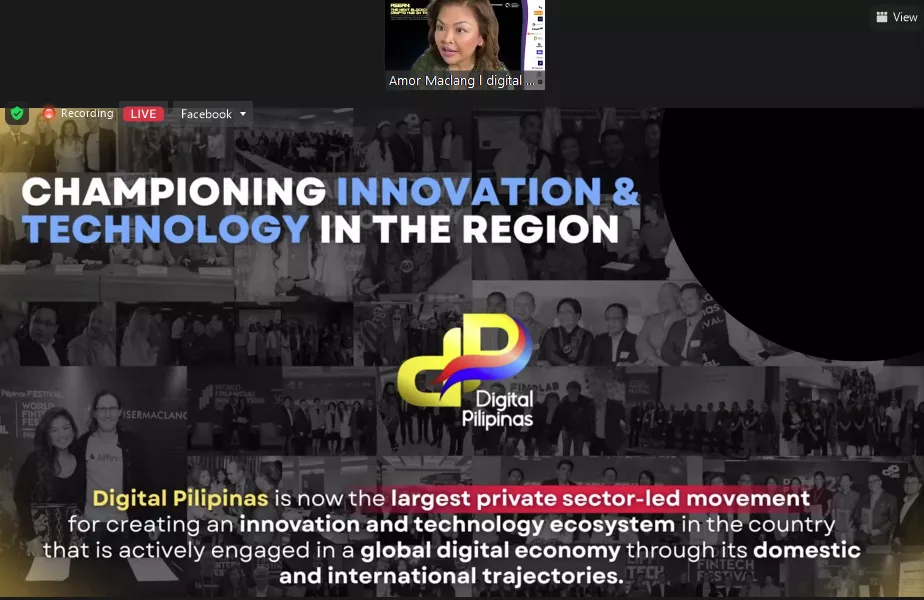 Blockchain is not just for the 'crypto' world
Diving deep into the world of Bitcoin and blockchain, a panel discussion moderated by Dhila Rizqia, managing director at Coinvestasi, talked about their ideas which use cases are not highly common to the mainstream digital currency users, the issues in the 'crypto' world and how different nations interprets the blockchain space.
Nicole Nguyen, the co-founder of APAC DAO, said that probably the most uncommon use case of blockchain is in "socialfi"—a play on words combining social media and finance in the blockchain. Nguyen shared that socialfi is currently the highest-growing segment in this sector because users are now getting more conscious about how their data are being shared and even monetized in the Web3 and blockchain space.
"Socialfi sits right at the convergence between how much privacy is enough and how much you would be able to compromise with other social network platforms," Nguyen explained. "I think this is definitely a good use case that we could see beyond crypto, which is gonna change the way that people handle data."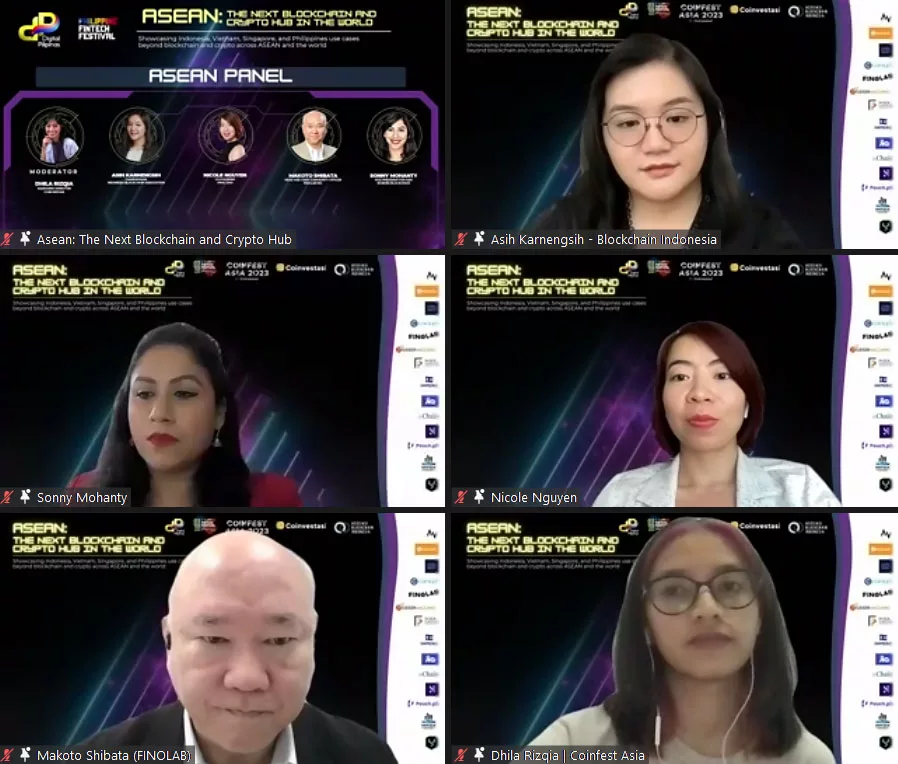 Makoto Shibata, the head and chief community officer at Finolab Japan, explained the various issues that are affecting the footing of the 'crypto' world, especially when it comes to regulators, due to the implosion of infamous FTX exchange and defunct Mt. Gox.
Despite these, Shibata said that blockchain still has a lot of uses. One way is to use it in entertainment, play-to-earn, and logistics. However, the Finolab Japan chief emphasized that in order to get to total adoption, there must be a good regulatory framework to promote consumer protection.
NORDEK Asia's Vice President Sonny Mohanty said blockchain has a good use case for remittance, while Asi Karnengsih, chairwoman of Indonesia Blockchain Association, told the audience that the tech could protect and store digital identities and data.
Uncovering plans for blockchain in the Philippines
Following the nearly one-hour talk about the use of blockchain beyond 'crypto' was a Philippine panel headed by moderator Michael Mislos, founder and Editor-in-Chief of BitPinas.
Before starting the panel discussion, Mislos handed the floor over to the panelists to speak about their organizations and how they contribute to the growth of the blockchain and digital currency in the Philippines in under three minutes.
Stephanie Tower, nChain's business development lead, kicked it off by sharing some of the global blockchain solution's ongoing projects with the country's government and local government units like the Provincial Government of Bataan as well as their partnership with universities, such as the Ateneo de Manila University.
"What we do [is] we work closely with the government, not only from the innovation and adoption side but were also very much focused on education," Tower shared. "The government agencies that we are dealing with and we're working with are very self-aware of their need to understand the science of blockchain, [the] capabilities of the technology, and how it can be applied to various use cases."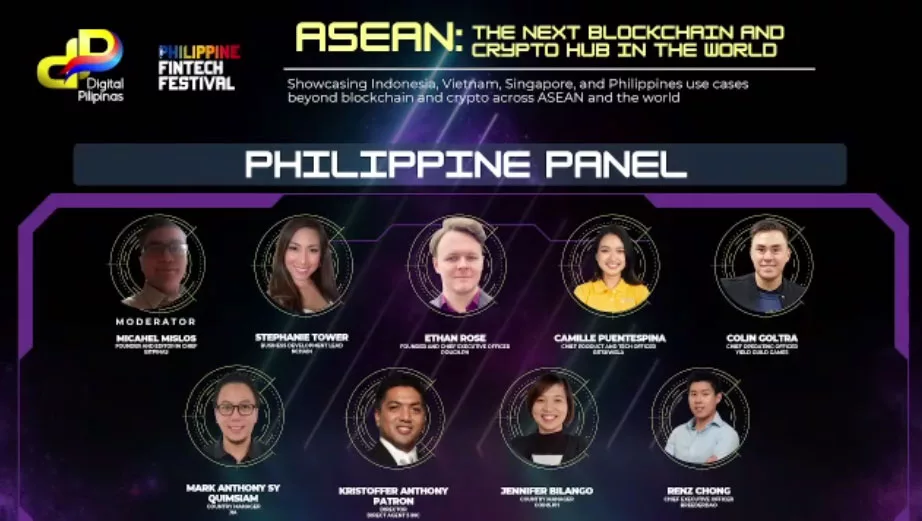 Mislos started the discussion by asking Tower and Ethan Rose, executive officer of Pouch.PH, about any ongoing blockchain initiatives in the Philippine public sector that could improve citizen engagement and reduce bureaucracy, and a follow-up question on Rose if what they're doing in Boracay can be replicated across the country.
Tower said many fintech blockchain use cases are already happening in the Philippines, and many of these blockchain solutions can empower the government.
"I think if we involve the government, it will drive policies and frameworks that would make the [blockchain] adoption faster," she said, noting that it's exactly what nChain is doing with Bataan.
"If we as an enterprise are successful in collaborating with local government units and into creating this infrastructure where we can all create these applications that would cater to citizens, then we will see the value of what blockchain is," Tower added.
The nChain and Bataan project is already in the works; for its part, Pouch.PH has launched a digital currency payments program on Boracay island. Asked if this experiment could be done in other parts of the Philippines, Rose shared they are already doing it in the provinces of Siargao, Cebu, and Dumaguete.
"The beauty of Bitcoin as a payment system [comes] in few things. One, it's interoperable across borders," Rose remarked.
Shifting to Bitskwela Chief Product and Tech Officer Camille Puentespina and Jia Country Manager Mark Sy Quimsiam, Mislos asked how important Bitskwela's initiatives are for blockchain adoption. As for Quimsiam, the BitPinas EIC asked a follow-up question on how blockchain extends financial services.
More topics were discussed during the panel, such as how blockchain projects could be extended in rural areas, as explained by BreederDAO's Renz Chong, and the intersection of the tech in gaming inside the purview of Yield Guild Games COO Colin Goltra.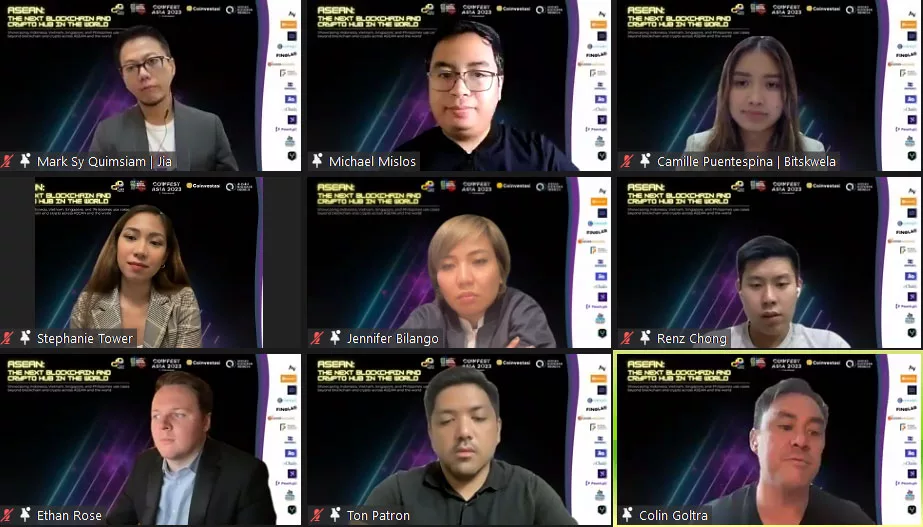 Coins.ph Country Manager Jennifer Bilango and Impero Group Director Anthony Patron also had a chance to share their views on the Philippine government's regulations as well as balancing fostering innovation in the sector.
Bilango said that the Philippines government is very keen to creating rules in the industry. "Several LGUs as well are taking the initiative," she said. "They wanted to understand it (blockchain) before issuing any advisory or framework."
"Regulators will always catch up with innovation," Patron remarked, explaining that the confusion on which regulators should regulate the digital currency industry stands because innovation moves at a faster rate than regulators.
"This all boils down with the essence of what we're trying to do with the Freeport Area of Bataan, which is to enhance the way things are done by ease of doing business for everyone and create best practices around what needs to be governed and regulated," the Impero Group Director added.
Wrapping up the webinar, Digital Pilipinas invites all attendees and audience to join the second strand of their Philippine Fintech Festival Week.
Watch Philippine Fintech Festival Highlights: Designing a digital economy that's anti-fragile
New to blockchain? Check out CoinGeek's Blockchain for Beginners section, the ultimate resource guide to learn more about blockchain technology.