Digital asset scammers were just as hard hit by last year's bear market, a report by New York-based blockchain analytics company Chainalysis has revealed.
Chainalysis revealed that scammers made $5.9 billion in 2022, a 46% dip from the $10.9 billion they defrauded from their victims in 2021. Despite the dip, scams remain the largest digital asset-based crime.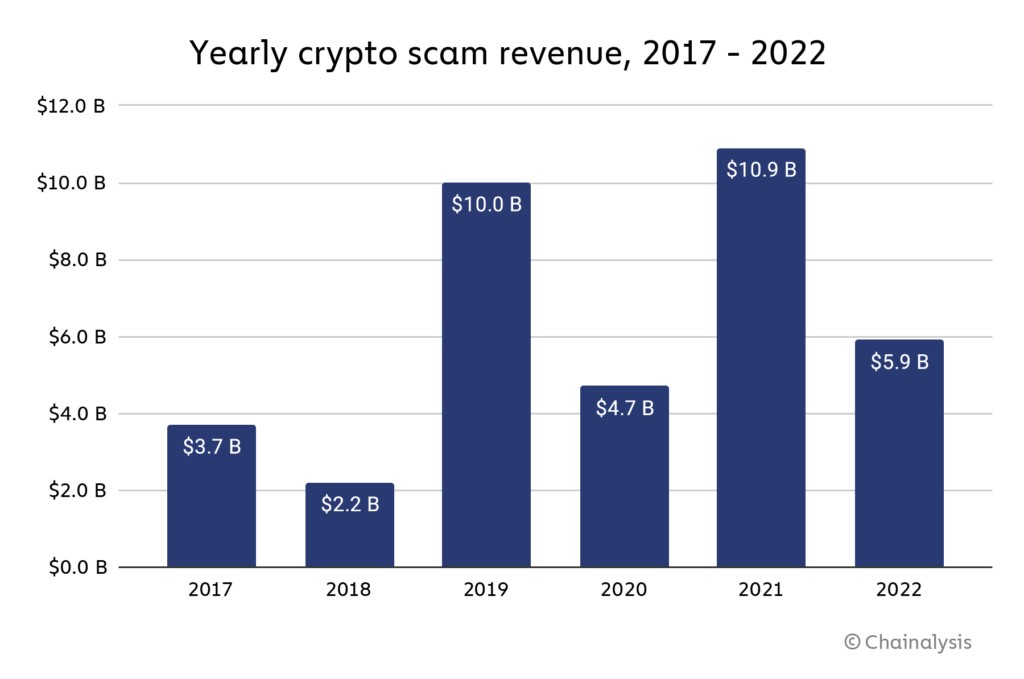 The biggest scam in 2022 was Hypeverse, a metaverse pyramid scheme that Chainalysis says made off with $1.3 billion, four times more than the next largest scam. Hypeverse solicited investments ranging from $300 to $50,000 with promises of tripling the investment.
But while investment scams grabbed the headlines and topped the charts for the total amount raised, it was romance scams that did the most damage, the New York company says.
A romance scam is one in which the scammer feigns romantic interest in the victim and bides his time, awaiting the opportunity to scam the unsuspecting lovestruck victim. On average, romance scam victims lost $15,559. This was triple the next-highest scam, impersonation scams, in which victims lost $5,746 on average.
The report notes that the figures for romance scams could be higher as underreporting is more prevalent among victims of this "uniquely personal" scam type.
Additionally, romance scams were unaffected by the bear market. With impersonation, investment, NFT, and giveaway scams, average revenue dipped significantly starting in May last year when the LUNA/UST collapse sparked the bear market.
Romance scams, which involve gaining the victim's trust before defrauding them, don't rely on promises of digital assets hitting new prices and endless profits.
"That kind of emotional pitch is probably equally effective regardless of trends in the wider market, because the victim's primary goal isn't to get rich quick, but rather to help someone they believe to be a potential romantic partner," Chainalysis noted.
Most digital asset scams affect victims globally. However, NFT scams almost exclusively targeted North America and Australia, while impersonation scams affected the U.S. and Russia disproportionately.
The report further reiterated previous studies, which pointed out that most digital asset scams are perpetrated by a few cybercriminal groups. Chainalysis found 88 scams that shared an address in Los Angeles, indicating they are likely related. Many scams also share blockchain wallet addresses.
Watch: Trust But Verify: Everything
New to Bitcoin? Check out CoinGeek's Bitcoin for Beginners section, the ultimate resource guide to learn more about Bitcoin—as originally envisioned by Satoshi Nakamoto—and blockchain.