Crypto users, you've been warned: don't try to hide your assets.
On Wednesday, Europol announced that the Dutch Fiscal Information and Investigation Service (FIOD) has taken down "multi-million Euro cryptocurrency laundering service" Bestmixer.io in what they described as "the first law enforcement action of its kind against such a crypto mixer service."
The crackdown, a joint operation between FIOD, Europol and Luxembourg authorities, was initiated in June 2018 after internet security company McAfee flagged Bestmixer's services. As a result, police seized six servers in the Netherlands and Luxembourg.
Together with @FP_OM we took a worldwide money laundering machine for #cryptocurrencies offline. The operation against https://t.co/q9N1USpINy is an important step in the battle against criminal flows of normal and especially virtual money #J5taxcrimehttps://t.co/DlypqJ9F07. pic.twitter.com/32dGTfeVSX

— FIOD (@FIOD) May 22, 2019
Bestmixer is considered to be one of the three largest crypto mixers in operation to date, offering mixing services for cryptocurrencies like Bitcoin Core (BTC), Bitcoin Cash (BCH), and Litecoin (LTC). Crypto mixing services, also referred to as crypto tumblers, are anonymity tools that allow users to combine their crypto funds with others, which, in turn, makes it difficult to track the fund's original source.
Bestmixer reportedly achieved a turnover of at least $200 million since it launched its operations in May 2018. However, authorities discovered that the crypto mixer "was probably used to conceal or launder criminal flows of money" after the investigation showed that "many of the mixed cryptocurrencies on Bestmixer.io had a criminal origin or destination."
John Fokker, head of cyber investigations for McAfee Advanced Threat Research, noted in a blog post how Bestmixer has been very clear "why someone should mix their cryptocurrency." He wrote:
"On this page Bestmixer described the current anti-money laundering policies and how its service could help evade these policies by making funds anonymous and untraceable. Offering such a service is considered illegal in many countries."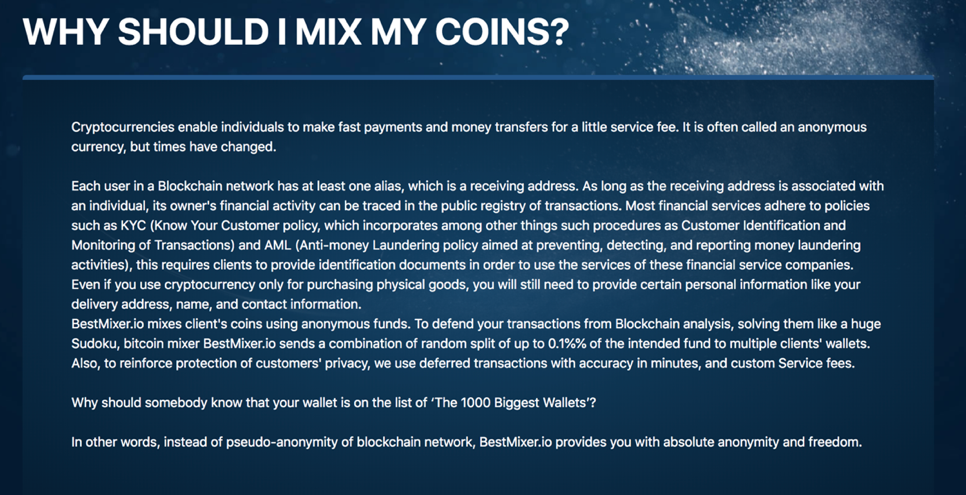 CipherTrace CEO Dave Jevans said Bestmixer not only blatantly advertised its money laundering services, but it also "falsely claimed to be domiciled in Curacao where they claimed it was a legal service." 
"The reality is that they were operating in Europe and services customers from many countries around the world. Bestmixer is also known for their 'crypto dusting' activities, where they send small amounts of bitcoin to tens of thousands of addresses in an attempt to defeat cryptocurrency anti-money laundering tools, and to simultaneously advertise their services," Jevans said.
Cryptocurrency mixing services are legal, but as Fokker pointed out, that "legality changes when a mixing service advertises itself as a success method to avoid various anti-money laundering policies via anonymity. This is actively offering a money laundering service."
"Mixing Bitcoins that are obtained legally is not a crime but, other than the mathematical exercise, there no real benefit to it," he added.
No arrests have been made in the Bestmixer case, according to local media reports. Europol said the Dutch FIOD and its partner authorities will be analyzing all the information gathered on all Bestmixer's interactions in the past year, including IP addresses, transaction details, Bitcoin addresses, and chat messages.
The clampdown on Bestmixer is a clear case of why it's not advisable to promote a crypto ecosystem that it lawless, especially with government oversight is coming. It's also why Bitcoin SV (BSV) is building a regulation-friendly environment for Bitcoin to work within the existing legal systems. Jimmy Nguyen, Founding President of Bitcoin Association, is a former 21+year digital technology lawyer in the U.S., and he emphasizes:  "It's time for Bitcoin to grow up, which includes getting out of the wild wilderness of cryptocurrency's adolescent years and mature into a lawfully compliant ecosystem.    Expect more government agency crackdowns such as this one against BestMixer.  This also reinforces why Bitcoin SV is leading the way to create a safe ecosystem that big businesses and consumers will feel comfortable using."
As Jevans pointed out: "Today's Bestmixer seizure shows an increase in law enforcement activities on pure crypto-to-crypto services. This follows on the heels of European AMLD5 regulations and the views expressed by US FinCEN that crypto-to-crypto services are considered to be money services businesses and must comply with those regulations. This is the first public seizure of a bitcoin mixing service, and shows that not only are dark marketplaces subject to criminal enforcement, but other services are as well." 
New to Bitcoin? Check out CoinGeek's Bitcoin for Beginners section, the ultimate resource guide to learn more about Bitcoin—as originally envisioned by Satoshi Nakamoto—and blockchain.