The United States Department of Justice (DoJ) has arrested two men it alleges conducted a cryptocurrency scam since June 2018. The two men purportedly defrauded over 90 investors of over $7.5 million, among them several Major League Baseball stars.
The DoJ arrested the two, 28-year-old John Michael Carusso of Scottsdale, Arizona and 27-year-old Zachary Salter of Paradise Valley, Arizona on January 20. It charged both with conspiracy to commit money laundering and wire fraud.
Caruso is the founder of Zima Digital Assets, a firm that purports to offer investment in cryptocurrencies and blockchain technology. Using social media, he managed to portray himself as a crypto investment expert, calling himself the "Kryp+0 K!ng" on social media and the "Michael Jordan of algorithmic cryptocurrency trading." He claimed to have started investing in cryptos in 2012. However, he left out his criminal history, having been arrested in California for possessing false identification; in Florida for extortion; and in Arizona for theft. His last stint in prison ended in late 2017 in Florida.
Salter, on the other hand is an aspiring R&B singer.
According to the DoJ, Zima Digital Assets was registered in July 2018. However, the two crooks misled investors to believe that it has existed since 2012. Since its founding, the company has raised $7.5 million from over 90 investors. In a classic Ponzi scheme modus operandi, the company paid back at east $1.9 million back to some of the investors to entice them to invest more and bring others in. The DoJ claims that no funds were invested in crypto at all.
The two suspects are alleged to have spent quite a chunk of the money to fund lavish lifestyles. It includes $830,000 lost in casinos, $350,000 on private jets, $150,000 to rent a mansion in Paradise Valley, $670,000 in assorted credit card payments and $110,000 in jewelry and designer clothes.
The DoJ further claimed that Caruso managed to bring on board a number of Major League Baseball stars and their families to his scam company. He attended several MLB-related events, being a speaker in some of them where he sold his ideas to the players. These players and their families were among the largest investors in his firm.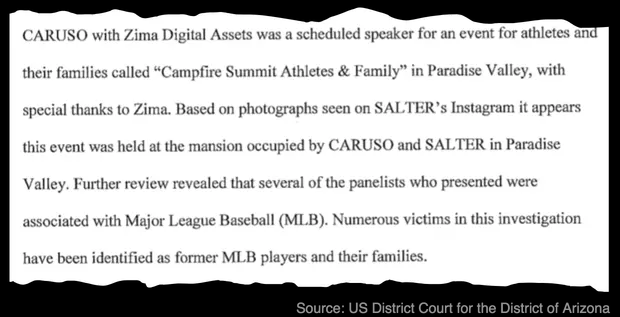 The DoJ has urged anyone who invested with Caruso or Zima Digital Assets to reach out and assist with the investigations.
New to blockchain? Check out CoinGeek's Blockchain for Beginners section, the ultimate resource guide to learn more about blockchain technology.