Whenever blockchain adoption is mentioned, it's regions like North America and Europe that are usually highlighted. However, it's in the Middle East and South Asia where this technology has found the most real-world uses, both in the public and private sectors. Bitcoin SV has especially become popular in the region, and Muhammad Salman Anjun took the stage at CoinGeek New York to talk about how BSV has shot to the top in the region.
Salman is the head of the BSV Hub in the Middle East and South Asia, located in Dubai in the United Arab Emirates. He's also the chief mate at InvoiceMate, an invoicing platform built on Bitcoin SV, which started out on the Hyperledger Fabric.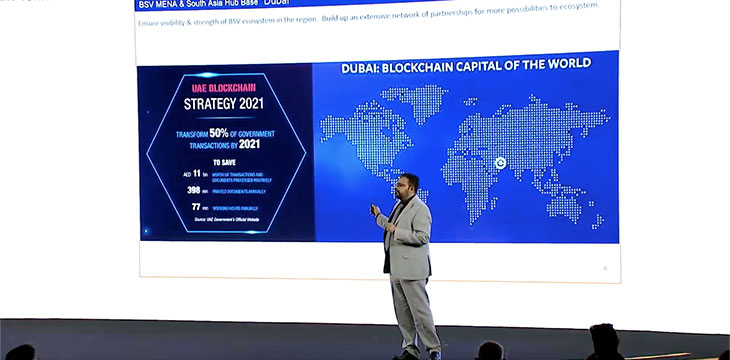 The Middle Eastern region is ignored by some, but it's very important globally, home to about 2 billion people. When it comes to blockchain, however, the region has taken the lead. As Salman revealed, here, the public sector is playing as big a role in blockchain adoption as the private sector, unlike in most regions where governments are barely involved.
The United Arab Emirates is the regional leader in blockchain adoption, boosted by the government's national blockchain strategy a few years back that aspired to have 50% of government transactions on the blockchain by the end of 2021.
With this ambitious goal, the UAE government projected it would save $6 billion annually, enough to build the Burj Khalifa, the tallest building in the world, which incidentally, is in the UAE. 
Bitcoin SV in the Middle East and South Asia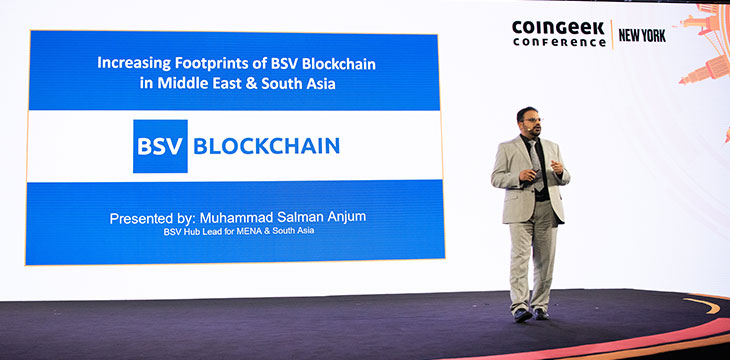 Bitcoin SV has seen high popularity in the Middle Eastern and South Asian regions. One of the strategies that have enhanced this growth is partnerships with academia, governments, regulators, industrial hubs, and more. 
These partnerships and industry events are critical to the success of Bitcoin SV as "awareness precedes change," Salman told CoinGeek New York. Salman has been spearheading an aggressive PR campaign that has seen the Middle Eastern BSV contingent hold 15 events in the summer, a time when barely a handful of events are held.
"In 15 days, we will be doing six more events, bringing more visibility," he added.
Salman and his team, together with the Bitcoin Association have managed to penetrate Middle Eastern governments and institutions and are now seeing tangible results and partnerships.
One of these is with the University of Sharjah, a private national institution in the UAE. 
"We have partnered with them for research and development regarding putting education certificates on the BSV blockchain and validating them," Salman revealed.
They have also partnered with the University of Karachi in Pakistan on a six-month program aiming to upskill students on Bitcoin SV. "BSV is growing and it needs more resources when it comes to skillful developers, and that's what we're trying to achieve with this university program," he revealed.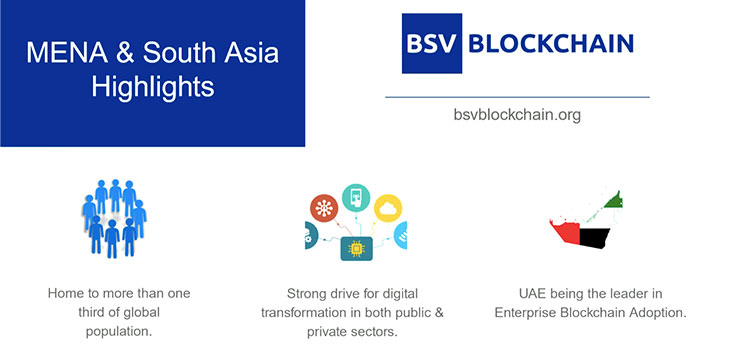 Another partnership is with the Dubai Blockchain Center and the Blockchain Center in Pakistan.
It's not been all about education and upskilling, Salman stated, revealing that there have been some tangible results. This includes joining hands with Dubai Police and the UAE Ministry of Emiratisation, with the latter set to launch some proofs of concept (PoCs) on BSV in the coming months.
The Securities and Exchange Commission of Pakistan is one of the premier regulators that Salman has worked with. The watchdog is working on a digital asset framework and the BSV faction is involved in offering industry feedback. "Imagine a 220 million people market coming up with a regulatory framework [for digital assets] and how big that adoption curve would be," he stated.
With COVID-19 restrictions prohibiting a lot of regional movement, Salman and his team have had to focus on a few sectors. However, as restrictions are lifted, he expects to hold more workshops and seminars to connect with developers, industry heads, and startups.
Watch CoinGeek New York 2021 Day 3 here:
New to Bitcoin? Check out CoinGeek's Bitcoin for Beginners section, the ultimate resource guide to learn more about Bitcoin—as originally envisioned by Satoshi Nakamoto—and blockchain.